Spider experts are attempting to pour cold water on reports that Britain may have recorded its first death from a spider bite.
Pat Gough-Irwin, 60, was reportedly bitten on her finger by the false widow spider around a month ago at her home in Aldershot, Hampshire. The variety is the cousin of the more famous black widow spider and a common sight in Britain's homes and gardens.
Gough-Irwin was admitted to Frimley Park Hospital in Surrey but died on October 31.
But a spider expert has sought to downplay the significance of the bite, saying the cause of death may have been due to side-effects.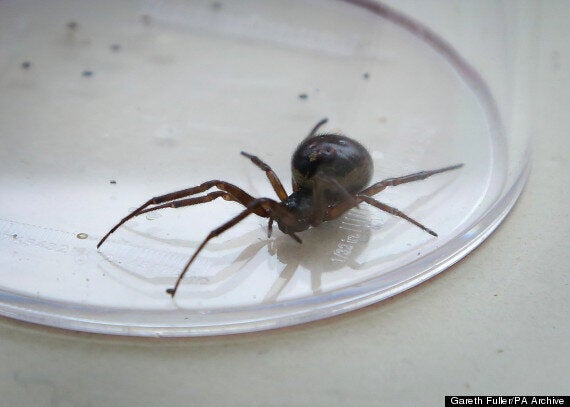 Dr Tim Cockerill told the tabloid: "Its bite is about as bad as a bee sting. In the UK, several people die of bee stings every year because they have an allergic reaction.
"But most of the stories in the press show evidence of tissue damage or necrosis and there is nothing in the false widow spider's venom that can do that.
"When you see these cases of necrosis, it's almost certainly down to a bacterial infection or something like that."
"Everybody in the coastal counties of Southern England has had lots of them in their house and garden for many years, whether they have been aware of this or not. They are now one of our commonest southern house and garden spiders. The fact that harm caused by them is very rare should tell you something about how dangerous they really are."
It adds: "In addition to this, most of the supposed scare stories reported in the media are based on nonsense and cases where what is being reported has not been caused by any spider at all."
Gough-Irwin's family has also hit out at press reports, saying the case was still being investigated and claiming the coverage was an intrusion into their grief.
Her daughter Julie Lungley, who was quoted by the paper as saying she was "numb and in total shock" at her death, took to Facebook to express her anger that the story had run without the cause of death being clear.
She said: "We cannot comment further to ANYONE until investigations have taken place. Our family are dealing with the sudden loss of our Mum as well as finding the reasons why Please, ANY newspapers reading this....respect our wish to allow us time to grieve. We will contact you if & when we are ready."
In January, it was reported a woman had to go into intensive care after being bitten by one of the spiders.
Alison Blackburn was woken at 4am by a sharp pain in her stomach. Within three hours, her leg and foot had ballooned to the point where she was unable to put her shoe on.
She began hallucinating and was was rushed to hospital where she spent five days in intensive care and had an operation to reduce the swelling from her foot.
Following her operation, she was told it was likely to be a false widow spider that had bitten her.