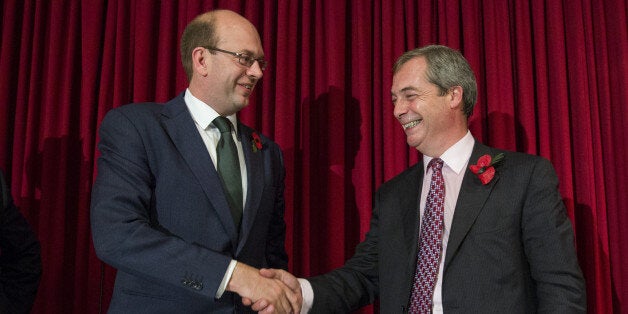 A local Rochester hospital has accused Mark Reckless of "misleading" voters by implying it is supporting Ukip in this month's crucial by-election.
A Ukip leaflet being distributed in the Kent constituency attacks the Conservative Party for failing NHS patients. The campaign leaflet features a picture of Reckless with Dr Phillip Barnes, the acting chief executive Medway Hospital NHS Foundation Trust.
The Trust has written to Reckless to demand he withdraw the leaflet, citing concern the use of the picture suggests both Barnes and the hospital are backing Ukip.
A recent poll also revealed NHS was the top priority for voters in Rochester. The Survation survey revealed 37% of voters considered the quality of local NHS hospitals and GP services in Medway to be the most important issue for them and their family. By contrast 25% cited immigration, Ukip's signature issue, as the top concern.
Reckless is expected to win the by-election on 20 November, triggered when he defected from the Tories last month. The Conservatives have been flooding the seat with MPs and cabinet ministers in an attempt to stop Nigel Farage securing his second MP.
In a letter sent to Reckless on Saturday, Shena Winning, the chair of the Trust, said she was "extremely concerned and surprised" by the leaflet and noted he photograph used was taken in September 2014 when Reckless was the sitting Tory MP for Rochester.
In the letter, seen by The Huffington Post, Winning said: "During a period of purdah public bodies cannot be associated with any politically-biased information that could be seen to give any party an electoral advantage. The use of the photograph implies that the Trust and Dr Barnes are supporting the Ukip candidate.
"At no time did UKIP approach the Trust or Dr Barnes to seek permission to use the photograph. The use of the photograph is misleading and out of context. The Trust works with all political parties and would not support any individual or party."
Winning said she wanted to leaflet withdrawn and a public retraction to be made by Reckless in local Rochester media.