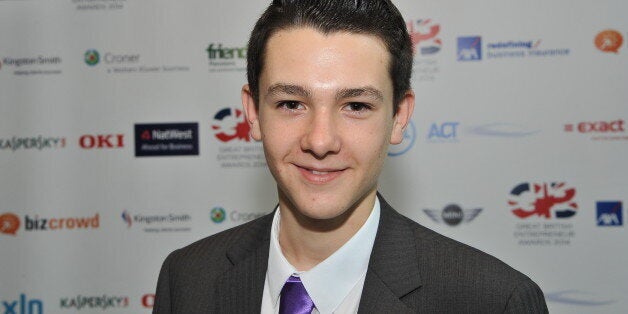 Ben Towers began his business career at the age of 11, starting out as a young freelance web designer.
By the age of 12, he had already built a profitable web design business. And now, at the age of 16, his firm, Towers Design, has hundreds of business clients on the books.
HuffPostUK caught up with him to find out more about how he has found life as a young businessman.
So, when did you first get interested in business?
My first experience of business was when I was 11 years old and in the process of moving to secondary school, I started as a freelancer offering website design to SMEs all around the country and signed up to a number of freelancing websites.
I always had a passion for technology and one of our family friends, who is an author, asked if she could get a website built for her to advertise her books. After watching several online videos and tutorials I managed to build her a website, howdoiknowbooks.com.
I began to build confidence creating websites, so I emailed the table tennis club I played for suggesting that their current website was boring and needed a face-lift! They replied and over time as committee members have changed I am now the webmaster and have updated the site a number of times.
Towers Design was formed in 2011 after I combined all of my experience from freelancing into one company. Unfortunately I did not have a big launch or anything like that, it was literally me moving away from freelancing to brand myself as a business.
In the beginning, I was getting to design a website a month but this quickly grew and by the age of 12, I had already worked with over 25 businesses and had a healthy profit. Although Towers Design was formed from no money and just a laptop with Internet, it already is showing amazing growth and as a company is looking good for the future.
Was it hard getting started in business at such a young age?
Starting a business as a minor is like a minefield, not only do you have the challenges faced by older entrepreneurs but you also have a large number of misconceptions placed upon you.
Simple business necessities needed by nearly all online companies like payment gateways are not possible for people under the age of 18, this means that collecting payments for all my work is so complicated and hard.
Also, you cannot open a business bank account. This means that any cheques or bank transfers made to Towers Design have to be done to my personal child's bank account. Not only does that destroy my branding but it also means that there are a lot of features I cannot access for my business banking.
When my bank first found out about me using my child's account for business activity they immediately closed my account and said I could not operate on their form of account, thankfully the Federation of Small Businesses [FSB] resolved this for me.
Finally, a large part of my business sales come from exhibitions and when a business owner sees a child at the stand I instantly get asked, "are you the apprentice" or "can I speak to the owner?"
This is sad because young people have a common misconception placed upon us that we are incapable of starting and running a business that will provide the service you pay for to a high standard. This has lead to me losing some large contracts with business both big and small, including some industry leaders.
How's the business doing now?
Currently Towers Design is booming! We have worked with over 500 SMEs all around the world, have 15 members of staff, and now offer services in 4 main categories: design, host, print, web. We expect this financial year to make hundreds of thousands; we are rapidly increasing our market share and constantly receiving great feedback and advice.
Even though we are expanding, the majority of our business is still coming from word of mouth, this is because I have always hated talking to large businesses with poor customer support and so I have made sure it is at the centre of Towers Design.
Who or what inspires you as an entrepreneur?
There are a number of people who inspire me in business and in most situations every person I meet in some way has some sort of effect on my entrepreneurial career. My granddad, who runs a campsite in Cumbria, has always been a call away for support in my business set up and every time I go to visit he is always helping me enhance my ideas.
What is your aim as an entrepreneur in the future?
In the next few years, I plan to finish my GCSE's and A-levels and start to focus full time on my businesses. I plan to continue to build Towers Design with the aim of becoming a market leader.
On top of that, I wish to continue my work with both the FSB and YENA helping destroy the additional problems faced by young entrepreneurs when starting a business. I also plan to launch a call answering business that will work alongside Towers Design to help SMEs progress and grow.
I would also like to launch a business away from the business-to-business selling and be able to sell to the public, as this is something as of yet I have not attempted.
Finally, I am fairly open minded about the future and I think this is the best mind set to have as every day new ideas and developments are made and I want to make sure I make the most from each one.