The actions of the Fake Sheikh undercover reporter have been described as "far more serious than phone hacking."
Despite a court battle to prevent it happening, BBC Panorama broadcast a recent image of probably the most infamous tabloid journalist of his generation, Mazher Mahmood, likely ending his long career of going undercover as Arabic royalty to expose wrongdoing by celebrities, athletes and public figures.
He secured around 100 convictions in his career that spanned nearly three decades.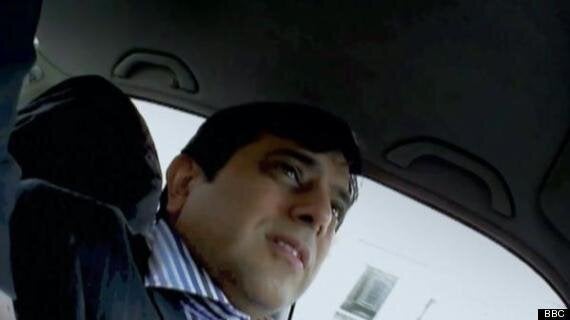 This recent image of Mazher Mahmood, which his lawyers fought to prevent becoming public, was broadcast by Panorama
Reporter John Sweeney said Panorama was using the image "to make it more difficult for him to entrap people in the future".
Mr Mahmood worked for the vast majority of his career with the News Of The World (NoTW) until it was closed in 2011 over the phone hacking scandal. He then worked for The Sunday Times and The Sun On Sunday.
Solicitor Mark Lewis, who helped expose phone hacking at the NoTW and is now representing some of Mr Mahmood's victims, told Panorama: "The damage that's caused, the damage for people's livelihoods, the amount of people have sent to prison, it's a far more serious thing than phone hacking ever was."
The programme featured his victims - including singer and X Factor judge Tulisa Contostavlos - condemning his methods and claiming they were entrapped.
Her trial for supplying cocaine collapsed in July and the presiding judge said there was evidence the journalist had lied.
Ms Contostavlos, who said she was encouraged to supply cocaine while being promised a starring role in a film, said: "The whole case was a horrific and disgusting entrapment".
Mr Mahmood's former colleague, photographer Steve Grayson, revealed how he had pushed to implicate one of his targets in supplying cocaine.
Former Page 3 girl Emma Morgan, then 24, said she was put under pressure for several hours to supply the drug, while discussing what she thought was a lucrative contract for a Middle East bikini calendar. She was asked by a man called "Billy" - who was actually paid by Mr Mahmood - to supply cocaine to the fake sheikh, which she did.
Mr Grayson said: "He is a drug dealer, we're drug dealers, we have paid this guy to supply the drugs to give to her."
Ms Morgan said: "I was a fool, I was naïve, to be foolish isn't a crime, to be naïve isn't a crime, to do what he did is criminal.
"I haven't had the career I should have had, I haven't had the life I should have had. He's a horrible, horrible man."
'Billy' told the programme: "I'd like to apologise to Emma for my part in stitching her up. The only real criminal was Mazher Mahmood. He gave me the money to buy the cocaine."
Mr Mahmood's "scoop of the century" - a front-page splash that said the NoTW had foiled an attempt to kidnap Victoria Beckham - also collapsed when it was brought to trial, after it was revealed Mr Mahmood had paid the key witness.
Panorama revealed the judge in the case was so concerned he referred it to then-Attorney General Lord Goldsmith.
"I explored every possible avenue for dealing with this as I saw was a very unsatisfactory state of affairs and each avenue turned out to be a blank," he told Panorama.
"The fact that somebody who has been accused by a judge of apparently not telling the truth may be instrumental in (his other convictions) would certainly be a reason to look at those convictions again and to examine them to see whether they are safe."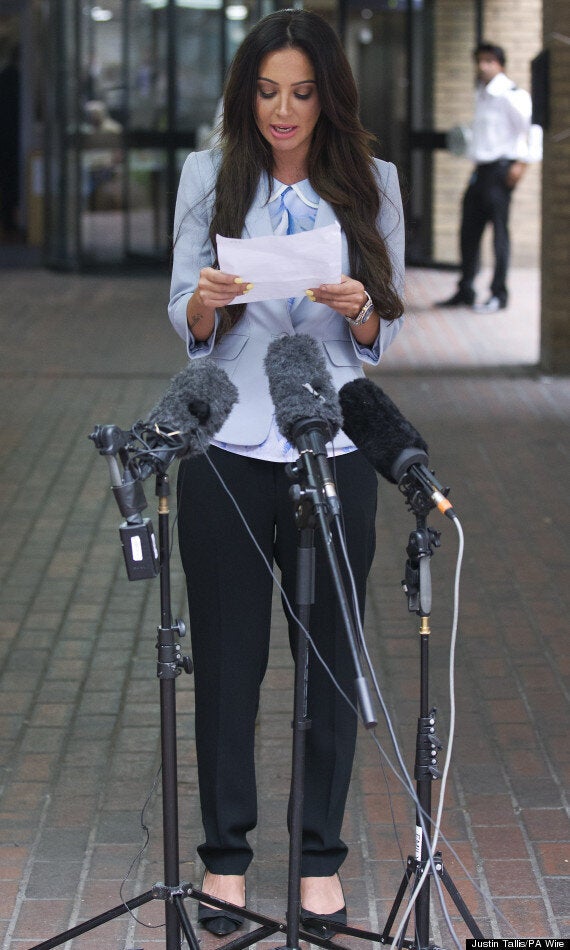 Tulisa after her trial collapsed amid allegations of perjury by Mahmood
Mr Mahmood is currently suspended by The Sun On Sunday and is subject to a police investigation over allegations of perjury and perverting the course of justice in the Contostavlos case, which he denies.
Speaking before the broadcast on Wednesday, he said the people who spoke to Panorama were "not independent".
He added: "The BBC proposes to broadcast, it would appear whatever the evidence shows, a programme designed to condemn my career as an investigatory journalist.
"They are doing so while there is an active investigation being carried out by the Metropolitan Police into the collapse of the Contostavlos trial.
"I am co-operating fully with the police inquiry and have not been arrested."