Sainsbury's has recreated one of the most famous moments from World War One in its 2014 Christmas advert, which is a tie-up with armed forces charity Royal British Legion.
The ad, which launched on Wednesday night, revisits the 'Christmas truce' football matches (albeit with plenty of artistic licence) that took place between enemy British and German soldiers outside the trenches in December 1914.
The truce was a series of spontaneous ceasefires and friendly gestures between the opposing sides across mainland Europe, and one of the most enduring symbols of hope during the war.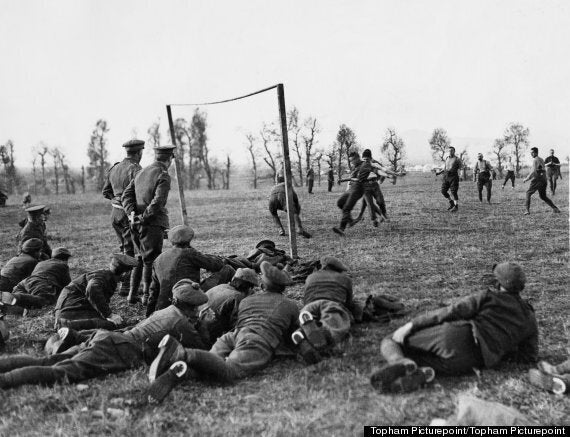 Soldiers playing football on Christmas Day 1914, including men from the British Army's 26th division
In the spirit of Christmas, soldiers from both sides put down their weapons and played football, as well as singing carols and giving each other gifts.
Sainsbury's reconstructed the trench scenes with the help of a war historian to celebrate the supermarket's 20 years of support for Royal British Legion, which runs the annual poppy campaign.
In the Sainsbury's film, a British soldier hears enemy troops singing 'Silent Night' in German and bravely ventures into the space nicknamed 'no-man's land', before soldiers from both sides join him and shake hands.
After a game of football, the British soldier secretly slips a gift into the pocket of a German soldier, who unwraps it to find a chocolate bar when he returns to his side of the battlefield.
Shoppers can help to raise extra money for the Royal British Legion after Armistice Day this year by purchasing the chocolate bar from the advert in Sainsbury's stores. The profits all go to the charity.
Sainsbury's is the only supermarket to sell Remembrance Day poppies inside its shops, and is traditionally one of the last to launch its Christmas advert because it waits until after Armistice Day out of respect to its relationship with the Royal British Legion.
The advert launched on ITV during Coronation Street. It was created by Sainsbury's advertising agency AMV BBDO.
John Lewis is also selling merchandise from its Christmas advert, including Monty The Penguin pajamas, cuff links and a Monty toy priced at £95.
Sainsbury's also reported troubling half-year results on Wednesday, announcing a pre-tax loss of £290 million for the half year to September and scrapping plans to build new stores. It also plans to cut prices to compete with discount supermarkets and online grocery services which shoppers are increasingly favouring.