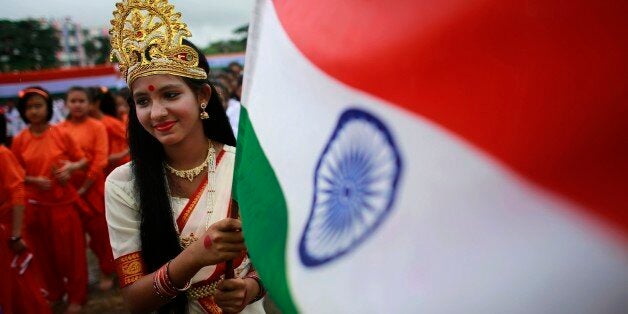 The government wants to send 25,000 students to India for work placements by 2020 - as part of a new initiative in partnership with the British Council.
Starting from 2015/16, the campaign 'Generation UK-India' will pave the way for up to 25,000 young people to secure work placements and teaching opportunities in India over the next five years.
Speaking in Delhi at the Federation of Indian Chambers of Commerce and Industry Higher Education summit, Minister for Universities Greg Clarke said: "This programme will help create a more globally competitive UK workforce and will help future proof the UK-India relationship."
The Secretary General to the Association of Indian Universities, Professor Eurgan Qamar, commended the scheme, adding: "Student Mobility programmes, such as the newly launched Generation UK-India, support internationalization agenda of Indian universities aimed at promoting excellence and building deeper understanding of cultures between Indian and UK students."
Generation UK-India hopes to reinforce ties between the two nations, and form bonds between participants and the Indian companies that take them on, creating a generation of globally, culturally and business aware young people.
The plans have been announced against the backdrop of a British Council study from October, which revealed that Indian students are shunning the chance to study in Britain in favour of the United States.
The research predicted that by 2024, 54% of international postgraduate students in the US would have arrived from India, compared with just 9% in the UK.
The three opportunities initially available include a work placement lasting up to six months with an Indian firm, a stint as a teaching assistant at one of the associated private schools, and partaking in a two-week 'cultural immersion' trip.
The teaching placements could potentially be reserved for already-enrolled students or graduates, while the work and cultural immersion placements would be open to all over the age of 18, including those in Further Education.
One such cultural immersion placement was organised by the UK-India Education Research Initiative (UKIERI Study) India Programme in August, with 200 students making the journey.
Of the experience, 22-year-old Queen Mary University of London history student Tom Wyke said: "This programme really allows you to open the door into India in a very unique manner, something you can't get by backpacking. It helps you to understand a little bit of the culture and get a feel for why it's such a diverse and special place."
Online applications for teaching assistants and cultural immersion trips will open on the British Council website from January 2015, and will close by the end of February. Eligibility and quality checks will follow, and may include face-to-face interviews or assessment days.
Details on applying for the work placements are lacking, but the government says they will be announced as and when they become available.
Although the scheme will cover the costs of accommodation, participants will be asked to pay for their own flights, visa, insurance, and vaccinations. Teaching assistants will be asked to pay an addition £200 placement fee and cover the costs of a criminal record check.
Considering the high costs of having to secure a flight, concerns may arise over the scheme's accessibility, with questions over whether it may work against students from less privileged backgrounds; squeezing those without the capacity to put forward the initial funds.
But the scheme has received wider backing from leading industry figures, including Simon Moore of the CBI, and Anne Marie Graham, Head of the Go International Programme.
Simon Moore, the CBI's International Director, said: "The CBI is honoured to support the British Council's exciting new 'Generation UK-India' project which is aimed at building the next generation of British talent through UK-India business partnerships. I hope that our member companies will also get involved in this worthy initiative."
Anne Marie Graham, meanwhile, praised the scheme as being "an invaluable opportunity for UK students to gain experience abroad".
Related