John Lewis's hotly anticipated 2014 Christmas advert starring Monty the Penguin generated an online frenzy last week.
But it seems that the Sainsbury's Christmas offering may just have knocked Monty out of the nation's hearts.
Sainsbury's launched its Christmas ad, an epic three-minute film recreating the famous World War One 'Christmas Day truce' football match in no-man's land, last night.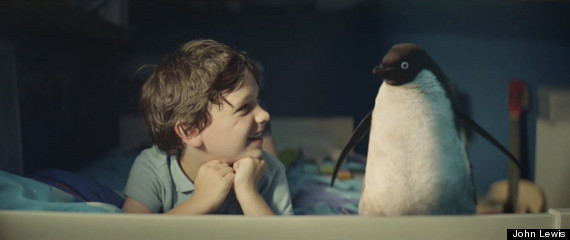 Has Monty been knocked off the top spot?
The ad, which has been made with armed forces charity the Royal British Legion, sparked a warm response online.
On Thursday morning there were 6,465 mentions of the Sainsbury's #christmasisforsharing hashtag on Twitter, according to social media company We Are Social, while there were only 1,033 mentions of John Lewis' #montythepenguin.
But the WWI ad has a way to go to overtake John Lewis's penguin film: there have been 174,000 mentions of the #montythepenguin hashtag in November overall.
John Lewis bosses can't have helped but notice that lots of people were comparing the two ads, with Sainsbury's often declared the best.
Sainsburys wins Christmas. So has shoehorning random animals into tenuous ad campaigns officially jumped the shark? #ChristmasIsForSharing

— Matt Ng (@MattNgEditor) November 13, 2014
Monty it's been emotional but ultimately #christmasisforsharing https://t.co/VFNZevul1i

— Rosanna Perry (@rosie_pezz) November 13, 2014
The #ChristmasIsForSharing ad from @sainsburys gets my vote for best Christmas ad this year. I'm fighting back tears.

— Alex Gravell (@alexgravell) November 13, 2014
Crying at the Sainsburys #ChristmasIsForSharing ad. Sorry John Lewis, stick your penguin up your arse. 😂 #montythepenguin

— amelia-rose ✌️ (@xameliaaaa) November 13, 2014
Everyone awaits the arrival of the #johnlewischristmasadvert but this year they have been beaten by #sainsburys #ChristmasIsForSharing #WWI

— Nathan Walters (@Nath_Walters) November 13, 2014
Sainsbury's #ChristmasIsForSharing advert has definitely knocked John Lewis off the top spot http://t.co/vwiVwIkJ1G pic.twitter.com/fjc7ZVWE0V

— OVC (@TheOnlineVidCo) November 13, 2014
The @sainsburys Christmas advert is SO much better then @johnlewisretail #ChristmasIsForSharing #meaningful 🎁🎄✌️

— Jade Newman (@newmanj17) November 13, 2014
Sainsbury's 1 John Lewis 0 #christmasisforsharing > #montythepenguin

— Tom Miller (@likelyladtom) November 13, 2014
Some tweeters also noticed that both John Lewis and Sainsbury's are selling a product from their adverts, but while John Lewis' is a £95 toy penguin, Sainsbury's is selling a £1 chocolate bar for which all the the profits go to the Royal British Legion.
£95 for a Penguin or £1 for a chocolate bar? #ChristmasIsForSharing #tacklethepenguin pic.twitter.com/HXgcrEVbdt

— Ian (@I_am_Tandy) November 13, 2014
The Sainsbury's ad also isn't without its critics: some felt that it was inappropriate that the supermarket was making use of a historical conflict in its advertising.
Epic advert!! But that Madison Avenues dirty mitts are all over something so historic #ChristmasIsForSharing

— Kanchana Reynolds (@KanchieReynolds) November 13, 2014
War, what is it good for? Selling slightly more stuff through Q4 #badtaste #ChristmasIsForSharing

— pete j hopper (@baggeeboy) November 13, 2014
How to make money by Christmas #ChristmasIsForSharing http://t.co/qlpZocjrSS

— Sean M. Cullinan (@seanthemilkman7) November 13, 2014