Sleazy so-called pick-up artist Julien Blanc appears to have been pictured posing with Russell Brand and has encouraged his fans to be more like the comedian - but now Brand's fans have hit back.
Although it has not yet been confirmed whether or not Brand was aware of who he was posing next to in picture, apparently taken 18 months ago and posted on the pick-up artist's Instagram, Blanc has made it clear he is a fan of the Hollywood star-turned political activist.
Daily Mail Australia obtained a recording - removed from Blanc's YouTube account - of a recent lecture entitled: "Russell Brand's Secret to Having a Magnetic Personality: Get Flashed While Behaving Like a Rockstar."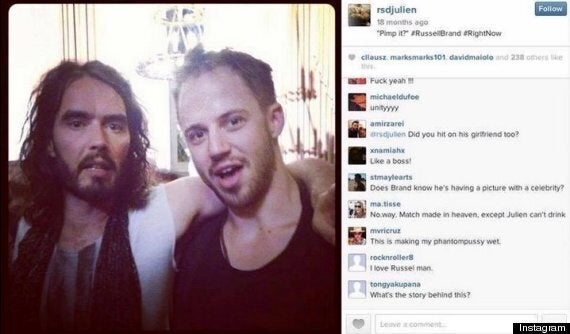 Russell Brand, thank you for protesting for social justice and calling for revolution. Did you know that sexual assault artist Julien Blanc has posted a picture of himself with you to try and gain support? We are writing to ask you to publically renounce Julien Blanc and the Real Social Dynamics organisation that in the guise of teaching men how to become a "pick up artist" promote sexual assault and racism.
Blanc can be heard telling his followers that the best way to stand out to women was to "do what most people wouldn't do and get away with it."
"If you take, like, any celebrity, like fucking, Russell Brand, for example, what does he do?
"He does the shit that most people wouldn't do.
"He pushes it a little bit further - that's it - and he gets away with it."
"You do that, you stand out."
The Huffington Post UK has contacted Brand for comment.
In the meantime, a Home Office minister has lobbied Theresa May to ban the US "pick-up artist" from entering the UK because of his "sexist and utterly abhorrent statements".
Lynne Featherstone said she had no doubts that if Blanc was allowed to perform in the UK, there would be an increase in "cases of sexual harassment and intimidation".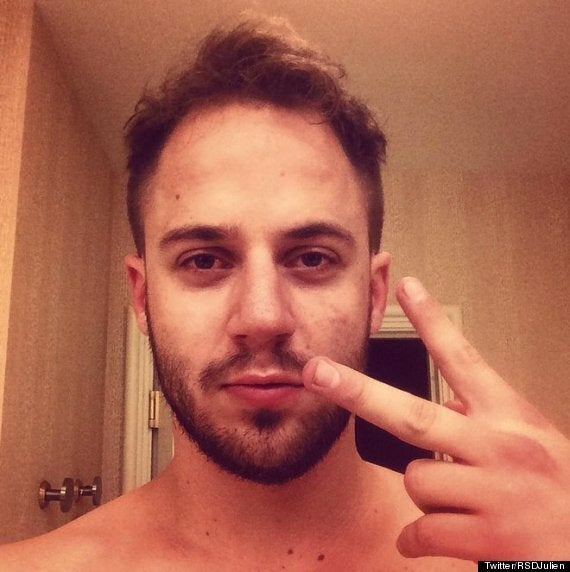 In one YouTube video that has had more than 50,000 views, Blanc is filmed saying: "Just go through Tokyo, grab girls and yell 'Pikachu' and put her head on your dick."
Speaking to a room full of laughing men, Blanc comments about women in Japan: "If you're a white male, you can do what you want. I'm just romping through the streets, just grabbing girls' heads, just like, head, pfft on the dick."
He also has a hashtag #ChokingGirlsAroundTheWorld, where he tweets footage of himself doing exactly that: choking women around the world.
And now he is due to arrive in the UK to hand out such advice.
Liberal Democrat minister Featherstone publicly raised her concerns and urged the Home Secretary to deny Blanc a visa.
The Crime Prevention Minister told the Guardian: "As the Home Office minister with responsibility for tackling violence against women and girls, I am extremely concerned by the sexist and utterly abhorrent statements Julien Blanc has made about women.
"If he was allowed to perform in the UK I have no doubt that cases of sexual harassment and intimidation would increase.
"Free speech is obviously hugely important, but with free speech comes responsibility. It is not appropriate to talk about choking girls under any circumstances."
Blanc works for Real Social Dynamics, a business that profits from what the Washington Post described as a "growing online subculture of men's rights activists and pick-up artists."
The group charges £1,250 for bootcamps and between £120 and £330 for various dating 'services' packages and for this chunky sum he has the following guarantee: "Become a true 'pimp', with the highest abundance of hot women in the shortest amount of time, or your money back. No questions asked."
RSD's website is advertising a "bootcamp" to teach the firm's techniques in London starting on November 27.
"It's Offensive, It's Inappropriate, It's Emotionally Scarring, BUT IT'S DAMN EFFECTIVE," Blanc says of his techniques on his Web site, PimpingMyGame.com where he advises men on how to "develop panty-dropping masculinity".
Australia's Immigration minister, Scott Morrison, revealed that Blanc's visa was cancelled and he was forced to leave the country on Friday.
"This guy wasn't putting forward political ideas, he was putting forward abuse that was derogatory to women and that's just something, those are values abhorred in this country," he told Sky News.
Shadow home secretary Yvette Cooper has also written to May suggesting she should block Blanc from coming to the UK on the grounds his presence is "not conducive to the public good".
In the letter she said: "Promotional material on websites reportedly linked to Mr Blanc ... promise to 'teach' men how to overcome 'last-minute resistance' from women to having sex including 'teaching' how to 'bring her back from her logical mind, and into an emotional state'. Videos of Blanc apparently include footage of him grabbing women around the throat, as well as instructing men to use physical force to get women to engage with them."
Cooper went on: "Why should we let someone into this country to incite sexual assaults or violence against women? Australia has already sent this man home. Canada want to keep him out. There is plenty of evidence of Mr Blanc's vile views and misogynist business, and no interest for Britain in him being able to promote them here in our communities.
"The Home Office need to investigate him urgently. Theresa May should be able to exercise sensible border control and stop him holding these seminars in our country."
A Home Office spokesman said: "The Home Secretary has the power to exclude an individual if she considers that his or her presence in the UK is not conducive to the public good.
"It is long-standing practice that we do not comment on individual exclusion cases unless they are made public by the excluded individual.
"This Home Secretary has excluded more foreign nationals on the grounds of unacceptable behaviour than any before her."
Sarah Green from the End Violence Against Women coalition told The Guardian that there was a strong legal case for not allowing Blanc a temporary work visa for the UK.
"Some of the behaviour Blanc demonstrates in his videos amounts to sexual harassment and sexual assault," she said.
"More broadly this is part of a culture that makes light of assault, that tells victims they will not be taken seriously. We need a social conversation about why this type of 'advice' is commercially viable."
The latest sexism row follows "lad comedian" Dapper Laughs having his controversial dating advice show, "On The Pull", axed by ITV last week after a furious public backlash.
The move followed a petition being supported by over 50,000 people to remove the comedian, real name Daniel O'Reilly from TV.
An ITV spokesman said: "We have given careful thought to the recent criticism of the character Dapper Laughs, which has focused on his activities outside of the ITV2 programme, whose content was carefully considered and complied. We have taken the decision that we will not be considering this show for a second series."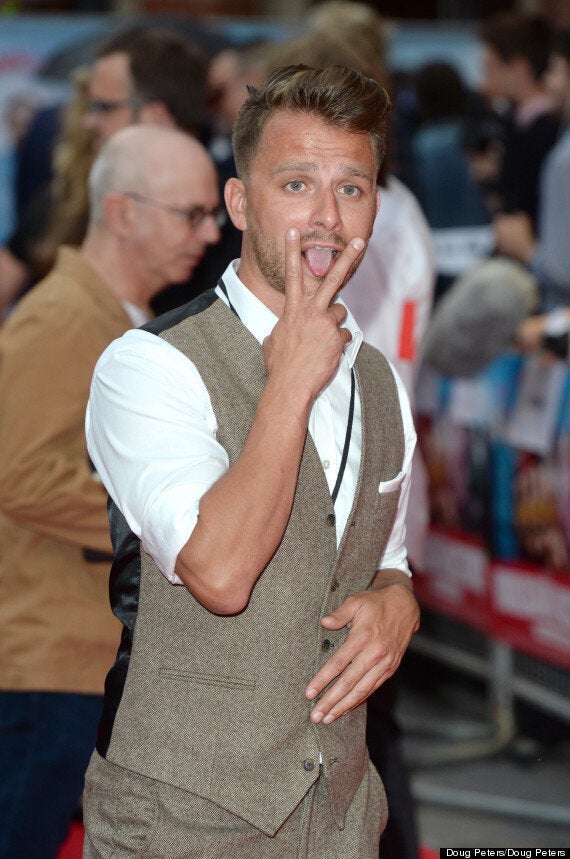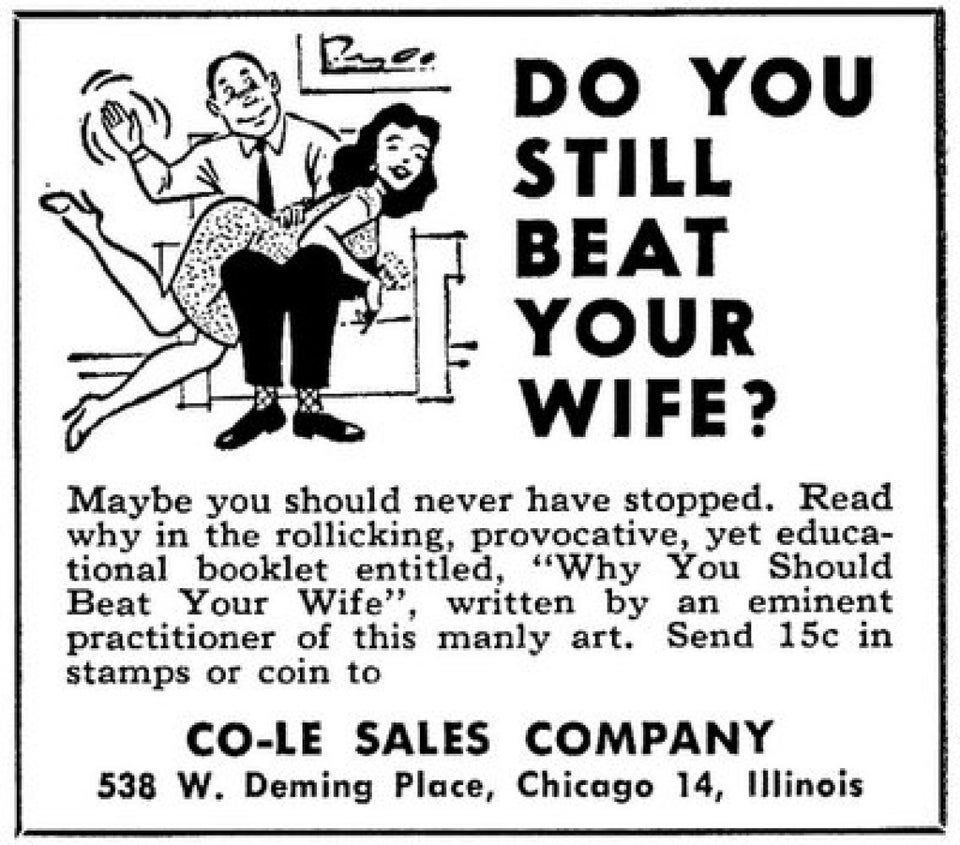 Sexist Vintage Ads