Band Aid 30 goes on sale today, with Bob Geldof telling everyone, "It doesn't matter if you don't like it. Just buy it."
Flash back 30 years, and Band Aid was an entirely more casual affair, consisting of Bob Geldof simply hitting the phone to his mates, and telling them where to be and when. No arguments.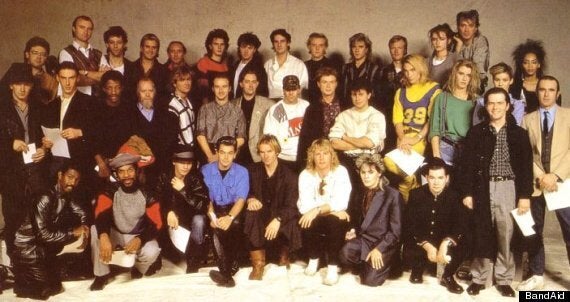 Band Aid 1984 - 38 towering egos in a room. What could go wrong?
"Bob knew Duran Duran, Spandau Ballet and all the pop gang very well because of Paula Yates and The Tube," remembers Mark Ellen, rock journalist who was editor of 'Smash Hits' at the time, and one of the few reporters allowed into the studios on the day.
"He was also in with the old rock and roll guard because he was a bit older than them (the popsters). His career itself was very much floundering, Boomtown Rats hadn't had a hit for four years, so he was no threat to anybody and he was immensely liked. He was very clever, very forceful in the way he got people to cooperate."
Following Bob's persuasive phone calls, a bunch of disparate artists - Sting, Bono, George Michael among them - all rolled up at the studio early on the morning of Sunday 25 November, where Bob and Ultravox frontman Midge Ure were holding court. Mark describes the Duran mob arriving "in ski gear, goggles and all, strange" and the Spandau boys "with a bodyguard each, for a charity single".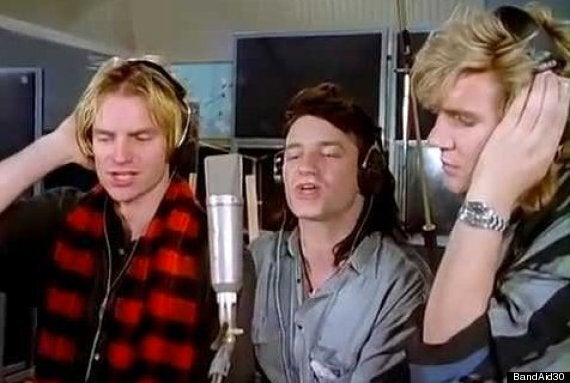 Each person stepping up to sing was like watching a penalty shoot-out, according to journalist Mark Ellen
According to Mark, there was a strange tension in the air, not only because of so many stars in one room, but because they'd all been freely slamming each other in the press in the months before.
"In 1984, pop music was a huge, high-earning, bank-rolling industry," he recalls. "Records sold in gigantic quantities, there seemed to be room for everyone, and so there were millions of bands all at war with each other.
"Paul Weller used to be massively acerbic about everybody else, he was very opinionated, hated all the glam pop of Spandau Ballet and Duran, and now here he was in a room surrounded by everyone he'd been so horrible about in the press.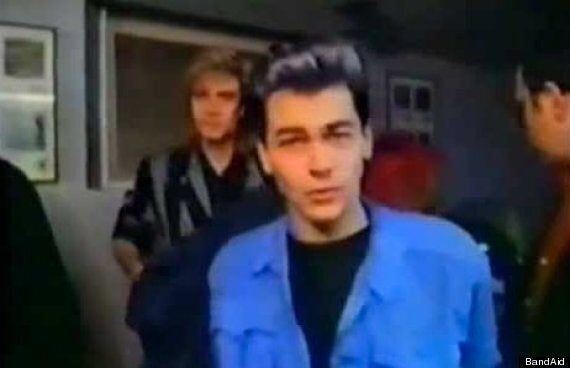 It was Jon Moss who broke the ice, running up to fellow drummer Phil Collins and shouting 'You're my hero'
"Meanwhile, old guard like Status Quo were often rather rubbished by the young guard even though, at the time, they were probably only about 35, only about 10 years older, but that's a century in pop years. "
Mark Ellen remembers it being one person in particular who broke the ice – Jon Moss, drummer with Culture Club.
"He suddenly ran up and threw his arms around Phil Collins, and shouted, 'you're my hero' and suddenly the atmosphere in the room got much warmer."
Of course, Jon's bandmate Boy George was causing ripples of his own – with his absence, despite Bob Geldof's impassioned phone calls.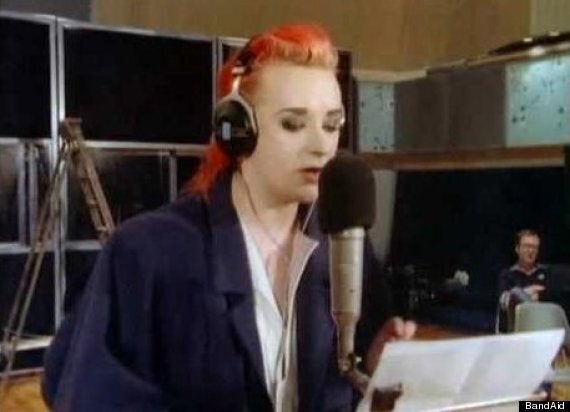 A true superstar knows how to make a late entrance
"He was a superstar in 1984, and Bob phoned him and said, 'Where are you?'" remembers Mark. "The answer was New York. And Bob ranted, 'Why aren't you here?' and so he got out of bed.
"Thank goodness for supersonic travel. George eventually turned up at about 6pm, with bright crimson hair and went straight up and did his vocals. But not before he'd had a huge glass of brandy."
"Francis Rossi came up to me as I was leaving," remembers Mark. "He told me he'd just been recording the chorus.
"Francis carried on, 'Weird really, 38 people in a room, all singing Feed the Welsh.'"
Band Aid 30's record is available to download now on iTunes. Watch the video below.
'Mark Ellen: Rock Stars Stole My Life' is out now. Click here for info.