David Cameron warned a fresh global economic disaster could be looming as Ebola, conflict in the Middle East and Russia's interventions in Ukraine threaten to push the eurozone back into recession.
There was a "dangerous backdrop of instability and uncertainty", with diplomatic, humanitarian and economic problems around the world, he said, potentially putting the UK's recovery at risk.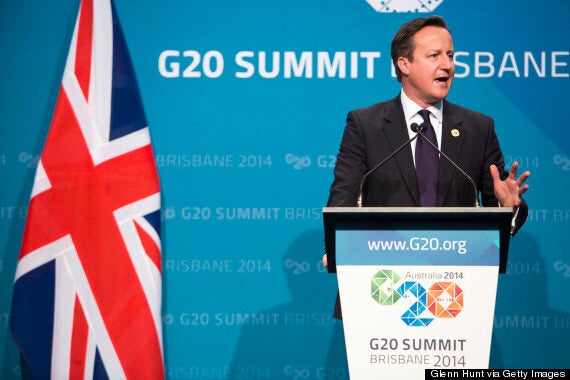 Cameron warned of a second global crash after speaking at the G20
"The eurozone is teetering on the brink of a possible third recession, with high unemployment, falling growth and the real risk of falling prices too.
"Emerging markets, which were the driver of growth in the early stages of the recovery, are now slowing down.
"Despite the progress in Bali, global trade talks have stalled while the epidemic of Ebola, conflict in the Middle East and Russia's illegal actions in Ukraine are all adding a dangerous backdrop of instability and uncertainty."
The British economy was the fastest-growing in the G7, with "record numbers of new businesses, the largest ever annual fall in unemployment, and employment up 1.75 million in four years", Cameron said.
"But the reality is, in our interconnected world, wider problems in the global economy pose a real risk to our recovery at home," he said.
"We cannot insulate ourselves completely, but we must do all we can to protect ourselves from a global downturn.
"Working through the agenda at the G20, it was clearer than ever how vital it is that we stick to our long-term plan at home and at the same time play our part in the international response to the global challenges on which our economic security also depends."
With the general election set for next May, he urged Britons to back his plan to ensure stability in the UK and warned against changing course: "When we faced similar problems in recent years, too many politicians offered easy answers, thinking we could spend, borrow and tax our way to prosperity.
"Those were the wrong answers then; they are the wrong answers now. We are not going to repeat the mistakes of the past.
"Nor will we be successful by listening to those who suggest we can hide away from the world."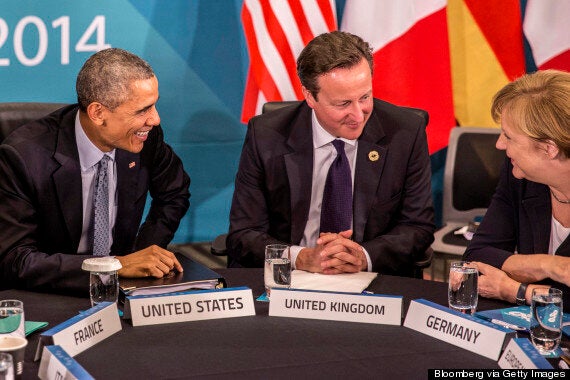 Cameron speaks to Angela Merkel, Germany's chancellor, and US President Barack Obama
He added: "In six months' time, Britain will face a choice: the long-term plan that has seen it prosper, or the easy answers that would surely have seen it fail.
"By sticking to our long-term plan at home and standing up for Britain's interests abroad, we will do everything possible to protect our economy and give hardworking families a secure future in a Britain they are proud to call home."
But Labour highlighted comments by former prime minister Sir John Major, who told BBC1's Andrew Marr Show that people were "concerned and worried" that "none of the growth in the economy has yet reached wage packets or salary slips".
Shadow Treasury chief secretary Chris Leslie said: "David Cameron claims his policies are working, but as even Sir John Major admits, most people still aren't feeling the recovery.
"Working people are £1,600 a year worse off under his Government, borrowing is going up so far this year and exports have fallen behind our competitors.
"David Cameron should be trying to strengthen growth and make sure working people finally benefit from it, not making excuses for slower growth.
"Only Labour's economic plan will deliver a recovery for the many, not just a few at the top. And we'll balance the books, but do so in a fairer way by reversing David Cameron's tax cut for millionaires."