A Cardiff medical student, who previously featured on a propaganda video for Islamic State, is believed to be one of the men standing with 'Jihadi John' as 18 captured Syrian soldiers are beheaded.
His alleged appearance has prompted fears the former student is now a protege of the four British hostage takers, nicknamed 'The Beatles' by the captives, who renowned for their violence.
Muthana's father, Ahmed, told the Daily Mail that it "looks like" the bearded man is indeed his son.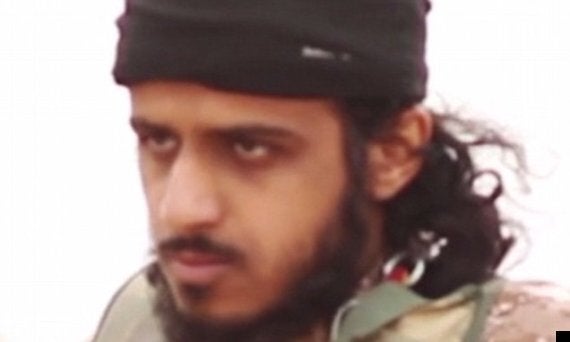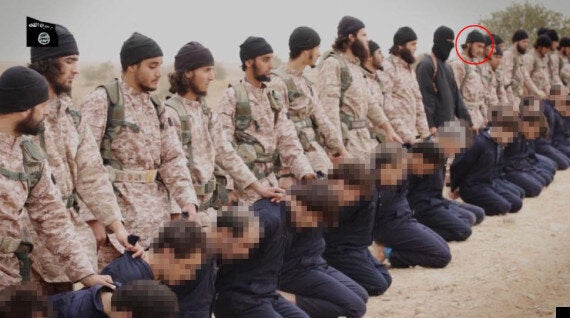 The video shows a man who looks like the Cardiff medical student, standing next to 'Jihad John'
"He must fear Allah now for killing people. How can he expect to face Allah if he is killing human beings?" Ahmed Muthana told the Mail, adding that he would never forgive his son. "No, he must be mentally ill – either that or there is something else not right."
Ahmed Muthana also told ITV's Good Morning Britain he believes his son should face the death penalty for his apparent crimes.
Charlie Winter from the Quillam think tank told the paper it looked like Nasser was in the video, and said the latest release is a "message of defiance and provocation" from IS.
French interior minister Bernard Cazeneuve also reported on Monday morning that a French citizen is believed to be among the jihadi gang seen killing the soldiers, in graphic close-ups. "This analysis [by French intelligence] suggests with a very high probability that a French citizen could have directly participated in carrying out these abject acts," he said.
In the nearly 16-minute video uploaded to social networks on Sunday, a black-clad militant - who could be Jihadi John - stands before a severed head that he claims is Kassig.
But, unlike in the beheading of other hostages James Foley, David Haines, Alan Henning and Steven Sotloff, Kassig was never seen alive and did not make a statement to the camera.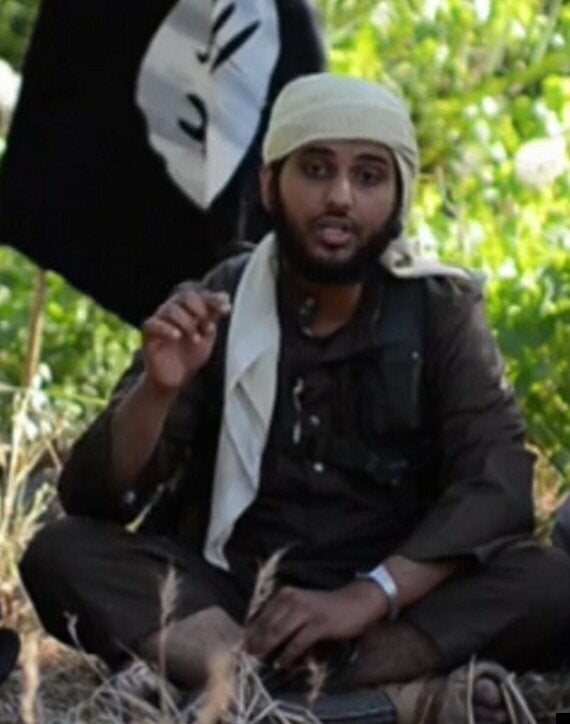 Nasser Muthana, pictured in the video in June
Kassig, 26, was captured last year while helping provide medical aid to Syrians. His friends say he converted to Islam in captivity and changed his name to Abdul-Rahman.
The video was released hours after it was reported Jihadi John, the British terrorist who sent chills and fear throughout the world when he beheaded four IS hostages in earlier videos, has been injured in an air strike.
Prime Minister David Cameron condemned IS as a "depraved organisation", while US President Barack Obama said the killing of Kassig was "an act of pure evil".
Cameron will convene a meeting of the Government's Cobra contingency committee to consult with security chiefs and other senior officials about the latest developments, Downing Street said.
The masked fanatic, believed to be responsible for the beheading of two British and two American hostages, is reported to have been taken to hospital after narrowly escaping death in the raid. He has become one of the world's most wanted after the first beheading footage - the killing of US journalist James Foley - was broadcast on August 19.
Muthana, who was first pictured in an IS recruitment video in June, wrote just four years ago he wanted to be Britain's first Asian Prime Minister. His Facebook page revealed a love for Chelsea football club and Call of Duty, but with a recently intensified interest in religious practice and a growing fury over the situation in Syria, saying it had been misrepresented by the media.
Kassig's parents, Paula and Ed Kassig, broke their silence over his captivity last month because "the dynamics" had changed and they feared for his life.
The couple also released excerpts from a letter written by their son in which he feared "it may very well be coming down to the wire here".
They said in a statement last night: "We are heartbroken to learn that our son, Abdul-Rahman Peter Kassig, has lost his life as a result of his love for the Syrian people and his desire to ease their suffering. Our heart also goes out to the families of the Syrians who lost their lives, along with our son.
"Fed by a strong desire to use his life to save the lives of others, Abdul-Rahman was drawn to the camps that are filled with displaced families and to understaffed hospitals inside Syria. We know he found his home amongst the Syrian people, and he hurt when they were hurting."
They added: "We are incredibly proud of our son for living his life according to his humanitarian calling. We will work every day to keep his legacy alive as best we can."
Popular in the Community