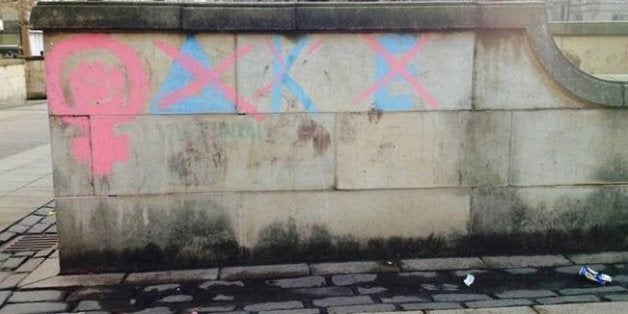 Members of a student fraternity at Edinburgh University allegedly joked about raping members of the feminist society, and proposing a "raping trip" abroad.
Minutes of a meeting between the university's Alpha Sigma chapter of the Delta Kappa Epsilon fraternity (DKE-AS) also made comments about a female student union official not requiring a "strap on" to commit rape, The Student Newspaper reports.
Edinburgh's student union (EUSA) president Briana Pegado told HuffPost UK: "We do not recognise the fraternity as a society. We do not support it. We have been made aware of these allegations and we will be releasing a statement in the next week."
According to The Student, at least one of the meetings took place on university property, with the room being booked under the pretence of hosting a "Mandarin study group".
The minutes detail the conversations of several meetings which took place between September 2013 and May 2014, with DKE-AS members reportedly joking about rape on more than one occasion.
Earlier this year, students were outraged after the controversial Delta Kappa Epsilon fraternity, which was founded at Yale University, established a chapter at the Scottish institution.
The Yale chapter was banned for five years in May 2011, after members were videoed shouting "No means yes! Yes means anal!"
According to the DKE's website, the fraternity has expanded to Warwick University and the University of Oxford, and hopes to set up shop in London institutions.
A statement from Edinburgh's feminist society read: "FemSoc condemns in the strongest terms the abhorrent misogynistic and transphobic behaviour and statements made by the DKE frat. We hope the university will join us in standing up against sexism and take disciplinary action against students involved in the frat.
"We plan to take further action on this issue to make sure the Frat cannot continue to operate on this campus."
Eve Livingston, vice president of societies and activities of EUSA, added: "We are completely horrified by the views expressed in the minutes leaked to The Student Newspaper, which do not represent the majority of our members and which have no place in our university community.
"The comments made are abhorrent and inexcusable, and we condemn them in the strongest terms."
EUSA has raised the issue with the university as a potential criminal offence. A statement on the union's website said it was "shocked and appalled" by the contents of the leaked minutes.
Speaking to HuffPost UK, a University of Edinburgh spokesperson said: "We are treating this matter extremely seriously. The University is committed to promoting a positive culture for working and studying, in which all members of the University's community treat each other with dignity and respect. Accordingly, a senior member of staff has been appointed to investigate the allegations further."
The DKE-AS has been contacted for comment but has yet to respond.