'Strictly Come Dancing' is to feature its first ever same-sex dancing couple this weekend.
SEE MORE:
During Sunday night's results show, Robin Windsor will make a brief return to 'Strictly', where he will be partnered with Aljaž Skorjanec for a 'Cops and Robbers'-themed dance.
Although the pair will only be dancing together for a matter of seconds in the routine, this still marks the first time that two dancers of the same sex will have performed together in 'Strictly Come Dancing' history.
Sexy cops and robbers, @Robinwindsor dancing with @AljazSkorjanec *YES* THIS WEEK'S PRO DANCE http://t.co/R57xvK8hGP pic.twitter.com/OVywRMOndd

— BBC Strictly (@bbcstrictly) November 21, 2014
Robin, who is currently dating 'X Factor' runner-up Marcus Collins, has been a professional dancer on the BBC show since 2010, but had to sit out this year's series after sustaining a back injury.
He has previously said that he would like to see two men, or two women, perform together on 'Strictly', as they have in other versions of the show around the world, but admitted he wasn't sure how the public would react.
Speaking to the Daily Star this summer, he claimed: "I'm not sure if the British public are ready for it on the main show. But I think it would be a good idea to do it on a Children In Need special or the Christmas show.
"It would be a good way to test the waters. Then, if the public love it, why not go all out and do it for a full series? I'm up for anything."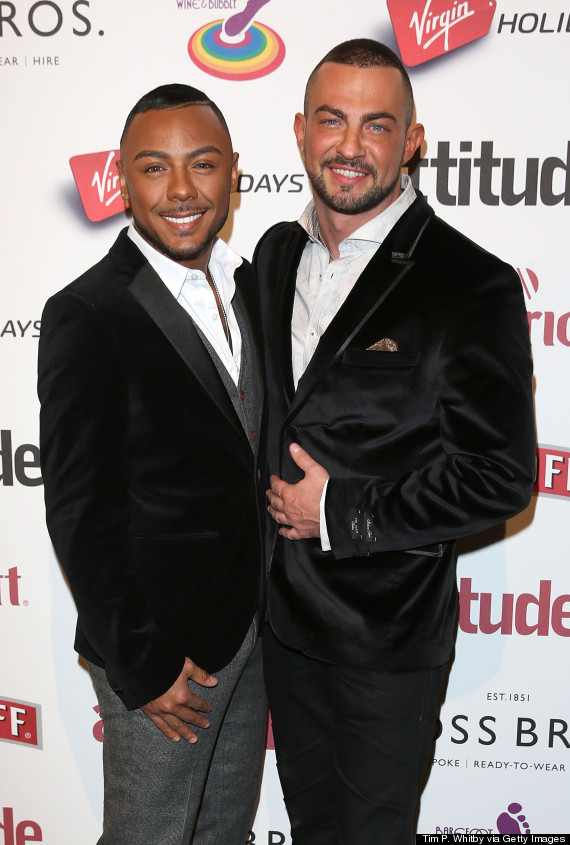 Robin Windsor and Marcus Collins
Ola Jordan echoed his comments at the time, saying: "I don't know if the audience is ready. But unless you try you won't know. I think there will be pressure from fans for Strictly to do it. So if it's not this year, hopefully it'll happen next year."
However, her husband, professional dancer James Jordan, has been less supportive of allowing same-sex couples to compete in ballroom dancing, having previously moaned: "I do not agree with men dancing with men. Why would a man want to dance with a man?"
Well James, tune into 'Strictly Come Dancing' on Sunday night at 7.15pm and you can see just that...
LIKE US ON FACEBOOK | FOLLOW US ON TWITTER