STRASBOURG -- Rising anti-immigration rhetoric in Europe is a "worrying" trend that could lead to more discrimination, the Congolese winner of the European Union's most distinguished human rights award has said.
Gynaecologist Dr Denis Mukwege, a five-time Nobel Peace Prize nominee who has treated more than 30,00 victims of sexual violence in war, said he himself had been forced to flee for Sweden after being the victim of an assassination attempt, only returning to his home country some time later.
On the eve of his receiving the Sakharov Prize at the European Parliament in Strasbourg, where immigration has been dominating debate during Tuesday's plenary session, Mukwege told HuffPost UK the solution is "not to build walls around Europe so no one can come in".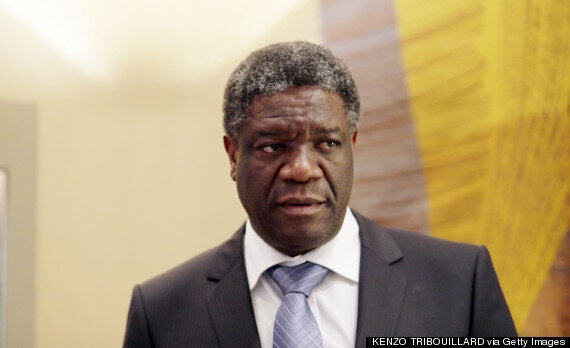 Doctor Denis Mukwege, founder of a pioneering rape victims clinic in the Democratic Republic of Congo
"Solutions have to be to support African countries to build their own economies, so young people don't all want to leave," he warned. "This is completely possible. For those who want to fight immigration, I say the solution, to stop people who are dying in the sea to come over to Europe, is more humanitarian.
"Of course, you can make laws and so on, but someone is coming here because he sees opportunities. You have to create that opportunity in his own country."
Any other action was just "racism", he said, recalling how Chinese tourists were treated in Europe 30 years ago when he first studied there. "At the airport, I could pass immigration with no problems," he said. "Now China has a strong economy, they are received here like princes.
"You can see that in each capital, the Chinese are giving huge opportunities to buy, and no one can stop them because of [objections to] immigration.
"This is only 30 years ago, before everyone thought they were coming for underground work, now they are a rich country, things have changed."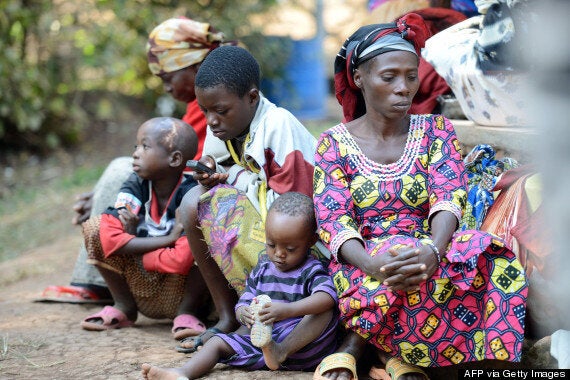 Women and children sit in the Panzi Hospital, run by Mukwege
Mukwege's Panzi Hospital clinic in Bukavu treats thousands of women who have often been the victims of brutal gang rape during the country's civil war, with Mukwege personally performing up to 10 surgeries every day on women's shattered internal organs after their ordeals.
As the violence in DRC worsened, Mukwege first turned his attention to helping rape victims when a patient arrived at his hospital with her vagina and rectum full of bullets.
Now his clinic treats 3,000 women a year, many of them unable to return home to be cared for by families who reject them due to the stigma of gang rape, so the clinic now provides transitional housing, education, job skills training, small grants and psychological care.
Mukwege paid a heavy price for his outspokenness. His home was attacked by a gang of men who kept his daughters hostage, and lay in wait for his return. As the doctor arrived home, his guard was shot dead by the gang, but the bullet missed Mukwege.
The assassination attempt forced him to flee the country with his family, seeking asylum in Sweden. He returned within three months, unable to keep away from his life's work.
If it is a sore point, it doesn't show. "We are not working for a prize, we are working for the dignity of women, that's the best prize we can get," he told HuffPost. "This is a recognition of the suffering of women, and their courage to fight against all the violations of their human rights."
His message to the European politicians gathered to see him was simple, stop seeing violence as a necessary side effect to gaining Africa's minerals for mobile phones and tech products.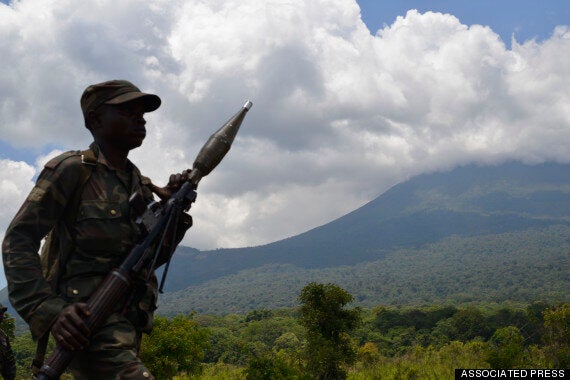 A Congolese army soldier walks near the front line during fighting with M23 rebels north of Goma, eastern Congo
"What is going on in Congo is not an ethnic conflict, it is not for religion, it is a fight for control of mineral resources," he said.
"All the money is coming here. We can tackle that here together. We want a stronger law, it can't only be the responsibility of companies. We are waiting for it still.
"OK, we know we need our mobile phones, we need our laptops, we need our gadgets, but we don't need to kill for them. And it's possible; babies and children are being killed everyday, women are being destroyed.
"We have waited for a long time to see action, and we don't see it yet. It's possible, but only if people understand that they can get their gadgets, without destroying women's futures. You don't need to kill and rape."
Mukwege was full of praise for the initiative to end sexual violence in conflict, which was the topic of a summer summit hosted in London by UK Foreign Secretary William Hague and actress Angelina Jolie.
His clinic, and those like it "only treat consequences," he said. "The goal is really to end sexual violence in conflict, making a call to the international community to draw the red line, so people are aware that when you use rape as a weapon, you are not accepted in the international community.
"He [the perpetrator] can know that he can't visit the European Union, he can't get money in any bank in the world, people who are leading these atrocities will start to know."
A harsh critic of the West's perceived indifference to the violence in the Congo, Mukwege gave a blistering speech to the United Nations in 2012, saying the international community had stood by for 16 years and done nothing.
"I would have liked to say 'I have the honour of taking part in the international community that you represent here'. But I cannot," he told the assembly.
"How can I say this to you, representing the international community, when the international community has shown its fear and lack of courage during these 16 years in the DRC. I would have liked to say, 'I have the honour of representing my country', but I cannot.
"In effect, how can one be proud of belonging to a nation without defence, fighting itself, completely pillaged and powerless in the face of 500,000 of its girls raped during 16 years; 6,000,000 of its sons and daughters killed during 16 years without any lasting solution in sight. No, I do not have the honour, or the privilege to be here today. My heart is heavy."
Popular in the Community