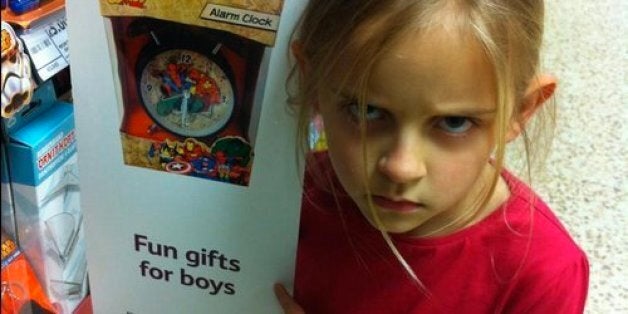 Ladies and gentleman, we'd like to introduce our new favourite feminist.
When seven-year-old Maggie saw a sign in Tesco implying that superheroes are just for boys - she was less than impressed.
Her mother, Karen, quickly snapped her daughter frowning and pointing at the sign. The photo went viral (9,000 retweets and counting) and, according to Buzzfeed News, Tesco have now withdrawn the signs and issued an apology.
Karen explained on Twitter: "She spotted the sign before I did and ran over to it very crossly!"
Tesco, who have now removed the sign, told BuzzFeed News: "This alarm clock would make a great gift for both girls and boys. The sign has been removed and we're sorry if it caused any confusion."
The image has definitely resonated on Twitter.
"I agree, why can't girls like Superheros too. It should read fun gifts for girls and boys?" writes one user.
"I'm a 36 year old woman. I've loved comics & superheroes all my life. It really is very offensive," says another.
What do you think of the signs? Let us know in the comments below.