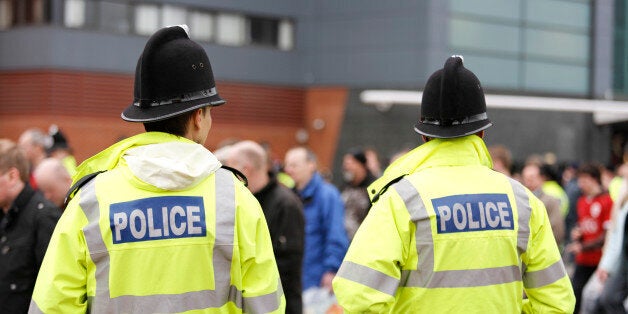 Some of the UK's biggest police forces have recorded a rise in the number of violent homophobic crimes this year, according to new figures. Hundreds of assaults on gay and lesbian people have been reported to police so far in 2014 - including more than 300 in London alone.
Gay rights charities said that while it was "encouraging" more people were reporting hate crime, many victims felt "silenced" by abuse on the street. Figures released to the Press Association under the Freedom of Information Act revealed 19 police forces recorded more violence against the person offences, which were classed as homophobic or motivated by a person's sexuality, between January and October than the whole of last year.
Scotland Yard recorded 1,073 violent homophobic offences between January and October, up from 1,007 in 2013 and 1,002 in 2012. They included 315 assaults so far this year and a sharp rise in harassment offences from 693 in 2013 to 747 in 2014.
Greater Manchester Police recorded 278 violent crimes motivated by a person's sexual orientation between January and October, up from 231 in 2013 and 269 in 2012. The Police Service of Northern Ireland revealed the number of homophobic motivated incidents and crimes had "generally increased year on year since 2006/07". In 2013/14, 280 incidents were recorded by the force - up from 245 in 2012/13 and 200 in 2011/12.
South Wales Police recorded 162 violent crimes motivated by a person's sexual orientation between January and October, up from 132 in 2013 and 89 in 2012. And Avon and Somerset Police recorded 147 homophobic violent crimes between January and October, up from 139 last year and 106 in 2012.
Merseyside, Suffolk, South Yorkshire, Devon and Cornwall, North Wales, Kent, Bedfordshire, Dorset, Gloucestershire, Hertfordshire, Durham, Leicestershire, Derbyshire and Cambridgeshire police forces also reported a rise in violent crimes which were homophobic or motivated by a person's sexual orientation.
Elsewhere, West Midlands Police recorded 174 violent homophobic crimes between January and October, compared with 184 in 2013 and 165 in 2012. Essex Police recorded 86 violent homophobic offences between January and October, while West Yorkshire Police recorded 40 violent crimes due to a person's sexual orientation in the same period.
Gay rights charity Stonewall warned that homophobic hate crime was "a real issue in the UK" and authorities must "continue to take this type of vile abuse seriously". The charity's spokesman Richard Lane said: "We believe that more and more victims and witnesses of homophobic attacks are building up the courage to speak to others and report these instances to the police.
"Hate crime is a key area of our work at Stonewall and our campaigns aim to not just encourage individuals to report attacks, but also for the police to try and make people feel more at ease with approaching them. We know, in the past, many have been hesitant to report crimes to the police for fear of the consequences."
Nick Antjoule from Galop, the LGBT (lesbian, gay, bisexual and transgender) anti-violence charity, said: "It's encouraging that more people feel able to talk to the police, though the vast majority of hate crime remains hidden. Each year the police record over 4,000 homophobic crimes, but that's dwarfed by the 39,000 homophobic crimes that happen every year in this country according to government estimates.
"Many of the people Galop support feel silenced by abuse on the street, harassment online or prejudice at home. Some of our clients put up with harassment for years before contacting us for help."
Chief Constable Jane Sawyers, national policing lead for lesbian, gay, bisexual and transgender issues (LGBT), said: "Targeting someone because of their sexual orientation or gender identity is totally unacceptable. This abuse affects people's right to feel safe, secure and confident about themselves.
"Police forces across the UK are committed to reducing hate crime and improving services to victims. We know that homophobic hate crime disproportionately affects young people, who are amongst the most likely to suffer, but also to perpetrate hate crime.
"We are also aware that traditionally there has been under-reporting from the LGBT community. The police service has been working hard to ensure the community feels confident to come forward and report hate incidents. All such reports will be handled with professionalism and understanding."
Related