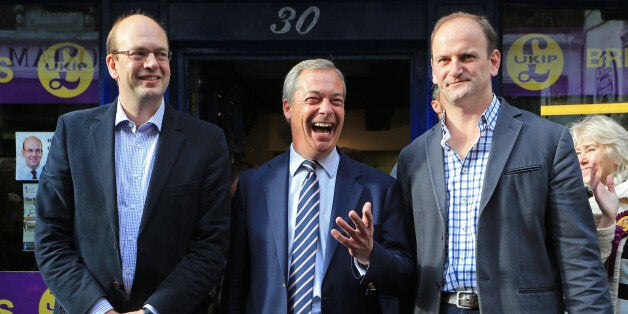 Conservative MPs who want to defect to Ukip do not need to resign their seat and trigger a by-election in advance of the May 2015 general election, Douglas Carswell has said.
Carswell, Ukip's first ever elected MP, has set a precedent that defectors stand down from parliament and seek re-election under their new party's banner. In the past defectors crossed the floor without seeking a new mandate from the voters.
However in an interview with Total Politics magazine, Carswell said the rule did not apply to people who switched parties after Christmas, given general election is so close.
"You don't need a by-election anymore. It's convention. I think if someone were to resign after Christmas the Crown Office would be within its rights to say an election is coming soon enough, let's wait for it," he said.
In August, when Carswell shocked Westminster by jumping ship to Nigel Farage's party, he said holding a by-election - which he subsequently won - was the only "honourable" thing to do.
However the prospect of having to run for re-election may have given other potential defectors pause for thought, fearful that the Tory campaign machine would be able to throw everything at them.
Carswell's statement that Tory, or Labour MPs, who wish to join Ukip will not be expected to resign their seat may be designed to encourage more to cross the floor.
In the interview the Clacton MP said the Conservative Party was in the hands of a "smug, out of touch, incompetent arrogant elite".
And he said he was happy to have a "quiet chat" with Tory MPs and show them whether they were more likely to retain their seat in 2015 if they were to run as Ukip.
"I'm not going to try and pressurise them but if they want to come and look at some numbers and see how they might fare, I'm a bit of a psephological wonk and I'm happy to share that," he said.
"We can win in the 271st seat (Rochester). That means there are dozens of seats, dozens of seats in the country where we can win," he said.
Carswell's suggestion that a by-election would not be needed given the general election is only five months away is shared by professor Tim Bale, an expert on the Conservative Party.
He told The Huffington Post it was now "awfully difficult for any MP who chooses to cross the floor to explain to the media why he or she's not got the guts to face the voters".
However he added: "It would be hard to argue that anyone who does so in the New Year should cost the taxpayer hundreds of thousands of pounds for the sake of not waiting a few short months.
"Likewise, if a swathe of Tory MPs wanted to jump ship just after an election in 2015, they might be able to argue that they'd all just faced the voters."