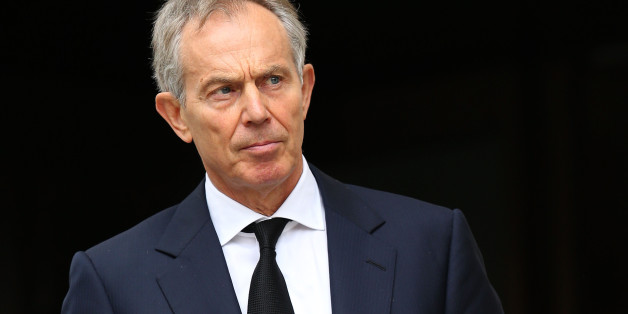 Chris Jackson/PA Wire
Save The Children is facing a major backlash for its decision to give an award to former British prime minister Tony Blair, with nearly 100,000 people signing a petition for it to be revoked.
Blair was presented with the Global Legacy Award for his work to address poverty in Africa by the charity at an event in New York last week.
But, as the Islamic State (IS) crisis escalates in Syria and Iraq, the petition claims the former politician's "legacy' in the Middle East overshadows his achievements in Africa".
As the violent militants IS continue to impose their reign of terror, the timing was awkward for the former Labour leader, who is often blamed for a violent insurgency that has gripped the Middle East since Saddam Hussein was toppled in 2003.
"Many see him as the cause of the deaths of countless children in the Middle East with damning allegations relating to his role as Middle East envoy and businesses dealings with autocratic rulers and others in the region," the petition claims.
As well as the online petition calling for Blair's award to be "revoked", it is reported almost 200 staff at Save The Children have also condemned the decision and signed an internal letter to that effect.
The letter stated that the award was "inappropriate and a betrayal to Save the Children's founding principles and values", the Guardian reported.
It also said the charity's global media manager Krista Armstrong had sent an email to senior colleagues noting negative reaction to the award and acknowledging Mr Blair as a "hugely controversial and divisive figure in many parts of the world".
The Guardian article is branded "neither balanced nor fair", in a response posted on the Office of Tony Blair website that claims the report ignored Blair's work in Africa and "sought to traduce the reputation of Save the Children".
The response said: "The award was in recognition of Tony Blair's work in leading G8 nations at Gleneagles in 2005 to pledge to double aid to Africa and provide 100% debt relief to eligible countries, as well as his ongoing work in partnership with African governments through his foundation, the Africa Governance Initiative [AGI].
"The AGI is helping some of the world's poorest people and is today working in Liberia, Sierra Leone, Rwanda, Guinea, Nigeria and Ethiopia."
But others have responded to Blair's honour with less enthusiasm.
Comedian Dom Joly tweeted that he was "pretty embarrassed" to be an ambassador for Save The Children "when they hand out awards to Tony Blair for his 'anti-poverty' work".
When @savechildrenUK gave an award to Tony Blair for his "anti-poverty work" I can only assume they meant his own, personal poverty?

— Dom Joly (@domjoly) November 26, 2014
I'm pretty embarrassed to be an ambassador for @savechildrenuk when they hand out awards to Tony Blair for his "anti-poverty" work...

— Dom Joly (@domjoly) November 26, 2014
Who keeps giving Tony Blair awards? When will the trolling end?

— Mollie Goodfellow (@Mollie_Writes) November 26, 2014
Why would anyone consider #Blair a great humanitarian least of all Save the Children? http://t.co/eSKoOphP24

— Chris Doyle (@Doylech) November 26, 2014
Beyond parody: Tony Blair, resp for deaths of 000s of children in Iraq, receives award from @SavetheChildren. https://t.co/ClsqKJTXQj

— GeorgeMonbiot (@GeorgeMonbiot) November 25, 2014
So many people more worthy of Save the Children's legacy award and yet it gets handed to Blair

— Charl ☆ (@l0ghead_) November 25, 2014
I wonder if @SavetheChildren counted how many Iraqi children died in Tony Blair's illegal war before giving him his award. #hypocrisy

— Gareth Gordon (@col_buendia) November 26, 2014
Conservative MP Andrew Turner even raised the issue during Prime Minister's Questions in the Commons.
He asked: "Do you believe that Tony Blair should get a global legacy award from Save the Children for taking us to war unnecessarily in Iraq?"
Prime Minister David Cameron replied: "The remarkable thing about this award is that Tony Blair got it from someone who used to work for Gordon Brown.
"Obviously the person who gave the award knows about peacemaking and peacekeeping, but I think it is not for me to get involved."
A spokesperson from the office of Blair defended the award, saying: "You will be interested to know that Raj Shah, head of USAid, when presenting the award said 'If we can stay committed and show the passion and determination that Tony Blair has, we can end poverty'."
In his acceptance speech at the Save The Children Annual Illumination Gala in New York last week Blair said: "It's amazing how nice people are to you when you stop being prime minister."
He said: "What we celebrate is the opposite of cynicism and the reason for optimism. And that's why personally I feel proud and am immensely honoured to be with you tonight and to accept the award."
The Global Legacy honour is the third award Blair has faced a backlash over this year, after also being named one of the top "gay icons" of the past three decades and Philanthropist of the Year.
Along with figures including Boy George, Sir Ian McKellen and Barbra Streisand, the former PM was given the icon accolade by Gay Times.
Before that, Blair was named Philanthropist of the Year for his "tireless charitable work" at the prestigious GQ Awards.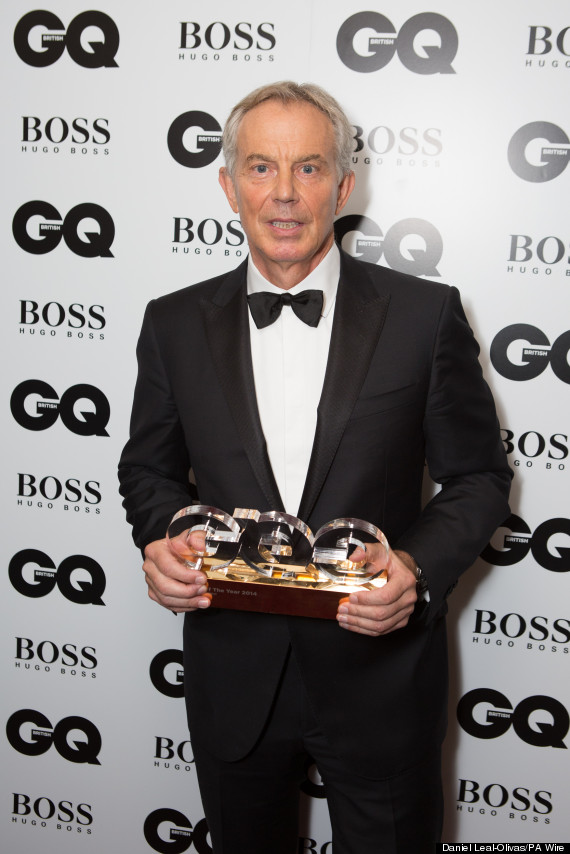 Tony Blair after winning the GQ award for best Philanthropist