STRASBOURG – The European Union is suffering from a "image problem" and has become an institution where people have "lost trust," the President of the EU Parliament has admitted in an exclusive interview with the Huffington Post.
Martin Schulz, the German social democrat who has led the 28-nation elected body for two years, said a toxic climate of Euroscepticism which has permeated countries from the UK to France, Germany, Spain and Greece, was a result of politicians playing "the blame game" for the economic crisis and the "lost generation" of unemployed young people.
"Obviously the European Union has an image problem," he told HuffPost from his office on the 15th floor of the Strasbourg parliament building. "We have a shared responsibility for this."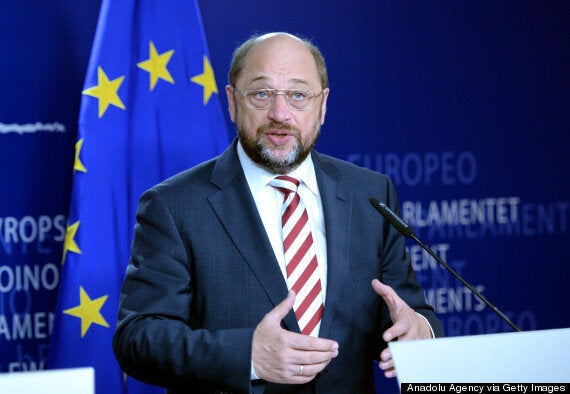 European Parliament President Martin Schulz
He acknowledged skepticism had "deepened" in recent years. "The European Council holds 28 press conferences, in 28 different languages, all of them say if we succeeded, 'I made it'. If we fail, it is the fault of this bureaucratic European Union'.
"If the responsible politicians, especially the heads of state in the European Council, continue to say the success is national but the failure European, then we should not be surprised that the European Union has an image problem."
Euroscepticism is growing force, though the younger, more liberal of the 500 million citizens of the EU tend to feel more favourably. A 2013 public sentiment study for the European Council on Foreign Relations found that since the beginning of the euro crisis trust in the EU fell from +10 to -22% in France, from +20 to -29% in Germany, from +30 to -22% in Italy, from +42 to -52% in Spain, from +50 to +6% in Poland, and from -13 to -49% in the UK.
"Enthusiasm for the EU will not return unless the EU profoundly changes the way it deals with its member states and its citizens," the study's authors warned.
But he said he was skeptical of the long-term appeal of right-wing parties like Nigel Farage's Ukip or France's Front National, led by Marine Le Pen, saying that he believed the surge in support was a "protest" from people disillusioned with governing parties.
The president said he did not want to confuse those who had a tendency toward xenophobia as a response to feeling their livelihoods were under threat and "hard-core xenophobes, extremists".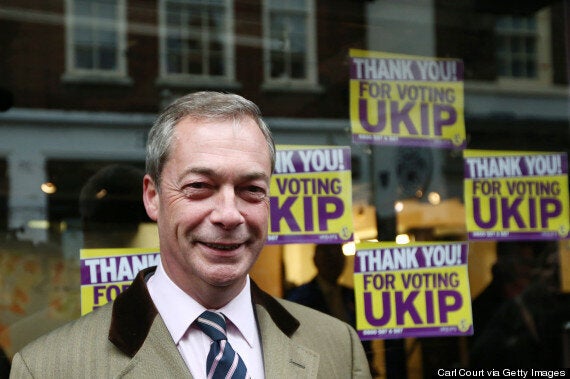 Nigel Farage, leader of the anti-EU UK Independence Party
Ukip, he said, did not really have a leadership that reflected why people voted for it, calling it a "yellow card vote".
"It is an extremist vote by people who vote because they are disappointed. They are a protest vote. If you look at the analysis of the voters of the French Front National there are people who voted previously for the Communist Party. These are not right-wing extremists.
The answer, Schulz said, was not for the mainstream parties to become more xenophobic themselves. "They are people in a hopeless situation. Delivering social justice and protection for citizens is the best way to regain trust and win them back."
France, he said, as a "big, important member state" was a major worry, but added it was difficult to say which of the member state's nationalist and right-wing elements were the most dangerous. "Austria has a right-wing party even stronger than in France, and Hungary is also worrying me a lot," he said.
"France [has] a certain protest vote, but is it really a sustainable political movement? What do you think of the people who voted centre, or left, and vote now for Marine Le Pen, and say 'we must now make an alert' to the government? Then they read in the newspaper this woman borrows money from a Russian bank? Do you believe this leads to credibility?"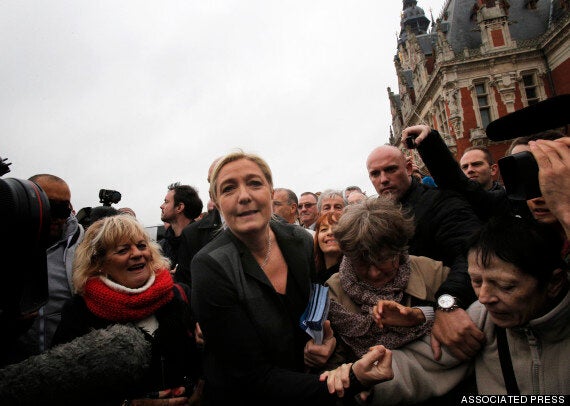 French far right leader Marine Le Pen, center, walks next to the town hall as she meets residents, in Calais
Both are movements whose core support base is young, anti-austerity, and with a policy of debt-forgiveness. Several other EU politicians have warned that rising support for the groups could spook the markets and disrupt the fragile recovery of southern European states.
Schulz said that while he understood what fired much of the support for both parties, Podemos in particular was not yet a credible political force. "Mr Iglesias [in Spain] is for sure, a very intelligent man, and a man who has, for sure, also some points. But my feeling is that his approach is not constructive.
"It is exclusively blaming others, and he has not made any concrete suggestions how to solve the problems, and this is different from Mr Tsipras [in Greece].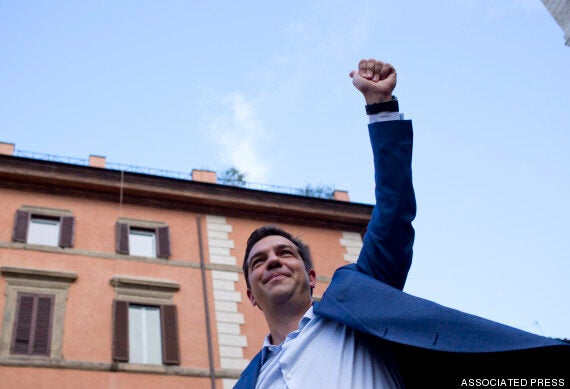 Leader of the left-wing Syriza party Alexis Tsipras
Schulz said that he admired how Syrizia had transformed themselves from a protest group to a party which has "really tried to develop a programme, which is not my programme, but they tried to become more serious".
But he called the party "fundamentally negative" and said that they had no intention of being part of a sorely-needed compromise. "If you ask them, 'what is now the concrete solution and are you prepared to make a compromise?'...then?
"Because even they will not win an absolute majority, so we must ask them, where are your compromise lines? We get no answer."
"They are there, they give a certain feeling of citizens' voices," he said. "But I don't see where their concrete proposals are, to get out of the crisis and to do something for their people. They are always tempted to make one mistake, if you have an ideological approach to a problem, then 100% of nothing, is more than 1% of something. You consider 1% of something a failure. But 100% of nothing, you have gained even less than 1% of something."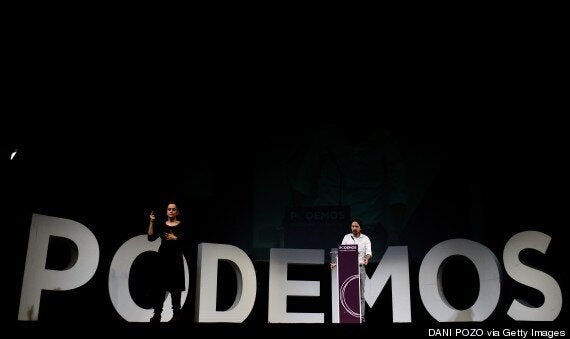 The newly-elected leader of Podemos Pablo Igesias stands during a speech at a party meeting in Madrid
President Karolos Papoulias, who earlier this week told President and Editor-in-Chief of The Huffington Post, Arianna Huffington, that he feared people were being treated like "rocks". It was a sentiment echoed by the Pope in his historic speech at the European Parliament this week, who said that citizens were being treated like "economic instruments" and "cogs in a machine.
Schulz said he agreed. "Yes, it is a daily experience. I make this appeal daily not only to my colleagues but also to myself.
"We know parents are prepared to make every sacrifice, if some institution says 'you must pay, but it is for your children'." He recalled the experience of his "post-war German" parents, who he said "invested everything… because the country said 'it is for your children'."
"Now, what are my generation doing?" he said. "We are asking sacrifices from parents, for billions and billions and for what? For saving banks. And their children are unemployed.
"How can I expect that they have trust? How can we believe that they feel decently treated? I am quite clear people have lost trust."
"In my election campaign in Spain, a young woman raised a question to me, she had degrees in architecture and psychology, a very interesting woman. And she asked 'You have 700bn euros to stabilise the currency system and the banking system, how much do you have for me?" he recalled, saying the meeting had made a distinct impression on him.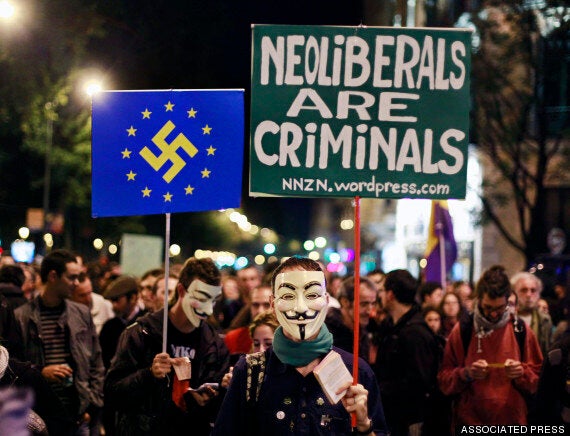 Protesters hold banners outside Parliament as lawmakers debate budget spending cuts in Madrid
Schulz had made a point of disagreeing with German Chancellor Angela Merkel comments that "banks are systemically relevant," he said. "My answer is that a whole generation is perhaps even more relevant. But I lost the election. So the majority of those people who voted, they voted for parties who found that to save the banking system was more relevant."
Now he is no longer running for the Commission job, Schulz said that one of the key areas of focus to winning back trust in the parliamentary body was to focus on bigger issues rather than making headlines about restricting olive oil jugs in restaurants or the power of vacuum cleaners. Instead the focus should be "worldwide problems we are facing, climate change, trade, migration problems, security, international currency relations, international markets".
"Olive jugs on restaurant tables is not my item. But it is a general feeling that is what we do. We should not be blind. Often it's not justified, it has a lot of prejudices, but the feeling is there and we have to take it seriously."