WARNING: EXTREMELY GRAPHIC IMAGES, DO NOT SCROLL DOWN IF THE IMAGES MAY CAUSE DISTRESS
The father of one of the Indian teenagers found hanging from a mango tree has voiced his fury at an investigation that concluded she, along with her cousin, committed suicide.
The girls, aged 14 and 15, were reported to have been gang-raped and murdered when they were found in a field in May in the village of Katra, Utter Pradesh state.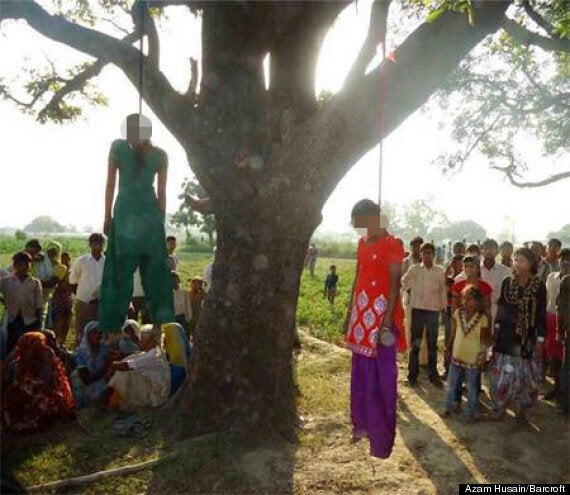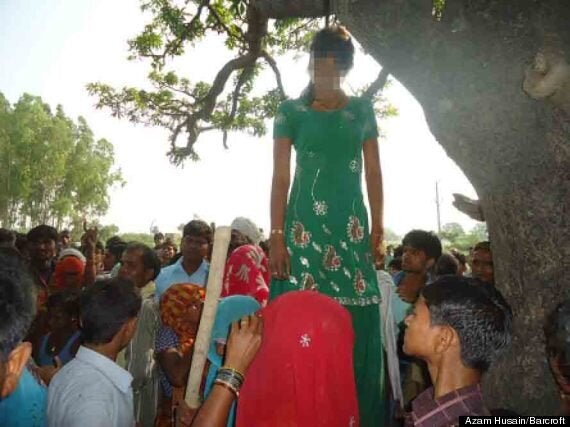 "The CBI has come to the conclusion that the allegations of sexual assault and murder were false. It was a case of suicide," CBI spokesman Kansad Prasad said.
She said medical reports ruled out any sexual assault, and the parents of the girls had filed a false police report of rape and murder.
He added: "I am very angry with their decision. The team did not show any promptness while investigating the case."
"There were no marks of violence or injuries on the bodies of the two girls, except for the ligature marks on their necks. Also, nobody heard any cries for help though there were houses around the spot where the bodies were found hanging," Prasad said.
Prasad said the older of the girls had a relationship with one of the suspects which she hid from her family.
The night the girls died, the younger girl had called her cousin's boyfriend and suggested they go to a local fair. The three left their homes after dinner, Prasad said.
Later, the older girl and her boyfriend were caught by one of her relatives as they were about to have sex in a nearby field, she said.
The girls apparently committed suicide because they were afraid of the reaction of their families and the stigma attached to what they had done, she added, pointing out Indian villages are extremely conservative and such a scandal would be difficult for a family to bear.
The Hindustan Times quotes a CBI officer as stating the main witness in the case gave false details to frame the key accused, who were released on bail in September.
The CBI will hand over its findings to a court, which will decide whether to prosecute the families of the girls for filing a false police complaint, Prasad said.
It is one of the latest cases of sexual violence against females to send shockwaves through India.
In 2012, a gang of men raped a 23-year-old Delhi student who subsequently died of her injuries, a case that "shocked the collective consciousness of India", according to the judge who sentenced the perpetrators to death.
Pictures broadcast on Indian TV showed the bodies of the girls still hanging from the tree.
If you've been affected by the issues in this article, please call the Samaritans on 08457 90 90 90.
Popular in the Community