A Conservative MP has said he will be complaining to Twitter after fiercely denying that he "favourited" a picture of a naked and tied-up woman with a pillow over her face.
Tory MP Karl McCartney insists he has never favourited any tweets whatsoever and says he is now very concerned about security of his account.
The MP, who represents Lincoln, had favourited this particular image, which The Huffington Post UK has censored, along with 56 other tweets, including one from @ratemyti**ies - all of which have now been deleted.
McCartney's favouriting was screen grabbed by Lucy Rigby, the Labour candidate standing against him in the next general election before it was swiftly deleted.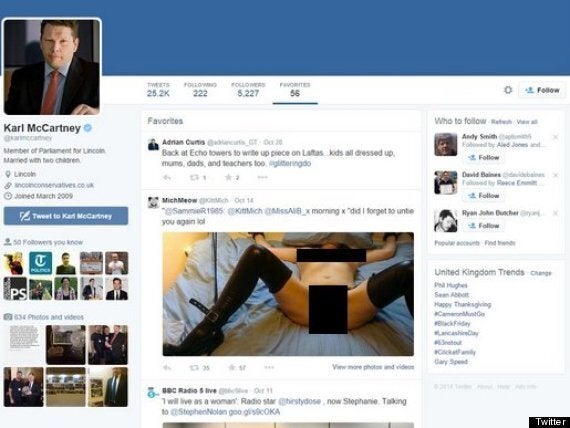 The account he retweeted the picture from regularly posts explicit BDSM pornographic images.
The Lincoln MP has insisted to ITV News that he was hacked and said he would be writing to Twitter to voice his concern about the security of his account.
It was brought to my attention earlier today by a number of people that a Twitter post from Lincoln Labour's Prospective Parliamentary Candidate showed a pornographic tweet and around 50 other random tweets had been 'favourited' on my Twitter account from the past four years.

I have removed all 'favourites' from my account, I have reset my password and those who follow me regularly on Twitter will know that I have never been into the practice of favouriting tweets or images in my 6-7 years on Twitter and stick to posting or retweeting in the main (25k+) including at times images of interesting cars I see whilst out campaigning.

I am writing today to Twitter to express my concern that six months from a General Election the security of Twitter accounts needs to be able to stand up to any malicious and salacious attempts to embarrass the account holder, I will await their reply with interest.
But many were quick to query the MP's "hacking" explanation.
Perhaps David Cameron was right when he said "too many tweets might make a tw*t."
Related