Prince Harry has come clean with his much-anticipated "big secret" on World AIDS Day.
At 1pm on Monday, the 30-year-old revealed...*drumroll*... that he gets nervous talking to crowds.
Blinking rapidly, he told the camera: "My secret is, believe it or not, I get incredibly nervous before public speaking. No matter how big the crowd or the audience and despite the fact that I laugh and joke all the time I get incredibly nervous, if not anxious actually, before going into rooms full of people when I'm wearing a suit.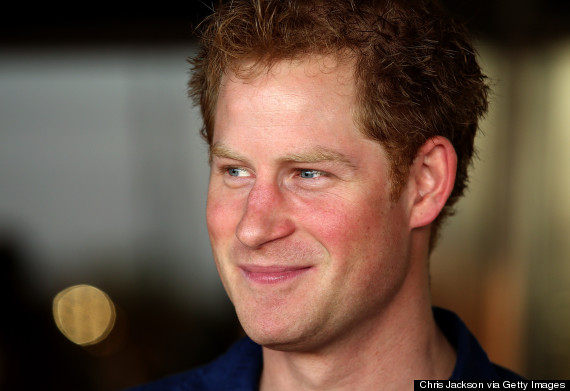 Prince Harry has revealed his big secret
"Now that I've confessed that, I'll probably be even more worried that people are looking at me."
The royal offered up the titbit as part of Sentebale's campaign for World AIDS Day, which is aimed at reducing the stigma associated with HIV.
Harry, who co-founded the charity, launched the campaign himself at midnight, releasing a video from a microsite and asking the public to share their own secrets using the hashtag #FeelNoShame via social media in exchange for his.
Some seemed less than enthused about Harry's big reveal:
Prince Harry is afraid of public speaking: most boring secret ever #FeelNoShame but by all means compare that to having HIV...............

— Nicole Froio (@NicoleFroio) December 1, 2014
Appreciate sentiment behind #feelnoshame campaign, but slebs admitting they've never seen Star Wars isn't the same as revealing HIV+ status.

— Chloë Hamilton (@chloehamilton) December 1, 2014
Earlier in the day, the public had responded to the announcement by trying to second guess the prince's secret.
Among the suggestions were that the Prince was intending to "come out" as gay, that he would confess to a hair transplant, reveal he is the father of sister-in-law Kate's second baby and was finally acknowledging long-running rumours his real father is actually James Hewitt.
Sadly we will simply have to keep guessing on all these counts.
Prince Harry to reveal his secret today as part of #WorldAIDSDay Gay community prepares: "I KNEW it!"

— Brendan (@Brendan_Surrey) December 1, 2014
Prince Harry to reveal a secret today as part of a campaign to end HIV stigma. Looking at his family, my guess would be 'hair transplant'.

— Oonagh (@Okeating) December 1, 2014
As much as Prince Harry revealing a secret for #FeelNoShame is commendable, the identity of his real father is hardly a secret.

— Angry Salmond (@AngrySalmond) December 1, 2014
Prince Harry to reveal secret at 1pm

He can only go up more in people's estimation if he says Kate's second child maybe his..

— Jon (@JonYBristol) December 1, 2014
Nevertheless, the campaign, which has also been joined by the likes of Nicole Scherzinger, Gemma Arterton and Paloma Faith, does important work in raising awareness of how eradicating shame and stigma can save the lives of HIV sufferers by empowering them to seek medical support and education about their condition, and preventing the virus from spreading.
Harry co-founded his Sentebale organisation in Lesotho two years after travelling around the country in 2004 and seeing for himself the problems faced by Aids orphans, disabled children and others with serious issues.
He said: "To show our support for the children of Lesotho, and help reduce the stigma for all those affected by HIV, we are turning this World Aids Day into a day in which no-one should feel any shame about their secrets.
"Together, we can tackle the stigma surrounding HIV and give the young people carrying it the childhood they deserve. The childhood so many of us take for granted."
He added: "Globally, HIV is the second-highest cause of death amongst those aged between 10-19 years old, and it is the number one cause of death across Africa.
"One tragic issue in particular is the shame and stigma linked to HIV.
"This causes thousands of children to needlessly die each year because they're keeping their illness a secret and not getting the medical attention they need."
Cathy Ferrier, chief executive officer of Sentebale, said: "Too many children are not receiving the treatment and care they so desperately need due to the stigma attached to HIV.
"Today we will celebrate the sharing of secrets with #FeelNoShame to help spread the word that eradicating the stigma surrounding HIV will help save the lives of many HIV-positive children."