Comedian Russell Brand has joined hundreds of residents from an east London estate to march on Downing Street protesting against the threat of eviction.
Tenants in the New Era estate in Hoxton, which was originally built as affordable housing for workers, say they could face homelessness after it was bought out by US investment firm Westbrook Partners.
Up to 93 families are reported to face eviction before Christmas, with resident Lindsey Garrett describing it as "social cleansing", adding: "It's forcing ordinary, working-class people out of London." Russell Brand with residents from the New Era Estate in Hoxton on Monday
It has been reported the company intends to refurbish the properties and rent them out at three times their current value.
In a The Trews video recorded ahead of the march, Brand said: "The thing about Westbrook is they're known throughout the world as predatory landlords, they've done this kind of stuff in New York City."
He then ran a clip of himself interviewing New York mayor Bill De Blasio, who says: "Sometimes it's fair to say there's a limit on how much profit you should make because you shouldn't want to dislocate people from their lives."
Brand replies: "That's pretty good, that sounds like a condemnation of Westbrook from the mayor of New York City to me."
He adds: "We've seen very clearly the mayor of New York is prepared to back Londoners in their fight against these villainous developers Westbrook. If the mayor of New York will back Londoners, will Boris Johnson back Londoners?"
One of the campaigners directly addresses Johnson and says: "The people of London voted you in, stand up and help the people that actually put you in the position of power."
Westbrook said in a statement Monday: "There will be no changes to their residential leases and no increases in rents during the first half of 2015," and that it will address residents' concerns.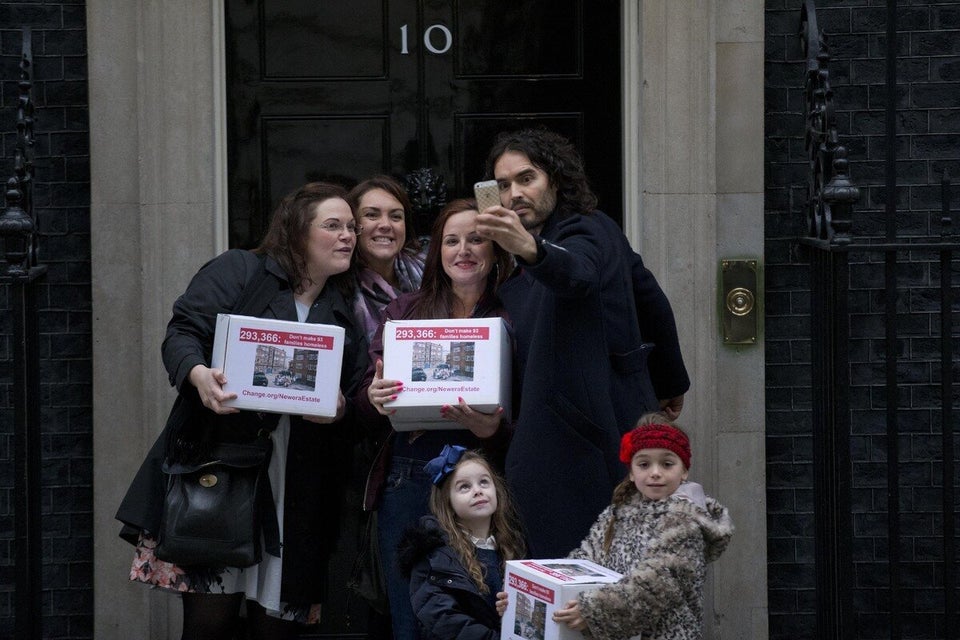 Russell Brand makes it to Downing Street
Related