The campaigners behind No More Page 3 have been busy cutting out pictures of every man and every woman in The Sun over the last six months.
The experiment shown in the video above reveals pictures of men are strikingly different to those of women - and not just because The Sun's women wear fewer clothes than their male counterparts.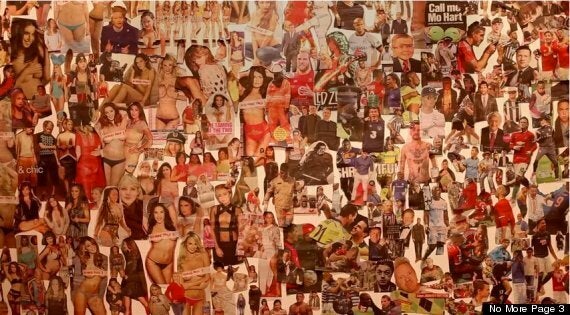 All the men and all the women from six months of The Sun
As the video points out: "The men are nearly all active, doing things. Not posed. The women are passive. It's all about how they look. When I look at the men's side, I see real life. But when I look at the women's side it doesn't seem real. It's all manufactured.
"This is a newspaper renowned for sport. And there's not a single picture of a woman doing sport... not one. The only older women on there are a woman on a mobility scooter, The Queen and Mrs Brown. There's a range of emotions on the men's side. The women are mainly smiling or pouting."
"What messages do these images send? Every day."
The ongoing No More Page 3 protest calls for the daily topless images of women to be dropped from the paper's third page, because of what campaigners see as the negative image they create of women as sex objects, only valued for their appearance.
A spokesperson for The Sun told i100: "Some people have too much time on their hands. Although we're glad they were one of more than 2 million who buy and enjoy The Sun every single day."
The Sun's owner, News Corp executive chairman Rupert Murdoch, has described the page as an "innocuous" British institution, but has also hinted in recent tweets that he would consider removing the semi-naked women from the publication.
Related