Nick Clegg and the Liberal Democrats risk being stuck in "political no-man's land" with their approach to the coalition, an ex-minister has warned.
Speaking after George Osborne's Autumn Statement, Jeremy Browne said that the "biggest danger for the Lib Dems is having one foot in government, and one foot out."
In response to a question from the Huffington Post UK on Thursday, he added: "What I don't want is for us to move from being a party of protest to a party of protest-in-government."
Speaking at an event orgaised by the Institute for Economic Affairs and Taxpayers' Alliance in central London, he told the audience: "We should not disassociate themselves from a government that we are just as much a part of as the Conservatives."
The former minister said that his party needed to have a "distinctive appeal" at next year's general election.
He argued that the coalition would win the next election if it was an option of the ballot paper, urging his party not to "go to too great a length to distance itself".
Browne's rebuke comes amid reports that Nick Clegg deliberately stayed away from the House of Commons during Osborne's Autumn Statement and the last two sessions of Prime Minister's Questions because he did not want to be seen sat next to the Tories - an attempt to disassociate himself from his coalition partners in the run up to the general election.
One of the deputy prime minister's aides told the Telegraph: "On the day, all he can do is sit there in silence. People say they want him to get out of Westminster more – he is making more proactive use of his time."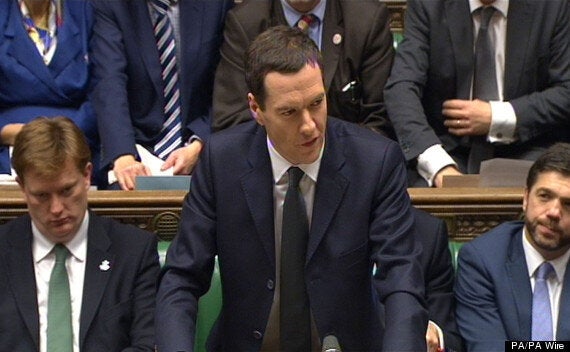 However, Lib Dem Treasury chief secretary Danny Alexander was a prominent defender of Osborne's statement to MPs on Wednesday, and even slapped down his fellow party colleague Vince Cable for suggesting the Office for Budget Responsibility should examine the spending plans of both parties.
In a calculated riposte to the business secretary, Alexander told BBC Radio 4's PM that "it's not the job of the OBR to set out political differences between parties".
However, Jeremy Browne said that this situation risked leaving the party looking "not unambiguously enthusiastic" about being in coalition and may lose out on the credit for the government's successes next year.
This comes after Cable opened a new coalition rift on Wednesday by asking the budgetary watchdog to look at producing different analyses of the two parties' spending plans.
"I am concerned that the distinction between these two periods is insufficiently clear," he wrote to OBR head Robert Chote. "The distinction is important because spending assumptions are very different to spending decisions: the former are indicative 'placeholders' and are contingent on future government decisions about public spending, while the latter are definitive and highly unlikely to change.
"My observation of the broader public commentary on fiscal policy suggests that this important distinctions is not well understood."
Cable also rebelled against Osborne's austerity agenda by ordering his civil servants not to discuss any planned cuts after 2015 with Treasury officials.
Cable confirmed the Guardian's report in an interview with LBC Radio, telling presenter Iain Dale: "We are not assuming that there will be cuts on the scale that the Treasury appear to indicate. We haven't yet agreed [them]. The next government will have to decide."
"We are not assuming that large scale cuts are going to take place, particularly in areas I'm responsible for like science... it would be completely counterproductive."
The Lib Dem cabinet minister made clear that his officials were not going to engage now in "rounds of negotiations on public service cuts that are the responsibility of the next government".
Despite Clegg's apparent attempt to distance himself from the Tories by not sitting with them in Parliament after four years of coalition, his aides told the Telegraph he will still be attending Prime Minister's Questions next week.