George Osborne this week has one of his last big moments to show off his economic management before the general election as he delivers his Autumn Statement about the state of UK plc.
The chancellor will try to combine two personas for his Autumn Statement, also known as a "mini-Budget": Osborne, guardian of the "long term economic plan", and Osborne, the Tory strategist offering vote-winning tax cuts and other goodies.
Osborne will give his latest updates on how his efforts to get Britain's public finances in order have been going, as well as official forecasts for how Britain's fragile economic recovery will evolve over the coming years. But how has he be preparing for this?
Speaking to Treasury insiders, HuffPost UK has put together an account of how Osborne will be preparing his Autumn Statement, one of the last chances he has to convince voters that he can be trusted with the economy beyond 2015.
'It's a negotiation...driven by the numbers'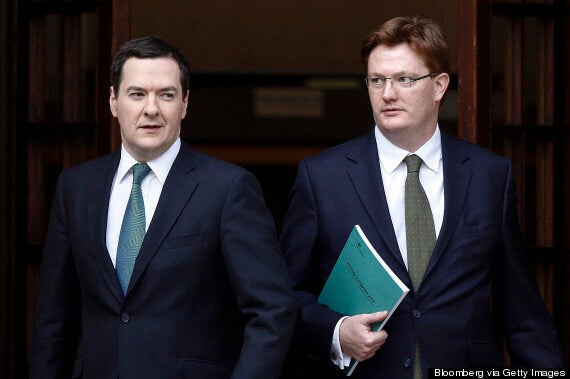 Osborne and his Lib Dem deputy Danny Alexander
The chancellor's Autumn Statement last year lasted for less than a hour, but like the Budget, it is result of weeks of fraught negotiation and debate over what to leave on an Excel spreadsheet dubbed the "Scorecard".
Months before Osborne's big day, officials round up every suggested proposal and sort them in the "Scorecard" by how likely they are to be carried out.
Decision-making is overseen by the Treasury's "SPB" (Strategy, Planning and Budget) team, who work with the Chancellor (known as "CX" in Treasury lingo) and his advisers on sifting through the proposals.
Measures on the first sheet are most likely to make it into Osborne's autumn statement, with less appealing ones on the following sheets. None of the proposals are discarded outright but merely banished to the later pages.
The process is carried out with utmost security to minimise the chances of anything being leaked. All potential measures are stored on a central database, with policy specialists just able to look at the measures relevant to them. Only Osborne and the Treasury top brass are able to see all of the potential measures in their entirety.
"The security around it is quite strict. The process is still driven by the numbers and by the scorecard, which basically becomes the table in the document," a former Treasury official tells HuffPost UK. "It's what drives the entire process".
"The whole process is an attritional one, there are hundreds of measures to start with and the idea is to get it down to a few key ones by the end."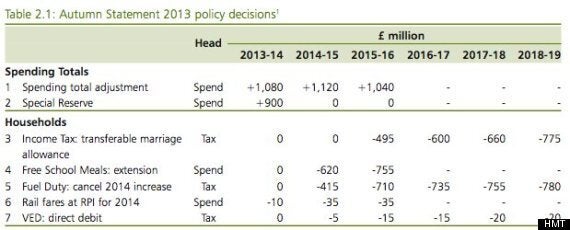 Once Osborne has thrashed out his key measures, he and his advisers can add in the intended political message about his "long term economic plan" to turn it into the final speech.
Although people may still try and urge Osborne to adopt their proposals in the final days before the Autumn Statement, that will likely be too late, as the Treasury has to give its spending watchdog - the Office for Budget Responsibility - time to analyse the figures.
"It has shunted the whole process forward a bit," a Treasury insider admits. "The final decision can't be made while the document is being printed, they are made about a week beforehand."
The only decisions that could be slipped in at the last minute, he says, are ones with "no fiscal impact", concluding: "The coalition is more business-like about the way it has done things."
However, the process requires even more fraught negotiation in coalition, as ministers have to balance the interests of two parties. This has led to slip-ups, like Osborne's infamous 2012 Budget that came to be branded an "omnishambles" due to its catastrophic "pasty tax" and "granny tax" proposals.
"You can't ignore the party angle," one Treasury insider says. "Being in coalition can involve you in an extra level of complexity and trade-offs than when everybody is in a single party which can mean that you end up in a completely different position from when you started, which is what I think happened with the 2012 Budget.
"They were all playing the negotiation game and the bigger picture got away from them and no-one was actually marking that so it was a failure of man management."
'George doesn't need to be locked away in the Treasury'
Osborne was derided in 2012 for the "inexplicable" decision to accompany David Cameron on a trip to America just days before his "omnishambles" Budget, when critics said he should have been busy adding the finishing touches to it.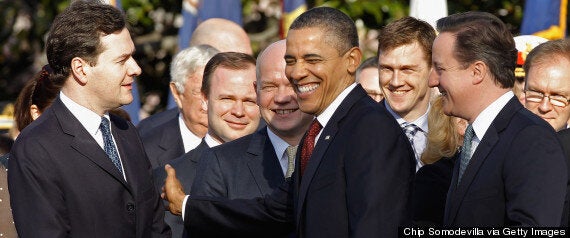 At least he got to meet Obama...
"Shouldn't Osborne be in the Treasury or Number 11 burning a little midnight oil?" Telegraph commentator Ian Martin asked. "This is possibly his last chance to produce a big reforming Budget ahead of the next election."
Treasury officials, unsurprisingly, have little sympathy for such a view. "The idea that the chancellor should have been locked away in the Treasury is bollocks," one says. "We have modern communications."
Osborne, as chancellor, formally signs off on every proposal in his Autumn Statement, or Budgets. Of course, he doesn't focus his attention on every measure equally, paying special attention to the costly announcements or ones that he'll be most keen to milk for political capital.
"By and large the chancellor gets heavily involved in measures that have very large fiscal impacts, for which it's formally anything over £5 million, but in practise is a lot bigger than that," explains a former Treasury official, who was previously involved in the Budget process.
"The chancellor will be involved with anything with political significance or that looks politically interesting."
Osborne's junior ministers help act as a filter on his behalf and sending the chancellor notes recommending what should go into his big statement.
Other Treasury advisers are on hand to help him shape what he wants to say, like James Bowler, who directs strategy, planning and the Budget. "The chancellor will be getting different sources of advice for what to do, but he'll make the final decision," an insider stresses.
"For anything that is vaguely pedestrian, the Treasury will go to the chancellor with successive bundles of documents, and basically the bundle of documents will have one policy per page and 'do you want to proceed, Yes or No?"
"They will have a series of meetings with the chancellor where he just goes through them and ticks them off, partly for order purposes and partly to ensure things are acted on. The bigger decisions are slightly more bespoke but the fundamental elements remain, there needs to be a series of decisions and regardless of who is involved, the chancellor needs to assent to it."
So can Osborne do anything?
With the chancellor keen to stress how fragile the economic recovery is, he will be unable to make any big tax giveaways without risking his credibility.
"There's quite obviously very little fiscal headroom," says James Dowling, who served in the Treasury before moving to be a director at public affairs firm FleishmanHillard.
"Because of the nature of the Autumn Statement, in many ways it's more about setting out your stall and making your political case for whatever you'll do in the future rather than doing something now."
Ever the strategist, Osborne will find one or two big sounding proposals for the headlines, but the biggest will inevitably be what he will dangle as bait for voters tempted to back the Tories next year.