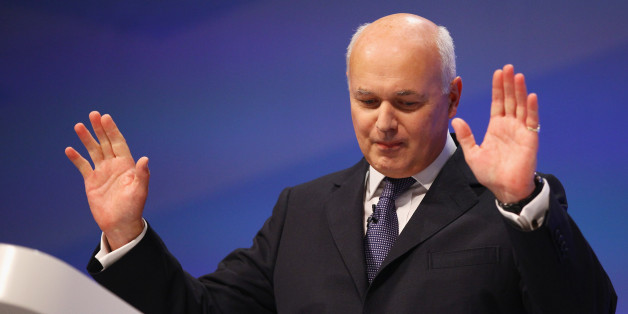 Jeff J Mitchell via Getty Images
Today was not a good day to try and bury bad news. With journalists eyes turned towards George Osborne's Autumn Statement, work and pensions secretary Iain Duncan Smith announced the government will miss its target for the introduction of Universal Credit. He may have hoped everyone would be too busy to notice. But they did.
In a written statement to MPs, Duncan Smith outlined the next stage of the roll-out for the new benefit to communities across the north west of England. But the Department for Work and Pensions said about 700,000 claimants of the Employment and Support Allowance would not transfer to the new system by the 2017 deadline.
Labour's shadow work and pensions secretary Rachel Reeves said: "On the morning of the Autumn Statement this is yet another shambolic announcement from this out-of-touch Government.
"Iain Duncan Smith has today admitted what everyone has known for months – that Universal Credit is massively behind schedule. But just a couple of weeks ago he was telling Parliament the Government would 'roll out Universal Credit on the plan and programme already set out'.
"It's clear that David Cameron and Iain Duncan Smith have completely failed to get to grips with their flagship welfare reform and millions of pounds of taxpayers' money have been written off as a result. Families facing a cost-of-living crisis deserve better than this."
The Universal Credit reforms are intended to help people back into work but the Department for Work and Pensions said its priority throughout had been the "safe and smooth" delivery of the new policy.
In a statement, the department said this took "precedence over meeting specific timings". Universal Credit is still expected to be rolled out to eight million households, a department spokesman said.
ON THE BLOG: The Welfare Reform Scam