Garner's lawyer said on Wednesday afternoon that the "family is very upset and disappointed that these officers are not getting indicted for any criminal conduct." Pantaleo said in a statement that he regretted Garner's death, adding: "It is never my intention to harm anyone and I feel very bad about the death of Mr. Garner."
Following the verdict in Ferguson, riots broke out in the St Louis suburb, with protest marches held in cities across the US. In Manhattan on Wednesday evening, hundreds took to the street to express their outrage at the decision not to indict.
In Times Square around 300 protesters gathered, cordoned in by police barricades. "I can't breathe," some shouted. Others chanted, "How do you spell murderers? N.Y.P.D". That hardy perennial "fuck the police" was occasionally thrown in, alongside, "No indictment is denial. We want a public trial."
Speaking to AP, 33-year-old Amanda Seales, a African American marcher from Harlem, said activists needed to leave social media and congregate in the streets. "For black people, this isn't new," she said. "And this cannot continue."
Several different protests were held around Times Square and the Rockefeller Centre, the latter the scene of the annual lighting ceremony of the Christmas lights. "No justice, no tree," shouted the protesters, hoping to disrupt the event.
Although mostly peaceful the atmosphere was tense, with demonstrators of mixed ethnicities moving around the city's famous Midtown area, arms aloft, shouting, "hands up, don't shoot," a phrase that has become the emblem of the latest round of perceived injustices blighting the nation. By midnight, around 30 people had been arrested, according to reports.
Speaking about the decision, President Obama said that events in Staten Island and Ferguson highlighted the frustration that many African-Americans feel towards a criminal justice system they believe is implicitly discriminatory. "When anybody in this country is not being treated equally under the law, that is a problem, and it's my job as president to help solve it," he said.
The following pictures were taken in and around Times Square on Wednesday evening: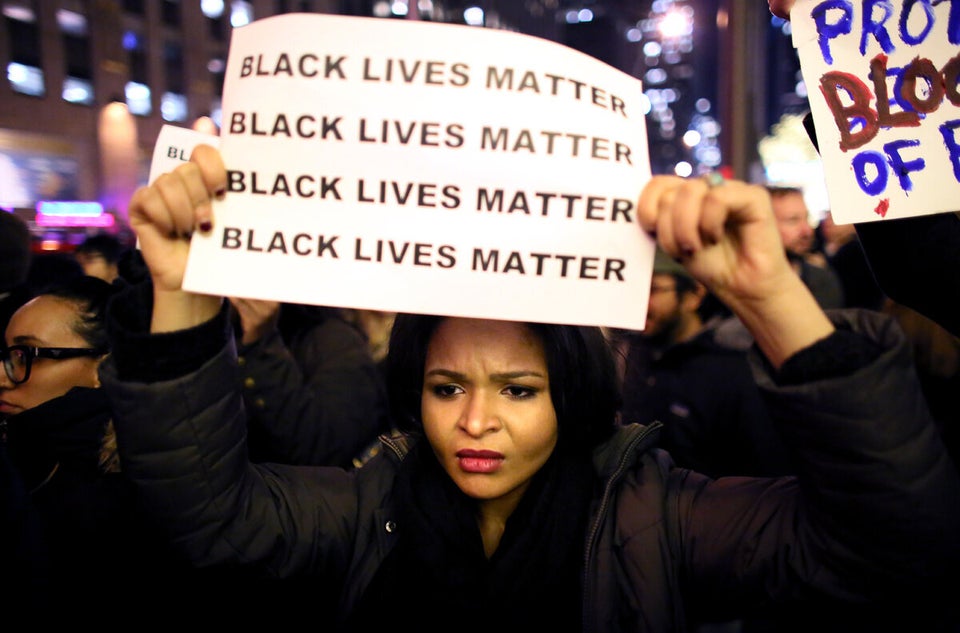 Times Square Protests