A DJ friend of Jimmy Savile has been convicted of a catalogue of historical sex offences against young girls.
Ex-Radio Caroline DJ Ray Teret, 73, used his celebrity status in the Manchester club scene in the 1960s and 1970s to prey on many of his victims.
Teret - known as Ugly Ray - was mentored by Savile in the early days of his career and was described as following him around "like a shadow", Manchester Minshull Street Crown Court heard. Ray Teret was convicted of a catalogue of historical sex offences against young girls
Teret, of Woodlands Road, Altrincham, told the jury he had no interest in underage girls, despite a previous conviction for sexual intercourse with a 15-year-old girl in 1999, which he continues to deny.
He denied 18 rapes, two other serious sexual assaults, one attempted rape, 12 indecent assaults and one count of indecency with a child.
After more 60 hours of deliberations, Teret, a flatmate of Savile's who also worked as his chauffeur, was convicted of seven rapes and 11 indecent assaults. He was cleared of the other charges.
Opening the case, prosecutor Tim Evans said: "The Crown say that young teenage girls, far from doing nothing for him, were consistently pursued by him through the 60s and 70s." Teret was a flatmate of Jimmy Savile's and also worked as his chauffeur
Many of the victims were starstruck, with DJs treated like "royalty" in that era, said Mr Evans.
He said: ''The basic set-up, the background is the same - a naive girl who has the headlights of fame shone on her, who is taken to a flat and without more, without any understanding of what is going on, has a male many years older, having sex with her.''
Giving evidence, Teret told the prosecutor that men who pounced on a girl and hoped to get away with it "want shooting" and he had never been in that situation.
He said: "I only make love. Not sex, sir. I only make love with ladies who want to make love with me."
The jury found Teret guilty of seven rapes and 11 indecent assaults, and not guilty of one serious sexual assault in relation to 11 victims. He was cleared of various sexual offences in relation to six other complainants.
Teret was cleared of aiding and abetting Savile to rape a 15-year-old girl in the early 1960s but was found guilty himself of raping the same complainant.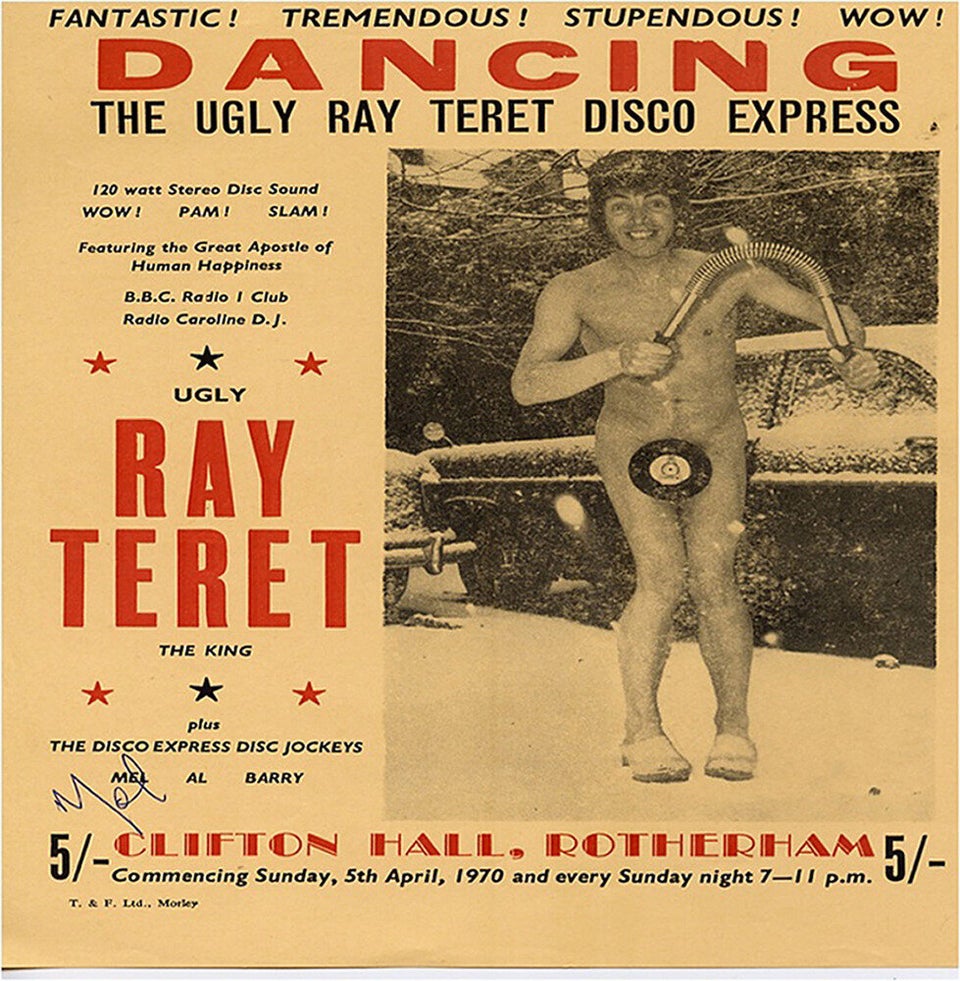 Dave Teret
The Crown had said that Teret lied to the naive teenager that he was 17 and drove her from a disco in Savile's bubble car to a nearby flat.
Savile was waiting as he sat next to her and said she had lovely hair as he began to stroke it, the woman told the court.
She said she started to tell him how she had recently dyed her hair when the serial paedophile put his hands up her skirt and pulled her knickers down before he pushed her on to a bed and raped her.
He then was said to have told her: "You should be thanking us because we have made it easier for when the next person goes there.''
Two other men were on trial with Teret.
Alan Ledger, 62, also from Woodlands Road, Altrincham, was found not guilty of a serious sex assault, not guilty of two indecent assaults and not guilty of one count of indecency with a child.
William Harper, 65, of Ash Grove, Stretford - known in his DJ days as Tony Grey - was cleared of one count of attempted rape.
Peter Watt, national services director at the NSPCC, said: "Teret was a serial offender who committed a series of repellent sexual attacks on children over several decades. The victims showed enormous courage in reliving their ordeals and have finally got the justice they deserve with these verdicts.
"One victim said Teret followed prolific child abuser Jimmy Savile around 'like a shadow'. What Teret did, including raping a 15-year-old after she had been raped by Savile, has undoubtedly cast a very long and dark shadow over the lives of the victims, having a profoundly detrimental effect on them.
"We know from speaking to victims of sexual abuse through the helpline, and our specialist services, just what a difficult journey they go on but with the right support they can move forward positively with their lives.
"Four of the victims contacted the NSPCC helpline, and the information they gave helped the police build their case against Teret. We are glad to have played a part in securing these convictions and supporting the victims in taking the difficult step of speaking out.
"Teret committed the most horrendous abuse of children, and facilitated grotesque abuse against them by others. He treated impressionable, vulnerable girls as objects, commodities and pieces of meat to be passed around.
"Some of his victims were initially star-struck and charmed by Teret and his friends, but this quickly turned into a horrific spiral of abuse."
Teret made no reaction as the final verdict was delivered by the jury foreman.
Tim Evans, prosecuting, said ahead of sentencing next Thursday, he would give the judge further information on the impact Teret has had on his victims.
Some have been able to get on with their lives, but others, Mr Evans said, were left "very significantly damaged".
Nicholas Johnson QC, defending Teret, said: "We have to respect the jury's verdict, and in respecting the jury's verdict there is little I can say on Mr Teret's behalf."
Mr Johnson said the defendant was now facing the prospect of serving a "very long time in prison" but, given his age, asked the judge not to "quash any prospect that one day he might be released from prison".
Teret, who has been on bail until today, was remanded into custody to be sentenced next week.
Nazir Afzal, CPS Chief Crown Prosecutor for the North West, said: "During the Sixties and Seventies, Ray Teret was a popular Manchester DJ. He used this status to target young and vulnerable girls who were impressionable and in some cases simply star-struck.
"He singled his victims out for attention, using charm and flattery, before subjecting them to traumatic and callous assaults. Some he groomed over a period of time, whilst others he assaulted soon after he first approached them. Some of the victims were only 13 years of age.
"The victims in this case have lived with the reality of what Ray Teret did for many years. It has had a significant impact upon all of their lives - personally, professionally and socially. In some cases it has had devastating consequences.
Most of them felt they couldn't tell anyone about it until recently. Many of them had thought it was their fault - it was never their fault.
"They have all shown enormous bravery in coming forward to the police and in attending court to speak out about what happened. Their collective courage has ensured that RayTeret has been brought to justice today. He must now face up to the reality and consequences of his offences.
"I hope today's verdict will in some way help these victims to move on with their lives and I also hope it provides other victims of sexual abuse with the courage and confidence to come forward."
Liz Dux, an abuse lawyer at Slater & Gordon which represents 169 of Savile's victims and one of Teret's, welcomed the verdict.
She said: "This is the closest the victims of Jimmy Savile will get to a conviction against their attacker - they will take some comfort from the verdict.
"Teret has been proved to be a predatory paedophile and dangerous sex offender in the same mould as his friend Savile. Yet again it shows victims of sexual assault that, even years after offences have been committed, they will be taken seriously, offenders can be punished and justice finally done.
"Our client is to be commended for her bravery in giving evidence about a truly horrific crime. Having lived with the mental scars for many years, I hope now she can find some closure."
Related