Prime Minister David Cameron has spoken of his fears as a father over internet safety as he launched an international crackdown on "evil" online child abuse. He unveiled a package of measures including a new offence of sending sexual messages to children aimed at stopping paedophiles from requesting indecent images from youngsters.
He also announced that crime-fighters and spies will join forces to tackle persistent paedophiles who use the so-called "dark net" to share horrific pictures and videos. A joint specialist unit run by the National Crime Agency (NCA) and listening post GCHQ will target the most prolific offenders who are using increasingly sophisticated techniques to hide their true identities and encrypt and share online child abuse images.
Addressing a two-day online child abuse summit, Mr Cameron said he was approaching the troubling issue of online child abuse, not just as Prime Minister but as a "dad". "I have a 10-year-old, an eight-year-old and a four-year-old and I want them to grow up on safe streets but also grow up with safe internet too," he said.
"Children growing up in our world today, there are lots of threats they face. The threats are evolving. I'm 48, I don't want to seem like a fuddy-duddy, but when I grew up, it was 'Could you help Dad work the betamax video recorder?' Now we have tablets, iPads, iPhones, DSs in the house ... a whole set of new things we have to do make sure our children are safe."
Mr Cameron said he and his wife Samantha had applied filters to computers and other devices in their home to keep the internet safe for their children. The PM urged parents and children to talk to each other about the dangers of online child sexual exploitation but added: "That's difficult for parents - we're still learning a lot about the internet ourselves."
In his speech, he praised internet companies for going "above and beyond" to tackle internet paedophiles - but warned that they should be expected to do the same for terrorists. His comment comes shortly after social networking website Facebook was criticised by a parliamentary watchdog for failing to flag disturbing messages sent by one of the killers of soldier Lee Rigby.
The Prime Minister said there has been an "increasing and alarming phenomenon" of paedophiles contacting children online over the internet or on mobile phones. In response, he said the Government would make it illegal for an adult to send a sexual communication to a child, such as requesting nude photos.
Mr Cameron said: "If you ask a child to take their clothes off and send you a picture, you are as guilty as if you did that in person. So we are changing the law. Just as it is illegal to produce and possess images of child abuse, now we are making it illegal for an adult to send a sexual communication to a child. This law will make it clear - this is a crime, and you will be prosecuted for it."
The Prime Minister also said the Government is working to ban the possession of so-called "paedophile training manuals" which instruct paedophiles on how to conduct their crimes. Unveiling the new dark web unit, Mr Cameron said GCHQ and the NCA will apply the same methods they use to track down terrorists to hunt paedophiles on the dark web.
The dark web includes material on the internet that a search engine cannot access and has been intentionally hidden and is inaccessible through standard web browsers. Software such as Tor enables users to access the dark web to email and host file storage through encrypted and anonymised networks.
GCHQ director Robert Hannigan said: "GCHQ is using its world-leading capabilities to help the NCA reach into the dark web and bring to justice those who misuse it to harm children. With the NCA, we are committed to eliminating digital hiding places for child abusers."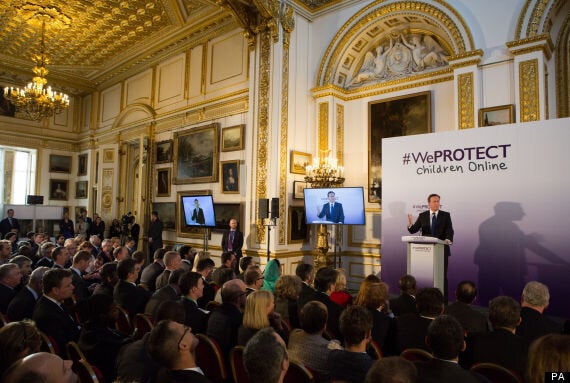 Cameron speaking at the '#WeProtect Children Online' summit
The Government's action was being announced alongside the latest measures being unveiled by internet giants. The digital fingerprints of thousands of known child sex abuse images identified by charity watchdog the Internet Watch Foundation (IWF), will be used by major firms such as Facebook, Microsoft, Google, Twitter and Yahoo to prevent them being shared on their services.
Technology which allows known child abuse videos to be identified and blocked from being shared has been developed by Google who will share it with the wider industry. Microsoft, Google and Mozilla are to look into browser-level blocking restrictions designed to prevent people accessing web addresses of known child abuse material using Internet Explorer, Chrome and Firefox.
Antigone Davis, head of global safety at Facebook, said: "Nothing is more important than the safety of the people who use Facebook. We fight hard against online child exploitation and have spent 10 years building powerful reporting tools and educational resources to help combat this abhorrent activity."
Matt Brittin, president of Northern and Central Europe at Google, said: "We have been working for years to fight child exploitation online and we aggressively remove child sexual abuse imagery from Google products using our image and video matching technology.
"Over the past 12 months our algorithm changes and deterrent campaign have already led to a fivefold reduction in a number of child sexual abuse image-related queries in search. We will continue to develop technologies and work with others in the industry to tackle this terrible crime."
The PM also announced a series of commitments from more than 30 countries to increase law enforcement ability to track more paedophiles and help more victims. This will be supported by a new £50 million Child Protection Fund. The countries have agreed to set up their own national databases of child sex abuse material or links to the Interpol International CSE Database (ICSE).
Yesterday, Home Secretary Theresa May told the summit that so-called snoopers' charter laws could have helped law enforcement officers catch more paedophiles online. Her comments were another clear signal that a Conservative-majority government would revive the Communications Data Bill, which was dropped in 2012 in the face of Liberal Democrat opposition, if it were to come to power at the next general election.
Shadow home secretary Yvette Cooper said: "There are very serious gaps in the Government's plans as thousands of cases of abuse are not being followed up by the police, putting children at risk. And the Home Office is failing to make sure that the police have the capacity and policies to deal with the huge backlog of investigations."
The Prime Minister's digital economy adviser Baroness Joanna Shields said: "Everyone in this room agrees that stopping the rise of online child abuse and exploitation is an urgent priority. This isn't about more laws or more regulation. It's about harnessing the power of innovation. It's about working together with the best brains in the tech industry and pioneering new ways of making the internet safer for children."
Popular in the Community