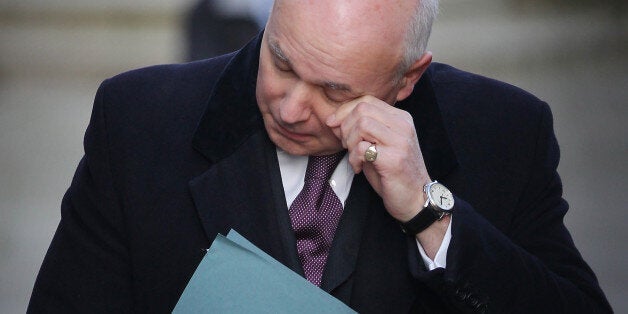 The future of Iain Duncan Smith's universal credit scheme has been thrown into more doubt after Treasury officials admitted that they had still not signed off on the business case for his flagship welfare programme.
Universal credit, which has been much-delayed and seen tens of millions of pounds written off in IT and other costs, aims to combine six benefits or tax credits into one single payment.
Treasury officials admitted on Wednesday that they will not decide whether to sign off on universal credit's business case until next summer, with a final decision potentially not coming until 2016. They also said that the scheme is still graded as "amber-red" by the government's Major Projects Authority, so is classed a source of serious concern.
Sharon White, second permanent secretary at the Treasury, told MPs on parliament's influential Public Accounts Committee that she believed the money spent so far was "value for money".
Neil Couling, a top official at the Department for Work and Pensions, said that ministers and civil servants deserved credit for not "hoofing and hoping" over the implementation of universal credit.
He added: "They have taken quite a lot of flak for only proceeding when the next step is doable. That has brought a whole series of other criticisms but it was the right thing to do because at the end of this service are people who are very vulnerable and we are the last resort."
This comes just days after the government's watchdog, the Office for Budget Responsibility, issued a very gloomy verdict on the viability of Duncan Smith's welfare plans.
In a damning verdict on the welfare secretary's flagship scheme, the OBR judged that current forecasts for the rollout of universal credit is too optimistic.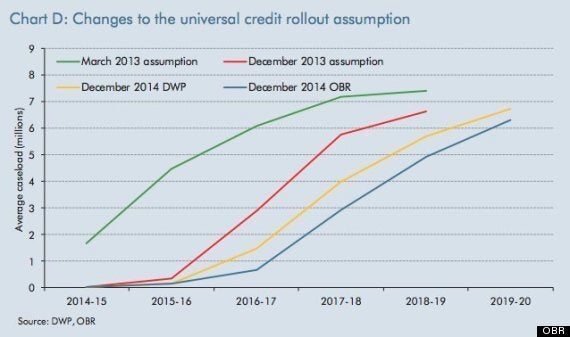 The OBR's increasingly sober verdict on Universal Credit
According to the National Audit Office, Duncan Smith's Department for Work and Pensions (DWP) had pushed back the date by which most claimants would be switched to the new benefit by two years - to the end of 2019.
However, the OBR said it had compared the government's latest forecasts alongside "the recent history of optimism bias in universal credit plans and other projects of this sort" and decided there was "considerable uncertainty around the delivery of such a complex and wide-ranging change", estimating there will be another six months of delay.
Charities had also accused the chancellor of "torpedoing" Duncan Smith's flagship welfare scheme by deciding in his Autumn Statement to freeze Universal Credit work allowances - the money people can earn before their benefit starts to be withdrawn - for another year.
Alison Garnham, chief executive of the Child Poverty Action Group, said: "By cutting Universal Credit once again, the chancellor is in very real danger of torpedoing Iain Duncan Smith's flagship policy. Freezing the work allowance will harm work incentives and hit low paid families hard. Two thirds of poor children live in working families; we should be redistributing help towards them, not away from them."
Popular in the Community