Ola Jordan looks anything but her usual sparkly, smiley 'Strictly' self as she arrives home in a leg brace and on crutches after injuring herself during training for the new series of 'The Jump'.
READ MORE:
The professional dancer sustained 'career-changing' injuries after she fell badly whilst practising for the Channel 4 reality show at The Snow Centre in Hemel Hempstead.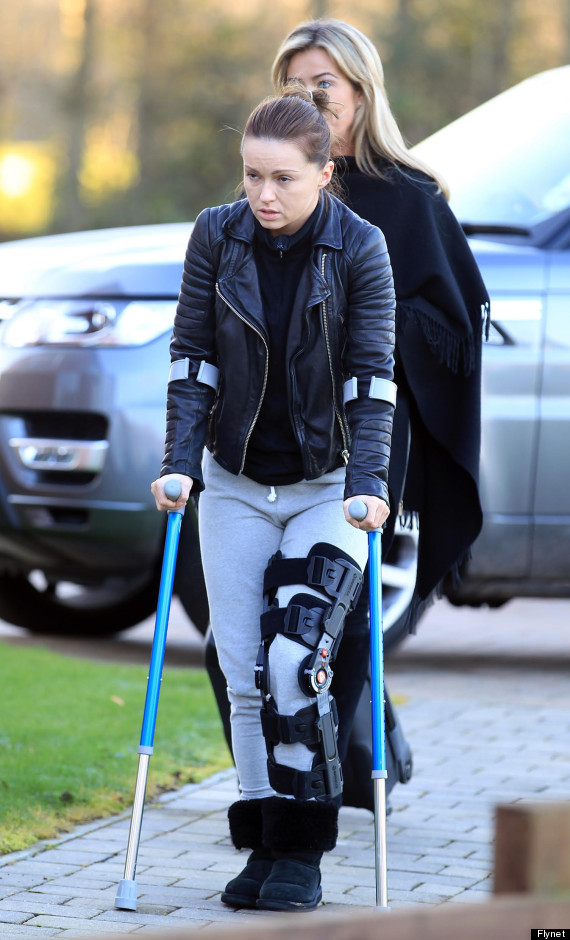 Ola Jordan arrives home after injuring her leg and hips during training for 'The Jump'
The 32-year-old will no longer be taking part in the new series when it kicks off in January and will not be able to perform in the group numbers during the 'Strictly Come Dancing' final this weekend.
A source told The Sun: "It was a freak accident and nobody's fault. But she fell heavily and the injuries are very serious.
"She's gutted as she's only just signed and was looking forward to trying something different post-Strictly."
Meanwhile, BBC bosses are said to be angry that they needed to make last-minute changes to the 'Strictly' semi-final to accommodate her absence.
"This is not an ideal scenario on the eve of one of our biggest shows of the year," a source told The Sunday Mirror.
"While naturally concerned for Ola's well-being, the producers are seething that she was hurt while training for a rival show.
"We just cannot understand what she was thinking, doing winter sports while Strictly is at such a crucial stage."
Ola and her 'Strictly' partner, TV wildlife expert Steve Backshall, were eliminated from the competition three weeks ago.
Earlier this month it was revealed that she was set to quit 'Strictly' after signing a big money deal with Channel 4 to star in her own reality series alongside her husband, James Jordan.
LIKE US ON FACEBOOK | FOLLOW US ON TWITTER