If anybody ever doubted that a Brit could play American civil rights icon Martin Luther King, this clip should allay their fears.
We have an exclusive clip of former 'Spooks' star David Oyelowo in action as MLK in the forthcoming biopic 'Selma', and he sounds utterly convincing with his power of rhetoric, that was such a huge part of the civil rights leader's appeal. No surprise that David's been Golden Globe-nominated for the role.
WATCH: David Oyelowo as Martin Luther King Jr when he first arrives in Selma and gives a speech to the congregation in church
'Selma' tells the story of a specific chapter in MLK's struggle - the march in 1965 from the town of Selma to Montgomery in Alabama, to demand the right for non-white people to be able to vote without restriction. In the film, we see President Lyndon Johnson (played by fellow Brit Tom Wilkinson) argue that "technically" the vote is available for everyone, yet MLK argues that, in practice, it is nigh on impossible for his people to have their voices heard.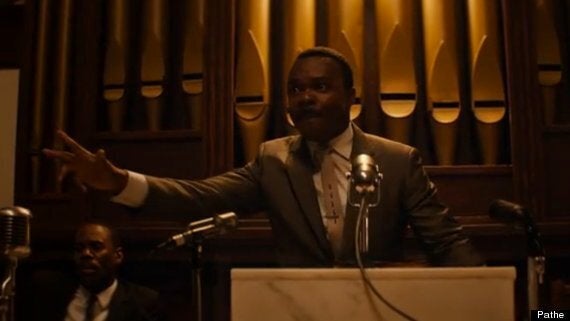 David Oyelowo in full flight as MLK Jr in 'Selma'
The scene is set for 'Selma', where MLK's leadership is tested both by internal wranglings among his own side, and danger to the protestors who support him, by state-sponsored brutality.
David Oyelowo recently spoke to HuffPostUK about the challenge of playing such a revered statesman on screen.
He said, "The mistake would have been to concentrate only on the orator, the activist.
"That's the stuff you could find in a documentary. What's playable to an actor is the other stuff, that shows a man muddling through, doing the best he could."
David also reflected on the personal dangers faced by Martin Luther King and his followers as the state defended the status quo they saw threatened.
"His organisation depended on racists showing their true colours, being revealed when cameras were rolling, to prick the consciences of politicians and onlookers," the actor explains.
"And obviously that came with risk, and sacrifice. During the Selma campaign, three people were killed, many injured, and King was suffering the burden of that. It cost him a huge deal emotionally, the guilt he felt when people were harmed and killed for the cause."
'Selma' is in UK cinemas from 6 February 2015. Watch the trailer below...