Revd Libby Lane is the UK's first female bishop, Downing Street announced on Wednesday, with the Cheshire vicar described her historic appointment to Bishop of Stockport as "unexpected and very exciting".
Revd Lane, who described herself as "somewhat daunted" by her position in the history of the church, is currently Vicar of St Peter's, Hale, and St Elizabeth's, Ashley.
It has been a long road for the Church of England, and the appointment comes one month, after the General Synod formally adopted legislation in favour of women bishops, having rejected the idea in a frustratingly close vote in 2012.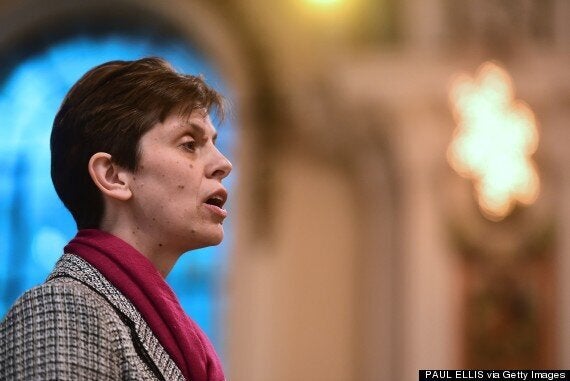 Reverend Libby Lane is pictured during the announcement to name her first woman bishop by The Church of England
Speaking at a press conference at Stockport town hall, Revd Lane began the press conference with a prayer for the victims of the massacre by the Taliban in the school in Peshwar.
"I am grateful for, though somewhat daunted by, the confidence placed in me by the Diocese of Chester," Revd Lane, who was ordained in 1994, said. "I am very conscious of all those who have gone before me, women and men, who for decades have looked forward to this moment. But most of all I am thankful to God."
As Bishop of Stockport, Revd Lane, an amateur saxophonist and a Manchester United fan, will serve as a suffragan (assistant) bishop in the Diocese of Chester, and will be consecrated at a ceremony at York Minister on Monday 26 January 2015. She will not be the first woman bishop to enter the House of Lords, as suffragans do not sit in the upper house.
The Archbishop of York John Sentamu, described it as a "great joy" to preside over her consecration next year. "I am delighted that she will exercise her episcopal ministry with joy, prayerfulness, and trust in God," he said.
Archbishop Sentamu said the Archbishop Desmond Tutu had written to congratulate him after the vote had passed. "When the General Synod rejected the previous proposals in November 2012, Archbishop Desmond Tutu, wrote to 'pour some balm on (my) wounded heart'. That year, he encouraged me, his province was finally celebrating the election of two women bishops. 'Be comforted', he said, 'it will come.'
"When I wrote to him last weekend to offer my prayers for his battle with prostate cancer, he replied with these words: 'Wonderful that you over there will soon have women bishops. Yippee! I know you have pushed for this for a long time. Yippee again!'"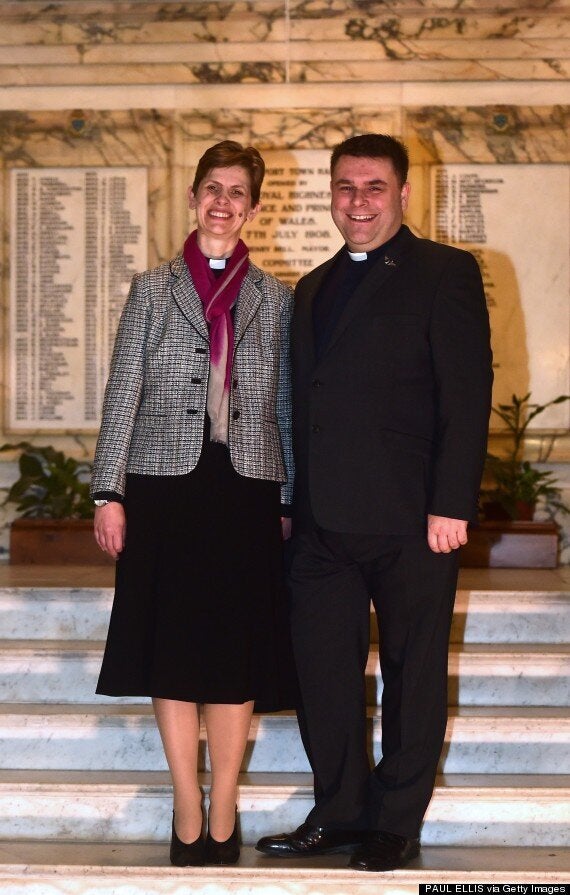 Reverend Libby Lane poses for pictures with her husband George
The Archbishop of Canterbury, the Most Revd Justin Welby, said: ""I am absolutely delighted that Libby has been appointed to succeed Bishop Robert Atwell as Bishop of Stockport. Her Christ-centred life, calmness and clear determination to serve the church and the community make her a wonderful choice.
"She will be bishop in a diocese that has been outstanding in its development of people, and she will make a major contribution. She and her family will be in my prayers during the initial excitement, and the pressures of moving".
The Bishop of Chester, the Rt Revd Dr Peter Forster, said: "Libby has had a varied and distinguished ministry, and is currently a first-rate parish priest. She has already demonstrated her ability to contribute nationally through her representative role in the House of Bishops, on behalf of the north-west England dioceses.
"As the first woman bishop in the Church of England she will face many challenges as well as enjoying many opportunities to be an ambassador for Jesus Christ. I have no doubt that she has the gifts and determination to be an outstanding bishop."
Lane, who is originally from Manchester, studied at Oxford University and trained in the church at Cranmer Hall in Durham. Her husband, George, is also a priest, and the co-ordinating chaplain for Manchester Airport; they were one of the first married couples in the Church of England to be ordained together.
Prime Minister David Cameron said in a statement: "Congratulations to the Rev Libby Lane on becoming the first woman bishop in the Church. An historic appointment and important day for equality."
Popular in the Community