The armed men stand stony-faced in three pictures, posing in front of banners in the first images of the killers who carried out the worst terrorist attack in Pakistan's history. In one, they wear military uniforms and are lined up outside.
Seven gunmen from the Pakistani branch of the extremist group attacked the Army Public School and College in Peshawar with explosives strapped to their bodies, by scaling a back wall on Tuesday morning.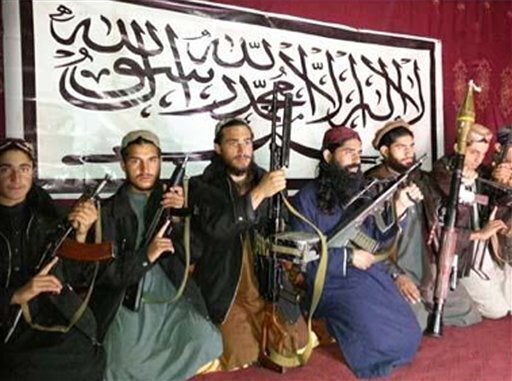 Pakistani Taliban from Peshwar attack
The leader who ordered the bloody attack is the same man who arranged the attempted murder of teenage education campaigner Malala, who was awarded the Nobel Peace Prize this year, according to the Daily Mail.
Maulana Fazlullah is the head of Pakistan's Taliban and took control of the group 13 months ago. The brutal Peshawar school massacre is thought by some to be revenge for 17-year-old Malala winning the iconic prize to worldwide acclaim.
The Pakistani Taliban released the pictures with a statement on Wednesday, in which spokesman Mohammad Khurasani claimed the attack was justified because the Pakistani army had been killing the children and families of Taliban fighters.
A harrowing list of children killed in the school massacre emerged on Tuesday, showing "dead" next written next to 19 children - some of whose identities were not yet confirmed.
The piece of paper was purportedly from the accident and emergency department of the nearby Lady Reading Hospital, and was posted to the Twitter account of Meer Bilawal Ali.
He added these words to his tragic picture: "The schools are supposed to publish results cards. Not this…"
WARNING: GRAPHIC PICTURES BELOW

Pakistan funerals