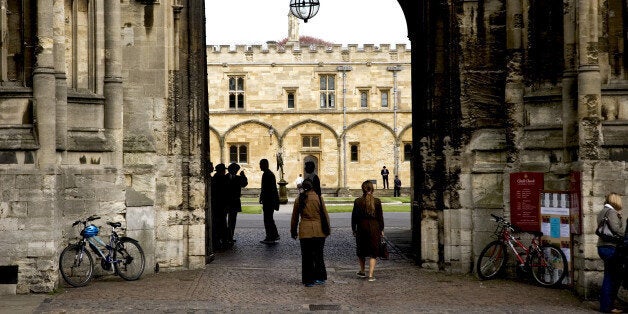 Students who went to Oxford or Cambridge earn thousands of pounds more than those who graduated from a newer university, research shows.
It reveals a significant earnings premium for Oxbridge graduates, who are also likely to have higher salaries when they start work than students who studied at other highly-selective universities.
This gap in earnings remains even after a student's background, schooling and previous academic achievement is taken into account.
The Sutton Trust, which published the study, said the findings showed the importance of improving access for poorer students to top universities.
The report, which used official data to examine the differences in the starting salaries of recent graduates, found that the average starting salary for a graduate of Oxford or Cambridge was around £25,600.
This was around £7,600 higher than the average starting wage of £18,000 for students who went to a new, post-1992 institution.
Oxbridge graduates also earned around £3,300 more than their peers who attended one of the 11 other most selective universities, it added.
Once background and other factors were taken into account, Oxford and Cambridge students still took home starting salaries that were around £4,800 higher than those for graduates of new universities and around £2,500 higher than those of graduates of other elite institutions.
The report did find that Oxbridge students who were the first in their family to study for a degree earned around £1,000 more on average than their fellow students who were from richer families.
Three-and-a-half years after leaving university, students who went to the 13 most selective, or elite, universities - including Oxford and Cambridge - earned, on average, 17% more - about £4,300 a year - than those from a post-1992 university.
The researchers also looked at differences between subjects and found that students who studied medicine, engineering, technology, economics or computer science were likely to earn more.
Overall, graduates of medicine and dentistry courses started work earning £12,200 more on average than those studying design and creative arts, while those who took engineering or technology took home around £8,800 more on average than design and creative arts graduates.
In a foreword to the study, Sutton Trust chairman Sir Peter Lampl said: "It may not surprise anyone that an Oxbridge graduate on average commands a higher salary than someone from a newer university, but a £7,500 (42%) difference which only falls to just under £5,000 allowing for social background and prior attainment is a bigger difference than many might have expected.
"At £3,300, the salary advantage of Oxbridge graduates over even graduates from other elite universities is also significant.
"While these differences may have been a feature of the system for some time, the fact is that most degrees cost the same to the graduate.
"Their debt repayments may be income-related, but there is no link between the cost of their degree and its later value in the labour market."
Sir Peter said: "This new research shows how important it is that we enable low and middle income students with the ability to go to Oxbridge and other elite universities to fulfil their potential.
"With your chances of going to a top university nearly 10 times higher if you come from a rich rather than a poor neighbourhood, it is vital that we redouble our efforts to improve access to these institutions."