Alex Salmond has hinted at an SNP vote deal with Labour over English only laws.
Salmond suggested in an interview with The Independent that SNP MPs could change their tradition of abstaining from voting on English only laws to back a Labour vote.
Labour has clashed with the Conservatives over the proposal for only English MPs being able to vote on matters only concerning England.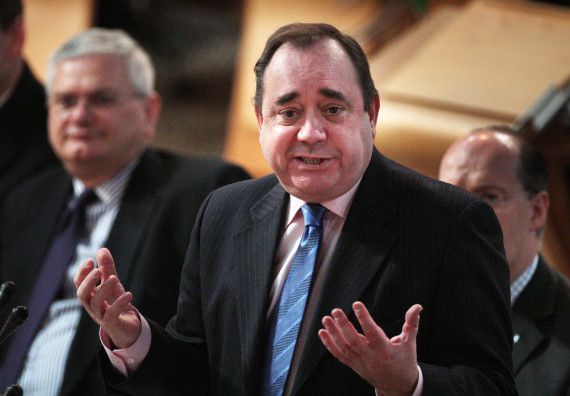 Former Scottish First Minister Salmond may back Labour for English only votes
The ex-leader of the Scottish National Party hinted that their MPs could lend Labour votes if Scottish members of parliament kept their ability to vote on English only matters.
He told the Independent: "There will be many things that come across the Westminster desk that would be of little moment to Scottish people, but will be of great moment to the government of the day."
Mr Salmond said he would "lay odds" on a balanced parliament, also known as a hung parliament, which occurs when no party secures an absolute majority of seats.
"That's an opportunity to have delivered to Scotland what we have been promised," he said.
Salmond Accuses Coalition Of Leading Country To Disaster
Last month, Mr Salmond formally stepped down as SNP leader and First Minister following September's independence referendum result.
He announced earlier this month his bid to return to Westminster and was unveiled as a candidate for the SNP nomination for the Gordon constituency in Aberdeenshire.
Mr Salmond hopes to steal the seat from the Liberal Democrats, with current Lib Dem MP Sir Malcolm Bruce retiring in May.
The former first minister told the Independent that a "barrel-load" of SNP MPs would win seats at the 2015 general election.
He added that the SNP's key objectives in any negotiations at Westminster after the election would be to ensure the UK's political leaders keep their pledge to transfer powers to Scotland.