Annual disappointment could return this festive season with the Met Office claiming chances of a white Christmas are "unlikely".
A small glimmer of hope remains for those lucky enough to live on "high ground in the north", the only places in the UK predicted to get snow next Thursday.
However, perpetually optimistic Met Office meteorologist Mark Wilson kept Christmas hopes alive: "It's still six days away so it could change."
The Met Office currently has severe weather warnings in place through to Monday, warning of snow, ice, rain and wind.
Yellow warnings of snow and ice are in place today and tomorrow for parts of Scotland, while yellow warnings of rain are in place on Sunday and Monday for parts of Scotland, Yorkshire and Humber.
Meanwhile, wind warnings are in place for Sunday and Monday in parts of Scotland, north east England, and again Yorkshire and Humber.
Wilson said Tuesday will be a similar day and while there are not any warnings out as yet, he said the Met Office will continue to monitor that.
"Tomorrow's looking like a pretty fine day across the UK. There'll be a few showers across north western parts but those will tend to ease through the day. There'll be quite a cool feel to the day, temperatures around average, but there'll be a bit of a breeze around.
"We'll see highs of around 5C in the north and 8C or 9C in the south," he said.
Sunday will bring "a different type of weather".
He said: "We're going to see a change to cloudier conditions across the UK. Some quite heavy rain across western parts of Scotland."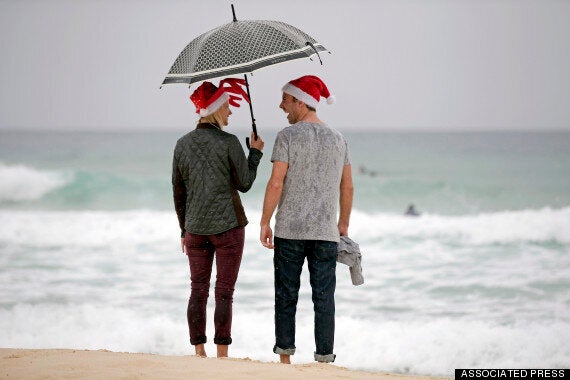 Rain is predicted for much of northern England and Scotland
Sunday and Monday will see temperatures recovering to above what is normal for this time of year, into "double digits", the forecaster said.
"It's also going to turn quite windy as well on both days and so we should see some quite strong winds, especially across eastern parts of the UK, and that's why we've got a wind warning out on Sunday and Monday for eastern parts of the UK," he added.
Christmas Eve and Christmas Day are expected to bring more changes.
"Gradually we'll start to see slightly colder conditions push down from the north, across the UK," he said, adding: "For Christmas Day itself - at the moment I should point out that it's still six days away, so this forecast can change, so by no means is it definite - it looks like for the bulk of the UK it's going to be quite cold, temperatures near, if not below, average.
"We think it's going to be generally dry and sunny for many areas, but there will be some showers around, mainly in the north of the UK."