Some of the country's biggest high street names have slashed prices for what is expected to be one of the busiest shopping days of the year, as they hope to avoid a repeat of the violent scenes that marred "Black Friday" last month.
An estimated 13 million people will spend £2.1 million for every minute the shops are open on last-minute gifts and groceries at an average of £92.31 per person, according to a report by the Centre for Retail Research (CRR).
Among the retailers offering discounts, Debenhams is selling some Christmas gifts at half-price, Boots is offering a 60% discount of selected fragrances, while Marks & Spencer has knocked 50% off the price of some beauty products.
The CRR has predicted in-store sales will reach £4.74 billion over the five days before Christmas - a 21% increase on last year.
Its report found that delayed online orders, poor weather in some areas and earlier sales were expected to drive 60.9 million shoppers to the high street between today and Christmas Eve - up 14% on last year.
Britain's department stores can expect to double their takings this weekend, with outlets in the north of England set to benefit the most from Panic Saturday, according to data from payment processing company Worldpay.
It said the number of card payments processed by department stores in some parts of the UK just prior to Christmas rose by as much as 224% this time last year, with even better figures expected this year.
Worldpay UK managing director Dave Hobday said: "Department stores are magnets for shoppers who find themselves in the last-chance saloon in the final few days before Christmas.
"Many of these eleventh-hour shoppers will be breaking into a cold sweat at the thought of heading to the high street on the busiest shopping day of the year and praying for someone to take the pain away."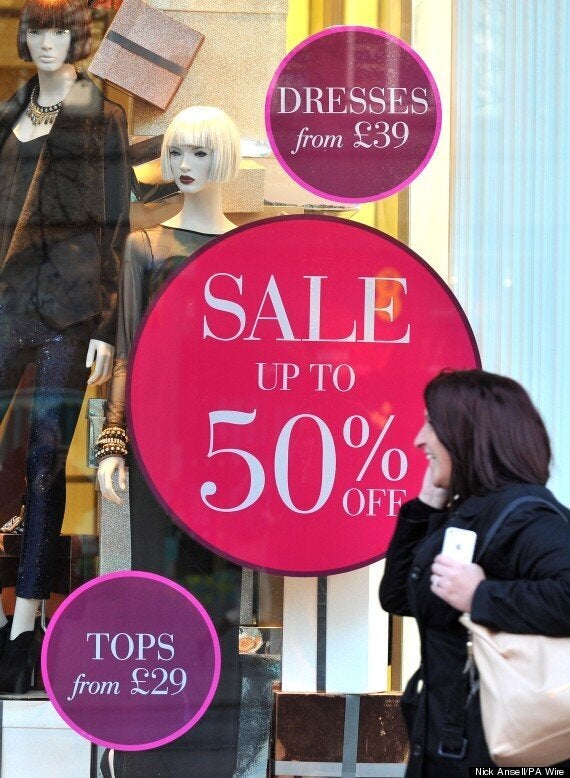 People are expected to spend £1.2 billion today
But those averse to crowds are advised to stay home on Tuesday next week for what is expected to be the busiest single high street shopping day ahead of Christmas.
Visa Europe predicts shoppers will spend £1.3 billion on Tuesday alone on the high street, or £15,278 every second, on its cards.
It estimates 34 million transactions will take place, with numbers peaking in the lunch hour break between 1pm and 2pm.
Despite the rise of Black Friday, which saw high street spending of more than £1 billion this year, Visa predicts that the high street will continue to see its busiest day two days before Christmas.
Overall, the seven day period before Christmas Day is predicted to see a 7% increase in spending and an 8% increase in transactions on the same period last year.
Visa Europe managing director for the UK and Ireland, Kevin Jenkins, said: "Black Friday kick-started Christmas on the high street and online this year but the busiest bricks and mortar day will likely remain in its traditional slot close to Christmas.
"Retailers' multi-channel approach should cause a surge in footfall from click-and-collect sales too, with the opportunity for further shopping in-store when consumers arrive.
"Across Tuesday December 23 we are likely to see £1.3 billion spent in total. Lunch hour should prove the most popular time for a shopping trip, either for last minute gifts or final ingredients for Christmas dinner."
Bluewater said seven out of 10 shoppers on Christmas Eve will be panic-buying men.