A cold snap is set to grip Britain, with forecasters warning of snow on Boxing Day followed by freezing temperatures in the lead-up to New Year.
The Met Office has issued a cold weather alert for parts of England, saying there is an 80% probability of conditions that could "increase the health risks to vulnerable patients and disrupt the delivery of services".
Severe weather warnings are in place for snow from tomorrow afternoon, threatening disruption on one of the busiest shopping days of the year.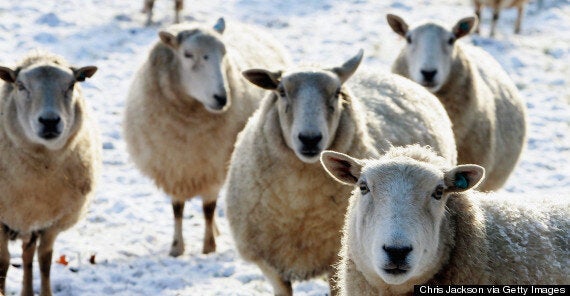 Snow is expected on Boxing Day. Hopefully these sheep won't find their sales shopping disrupted
Most Britons are unlikely to see a white Christmas today, but swathes of the country could be blanketed by wintry showers from tomorrow afternoon.
The Met Office said there is some uncertainty about which regions will see snow, but where it does fall there could be accumulations of between 2cm (0.8in) and 4cm (1.6in) and in excess of 10cm in areas of higher ground.
Rain and sleet are also expected to fall across parts of Northern Ireland, England and Wales before clearing during the evening and overnight into Saturday.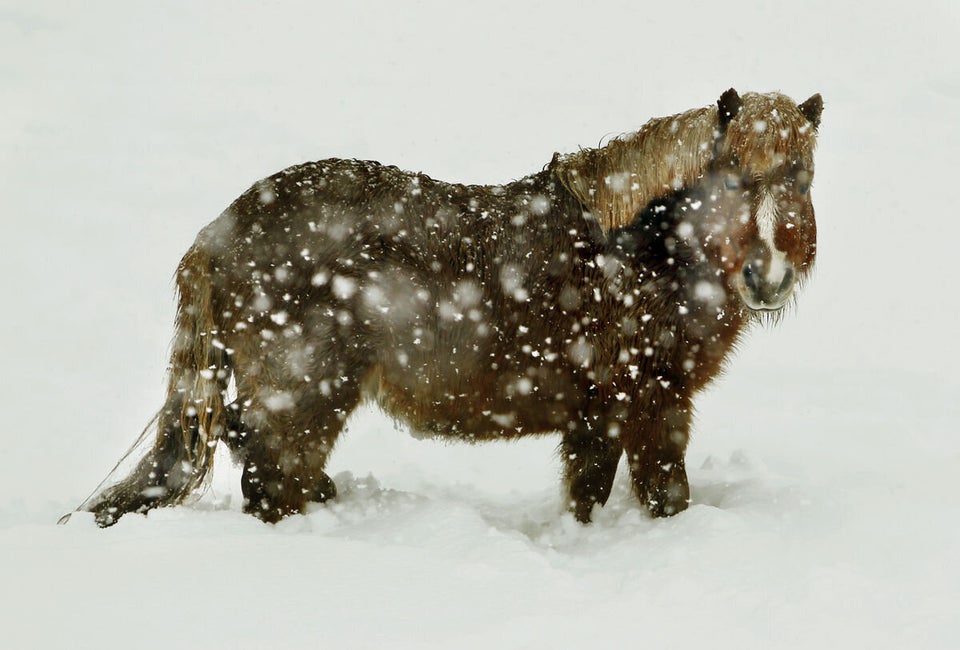 Winter Weather
Millions are expected to hit the roads to visit relatives or to take advantage of Boxing Day sales but they were warned to keep up to date with forecasts.
The Met Office said: "The public should be aware of the potential for disruption from snow. Please watch for updates to this warning. Especially if travelling."
Conditions should become more settled as the weekend proceeds, but the mercury is likely to plunge below freezing overnight in much of the country next week.
The Met Office issued a cold weather alert this morning, saying there is an 80% probability of "severe cold weather/icy conditions/heavy snow" between 3pm on Friday and midnight on Wednesday in parts of England.
It said: "This weather could increase the health risks to vulnerable patients and disrupt the delivery of services."
The warning was at the yellow level, indicating a need for "alert and readiness".
Krista Mitchell, a meteorologist at the Met Office, said: "This year as a whole has been very mild, so this could be the coldest spell that we've had.
"As we go towards Monday and Tuesday, we will see overnight temperatures really drop, with widespread frost and most places dropping below freezing."
Rain, sleet and snow may also affect south west Scotland and the Strathclyde and Lothian and Borders, forecasters said.
Transport Scotland said it was closely monitoring the conditions.
A spokesman said: "As ever, the public have a vital role to play in terms of helping to minimise disruption.
"We would advise people to prepare for some travel disruption as bridges could be affected by high winds and driving conditions could be challenging in some areas, so please allow extra time for your journeys.
"They should also check the relevant websites, such as Traffic Scotland, for up-to-date travel information before they set off."
Rain and strong winds are possible in addition to snow as a depression developing over the Atlantic tracks over the UK tomorrow.
There is also a risk of flooding in some parts.
Shortly before midday today, the Environment Agency had nine flood alerts in place - three in the North East, four in the North West and one each in the South East and South West. Two more serious flood warnings have been implemented, one in the North East and one in the North West.
Bookmaker Ladbrokes said it was "breathing a multimillion-pound sigh of relief" at the apparent absence of a white Christmas, while the odds of snow on Boxing Day have now been cut to 5/4.
Spokeswoman Jessica Bridge said: "Santa brought the sunshine not the snow, and for that we'll be having a sherry on him this Christmas Day.
"The odds suggest the mild temperatures have saved the industry from a bumper payout by just 24 hours."
She added: "White Christmas punters piled into the odds all month long, but unfortunately Mother Nature had other ideas and fancied barbecuing the turkey this year."