The unprecedented arrest and prosecution of Australian Peter Greste, Egyptian-Canadian Mohammed Fahmy and Egyptian Baher Mohammed sent a chill through the media in Egypt. An appeal against their sentences will be heard on Thursday.
The trio were detained on suspicion of helping the Muslim Brotherhood, which the government later declared a terrorist organisation, and were sentenced to between seven and 10 years in prison in a trial that most observers called a politicised sham that lacked any evidence to incriminate the journalists of anything beyond doing their job.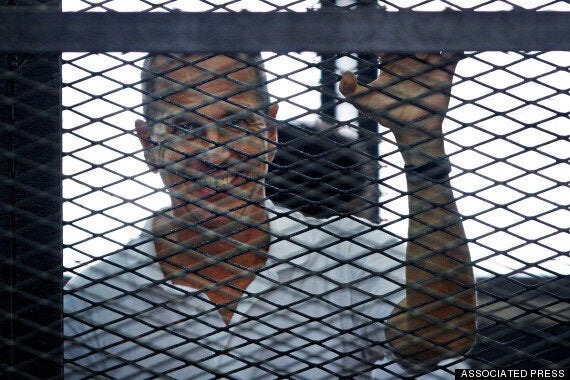 Al-Jazeera journalist Peter Greste looks out from the defendant's cage during the sentencing
Journalists from around the world have been tweeting messages of support using the hashtag #FreeAJStaff as the anniversary of their detention approached, and protests have been held outside the Egyptian embassy in London.
Egypt's Court of Cassation begins hearing their appeal on Thursday. A recent reconciliation between Egypt and Qatar — the tiny Gulf nation that owns the Al-Jazeera news network and is a strong backer of the Brotherhood — has raised speculation that a solution is in the works that could lead to the journalists' release.
But their families are taking nothing for granted.
"It's a very anxious time," Greste's mother, Lois, told The Associated Press in Cairo. "We are biting our nails. And the next three days are going to be pretty tough. We will get there. We just hope so much that everything sorts itself out on January 1."
She and Greste's father, Juris, were in the Egyptian capital to attend the appeal's opening — and maybe return home with their son.
"We have spent enough time in Egypt, in Cairo, to have learned not to react to expectations and rumours and talk," his father said. "We will only be certain of anything when we can embrace Peter and, as I have said before, when we are at 30,000 feet in a civilian aircraft in direction to home."
Greste, an award-winning journalist, has distracted himself from the nerve-wracking wait by beginning an international studies postgraduate programme in jail.
Greste, Fahmy — who was Al-Jazeera English's Cairo bureau chief — and Baher, a producer, were arrested in a raid exactly a year ago in the Cairo hotel room they were using as an office. The arrest came as the government was cracking down on Islamists following the military's ouster several months earlier of Islamist President Mohammed Morsi. Authorities accused Al-Jazeera of acting as a mouthpiece for Morsi's Muslim Brotherhood and threatening national security.
The station denied the accusations and said the journalists were doing their job, covering protests by Morsi's supporters.
The defendants say they were pawns in bitter political dispute between Egypt and Qatar over the latter's backing of the Brotherhood. In past weeks, however, Egypt's Gulf patrons — led by Saudi Arabia — reached a reconciliation agreement with Qatar to end their feud, also bringing a thaw in Cairo and Doha's relations.
In one likely sign of the reconciliation, Al-Jazeera shut down its Egypt affiliate, Al-Jazeera Mubasher Misr, which dedicated its coverage to Egypt and in particular to its Islamists, angering the Cairo government. That has raised speculation that Egypt could respond by freeing the Al-Jazeera journalists, either through the courts or through a pardon from President Abdel-Fattah el-Sissi.
"The recent Saudi-brokered reconciliation between Egypt and Qatar should reflect positively on our appeal hearing on New Year day considering the political nature of our shameful trial," Fahmy said in a message to the AP, acquired through his family.
Fahmy also praised the support his case has gotten through his colleagues in various parts of the world. Over 140,000 people have shared their support with the journalists in a social media campaign with the Hashtag #journalismIsNotACrime.
Several dozen protesters stood with their mouths taped shut outside the Egyptian embassy on Monday.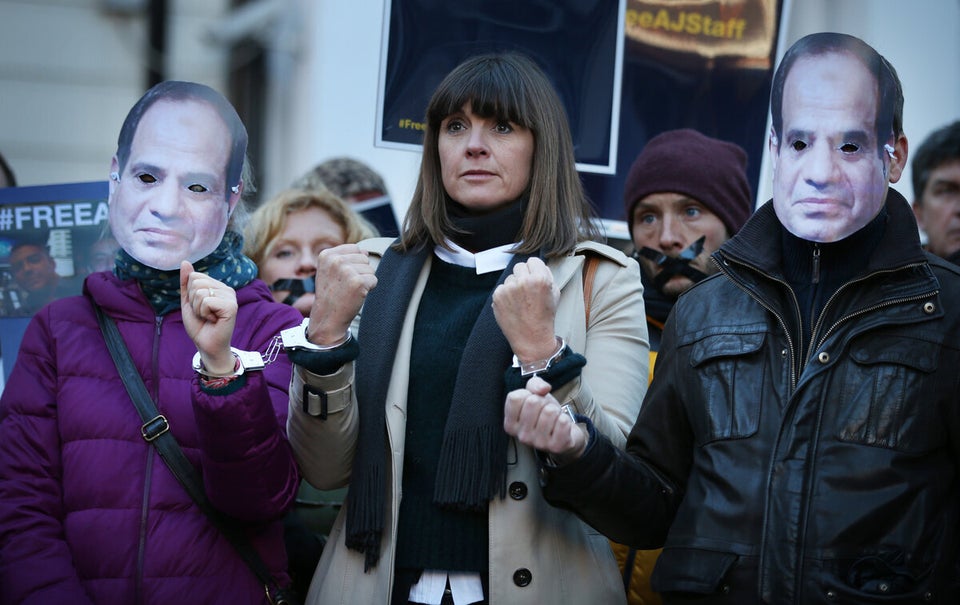 #FreeAJStaff
Many of those who were present had taped their mouths shut in protest.
"My one year unjust imprisonment has become much more bearable knowing our cause to report freely and safely has transcended into a global uprising against those world leaders who muzzle, kill and imprison journalists," Fahmy said in his statement.
For Baher Mohammed's wife, no sign is clear enough. She is only praying her 4-month child — born while his father was in jail — can get to know his father.
"These three days are nerve-wracking," she said. "I only have hope in God. Not in the judiciary, not in people and not in lawyers."
"With all the reconciliation talk, we don't know what it means for them," she said. "No one said anything about a pardon. No one (official in Egypt) said anything. I won't believe anything until it happens."
The case was an escalation of a crackdown on journalists in Egypt in general following Morsi's ouster. There are at least 12 other Egyptian journalists arrested since last year who are still behind bars, facing various charges including participating in protests or using violence, said Mohammed Lotfy, a rights campaigner in Egypt who observed the trial for Amnesty International.
"The case had a strong impact on journalism in Egypt because it was a clear message to journalists that there is no absolute freedoms to deal with issues which the government may consider a threat to the official narrative regarding what happened" after Morsi's ouster, he said.
Popular in the Community