The Al Jazeera journalists detained in Egypt, including former BBC correspondent Peter Greste, have been sentenced to seven years in jail for "illegal" meetings with the country's Islamist opposition party.
To collective gasps in the court room, Greste, along with Al Jazeera English Cairo Bureau Chief Mohammed Fahmy and producer Baher Mohamed, were given the maximum sentence available to the judge.
Reporters in court described chaotic scenes as Greste rattled the iron mesh of his cage and thumped the bars. Fahmy was dragged from the cage, having locked his fingers around the metal, shouting: "They will pay for this, they will pay for this."
Mohamed was sentenced to an additional three years for possession of ammunition, a bullet casing he had found on the ground during a protest.
Members of Greste's family, including his brother Andrew, were in court. Shortly after the verdicts the family wrote on a Facebook page called 'Free Peter Greste'.
The main charge against the journalists was "illegally" meeting the Muslim Brotherhood, the party of ousted president Mohammed Morsi. The Islamist party has been officially declared a terror group by Egypt's military-backed administration.
Australian-born Greste, who previously worked as a correspondent for the BBC in Kenya, has had his country's prime minister Tony Abbott directly intervene on his behalf to the Egyptian authorities. "As an Australian journalist, Peter Greste would not have been supporting the Muslim Brotherhood, he would have simply been reporting on the Muslim Brotherhood," Abbott told Egypt's newly confirmed president General Sisi. But the protest has fallen on deaf ears.
Fahmy, a Canadian-Egyptian citizen has not been the subject of a similar plea by his country's prime minister Stephen Harper.
Downing Street said David Cameron was "completely appalled". The Egyptian ambassador in London has been summoned to the Foreign Office to be informed of the UK's displeasure about the case. Foreign Secretary William Hague said he had "repeatedly raised this case and the restrictions on freedom of expression in Egypt with President al-Sisi, the Egyptian foreign minister and wider authorities in Egypt."
Deputy Prime Minister Nick Clegg said: "The guilty verdicts handed down against Egyptian and international journalists in Egypt are deeply concerning. They are illustrative of a regime in Egypt that is unfairly treating journalists, students and political activists on a very wide scale."
"We are deeply disappointed that a court could come to this decision and, quite frankly, we simply do not understand how a court could come to this decision based on the evidence of which we were aware," Australian foreign minister Julie Bishop told press gathered after the verdicts on Monday. "I'm bitterly disappointed with the outcome but I cannot think of what more we could have done given that we have made constant representations at the highest level within the Egyptian government."
US Secretary of State John Kerry phoned Egypt's foreign minister to register his country's "serious displeasure" with the court's "chilling and draconian" verdict, Reuters reported.
According to an Amnesty International observer, prosecutors also obstructed the defendants' right to review and challenge the evidence presented against them, and the prosecution also appeared unprepared and disorganised, often presenting irrelevant evidence.
Key witnesses for the prosecution also appeared to contradict their own written testimony, with technical experts admitting on cross-examination that they were unable to confirm their testimonies.
The prolonged trial, which has seen the journalists held in a cage in the centre of court, has sparked worldwide protests online and offline.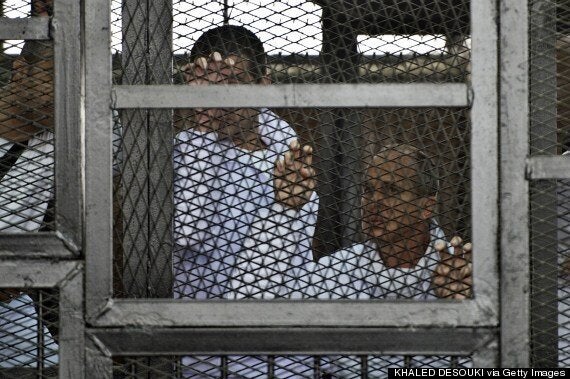 Australian journalist Peter Greste (R) of Al-Jazeera and his colleagues stand inside the defendants cage during their trial for allegedly supporting the Muslim Brotherhood
Al Jazeera has said nine of the 20 defendants who were on trial are on its staff. A Dutch journalist, who is not working with the channel, is also among the defendants.
Most other Al Jazeera journalists were being tried in absentia - Alaa Bayoumi, Anas Abdel-Wahab Khalawi Hasan, Khaleel Aly Khaleel Bahnasy, Mohamed Fawzi, and British journalists Dominic Kane and Sue Turton were sentenced to ten years, but were not present at the trial.
Speaking to Sky News from London, Turton said: "We really believed the judge would recognise these were politically motivated charges.
"We don't understand what it is they're accusing us of. They're trying to stop anyone having an opinion that doesn't tally with the government's narrative. I don't want to think about, now they're back in their prison cells, how they're coping with what happened today."
Al Jazeera English managing director Al Anstey said: "Peter, Mohamed, and Baher and six of our other colleagues were sentenced despite the fact that not a shred of evidence was found to support the extraordinary and false charges against them. At no point during the long drawn out "trial" did the absurd allegations stand up to scrutiny."
Anstey said there were "many moments during the hearings where in any other court of law, the trial would be thrown out. There were numerous irregularities in addition to the lack of evidence to stand up the ill-conceived allegations. There is no justification whatsoever in the detention of our three colleagues for even one minute. To have detained them for 177 Days is an outrage. To have sentenced them defies logic, sense, and any semblance of justice."
The hashtags #journalismisnotacrime and #FreeAJStaff were trending on Twitter this morning after the verdicts came in.
Michelle Stanistreet, NUJ general secretary, described the sentencing as "outrageous".
"The NUJ condemns in the strongest terms these sentences meted on journalists who were merely doing their job," said Stanistreet. "This is an outrageous decision and travesty of justice made by a kangaroo court.
Amnesty International Middle East and North Africa Director Philip Luther said: "This is a devastating verdict for the men and their families, and a dark day for media freedom in Egypt, when journalists are being locked up and branded criminals or 'terrorists' simply for doing their job.
"The only reason these three men are in jail is because the Egyptian authorities don't like what they have to say. They are prisoners of conscience and must be immediately and unconditionally released. Instead of locking up journalists and others perceived to pose a threat, the authorities should focus their efforts on conducting credible investigations into abuses by the security forces."
The verdicts send a message that journalists "simply doing their job" is considered a crime in Egypt, according to the Index on Censorship, an organisation which promotes the right to freedom of expression. "Today's verdict is disgraceful," Index chief executive Jodie Ginsberg said, before calling on governments to put pressure on Egypt to ensure a free press.