The pilot of the missing AirAsia flight may have managed to avoid a serious crash, making a successful emergency water landing in the sea, only for the plane to sink in the storm.
That is the latest theory put forward, as rescue teams recover more bodies and experts struggle to understand why the plane's emergency locator transmitter did not go off on impact.
The Airbus A320 carrying 162 passengers and crew went down on Sunday, halfway into a flight from Surabaya, Indonesia's second-largest city, to Singapore.
SEE ALSO:
Minutes before losing contact, the pilot, Captain Irianto told air-traffic control he was approaching threatening clouds, but was denied permission to climb to a higher altitude because of heavy air traffic.
Because no crash data was transmitted, some experts believe the pilot pulled off an emergency landing that initially saved those aboard.
"The emergency locator transmitter (ELT) would work on impact, be that land, sea or the sides of a mountain, and my analysis is it didn't work because there was no major impact during landing,' Dudi Sudibyo, a senior editor of aviation magazine Angkasa said.
"The pilot managed to land it on the sea's surface."
As hopes of finding survivors faded, Captain Irianto's wife Widya Sukati Putri, promised to be "tough", adding: "I'm here for my children and their future, so I must be strong and open with this situation."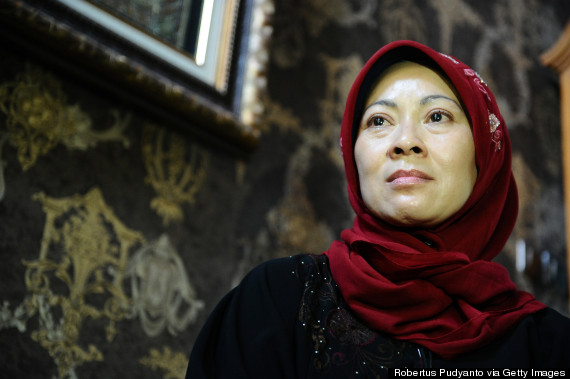 Widiya Sukati Putri, the pilot's wife
After nearly a week of searching for the victims, rescue teams battling monsoon rains found 21 bodies on Friday, taking the total recovered to 30.
An Indonesian navy official said some of the dead were still strapped to their seats.
Rescue teams hope many of those on board are still within the fuselage, which has not been located.
Several countries involved in the massive effort are using sophisticated sonar equipment and metal detectors to scour the relatively shallow ocean floor for the wreckage — and the plane's black boxes.