Renowned human rights lawyer Amal Clooney was threatened with arrest by Egyptian authorities for highlighting flaws in the judiciary that were, she says, integral to the controversial conviction of three Al Jazeera journalists.
Clooney, who went on to act in the trial of the journalists whose conviction prompted international outrage, was stopped from presenting a report on Egypt's judicial failings in Cairo.
Her report, compiled for the International Bar Association, highlighted the political influence the state held over judges and prosecutors who are meant to be independent.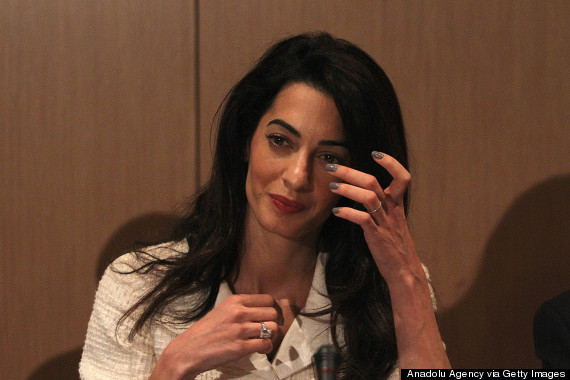 Amal Clooney
"When I went to launch the report, first of all they stopped us from doing it in Cairo," Clooney said in an interview with The Guardian. "They said: 'Does the report criticise the army, the judiciary, or the government?' We said: 'Well, yes.' They said: 'Well then, you're risking arrest.'"
The recommendation to stop officials appointing certain judges to cases was ignored.
She said this was a big factor in the convictions of journalists Canadian-Egyptian Mohammed Fahmy, Australian Peter Greste and Egyptian Baher Mohammed.
The three were charged with helping terrorists by acting as the mouthpiece of the Muslim Brotherhood, by then declared a terrorist organisation, and falsifying news to destabilise Egypt.
In their initial trial, prosecutors presented no concrete evidence, only samples of the team's news reports on protests, with no proof of falsification or of a connection to the Brotherhood.
SEE ALSO: Amal Clooney Blogs For WorldPost On The Anatomy Of An Unfair Trial
They have been told they will face a retrial.
This raised hopes among their families that they could be released but Clooney expressed doubts.
"If the idea is: well, there were errors and now there's going to be a retrial, but then the retrial operates on the same basis as the original one, that doesn't really mean much," she said.
"I don't see how the prosecution can proceed again in a trial process even if the judges were to be constituted properly this time around. I don't see how they could fix the lack of evidence."
READ MORE:
In her blog for The WorldPost, Clooney described their original trial as "a travesty of justice".
Clooney, then called Amal Alamuddin before her marriage to actor George Clooney, said: "It is clear beyond doubt that their trial was unfair, and their conviction a travesty of justice."
She added: "It must be a devastating blow to those who took to the streets in 2011, hoping to usher in a new era that would protect their dignity and human rights.
"What they have seen is that since 2011, each successive regime that has come into power has allowed police and army chiefs to escape prosecution while critics of the government have been enthusiastically pursued through the courts."