Thousands of people are signing a petition calling for a football club not to sign convicted rapist Ched Evans.
The petition had gained nearly 13,000 signatures at 7.30pm, around six hours after it was set up, reportedly earning a signature roughly every second at one point.
Evans was released from prison in October, still protesting his innocence, after serving half of a five-year sentence for the rape of a 19-year-old woman in a hotel.
The apparent U-turn has sparked outrage among Oldham fans and the news of Evans' possible return to football led to the latest petition.
The petition against Evans being signed by Oldham is one of the fastest growing in the history of the site, i100.co.uk reported.
The petition has been set up by Jean Hatchet from London on the Change.org.uk website and in it she calls on Simon Corney, chairman of Oldham Athletic not to sign Evans, who she says does "have the right to work" but not "in a role where he influences views about sexual violence."
The latest petition reads: "Ched Evans is a convicted rapist. He does not deserve to return to a high profile and highly visible role in football whilst he still refuses to acknowledge his guilt, apologise to his victim and attempt to make clear his views to the fans who look up to him that what he did was wrong and they should not traumatise her or other rape victims.
"Currently Oldham is said to be considering signing him. This is a damaging message about rape and sexual consent to be giving to your fans. Please think again."
A counter petition, urging Oldham to sign the player, has been signed by five supporters.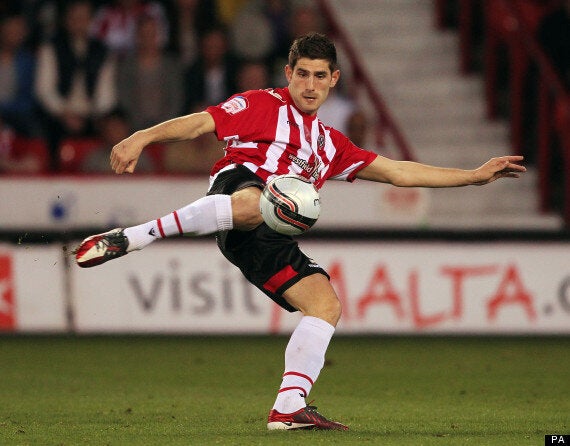 Ched Evans, playing before his imprisonment
Professional Footballers' Association (PFA) chief executive Gordon Taylor confirmed a League One side will hold a press conference on Monday in relation to the signing of the player but would not name the club involved.
Oldham were not available for comment on Sunday.
The ex-Wales international had an offer to train with his former club Sheffield United in November.
But following a backlash from Blades supporters, sponsors and patrons opposed to Evans's return, the club withdrew the offer.
Other clubs including Tranmere and Hartlepool also rejected the opportunity to sign him and a recently touted move abroad to Maltese club Hibernians appeared to have floundered due to rules on convicted sex offenders and their probation regime.
Following an apparent offer to join Hibernians, the Ministry of Justice (MoJ) quickly stepped in to suggest working abroad was not compatible with Evans's release conditions, that he must have regular face-to-face meetings with his probation officer.
Evans, who previously played for Manchester City, was jailed in April 2012 for raping a woman in a hotel room in Rhyl, North Wales.
The player denied the offence, saying the sex was consensual, but he was found guilty by a jury at Caernarfon Crown Court.