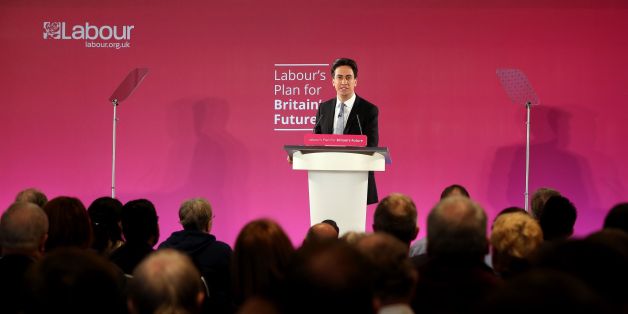 Peter Byrne/PA Wire
Ed Miliband has accused businesses of "recruiting at slave wages", as he launched Labour's 2015 general election campaign.
Addressing the issue of immigration, the Labour leader told an audience in Manchester that voters wanted "fair rules" for everyone.
"Britain should not—cannot— close ourselves off from those who can contribute to our economy and our country. But people want to know that there are fair rules," he said.
"Fair rules so that benefits should be earned, so people must contribute before they claim. And fair rules to prevent businesses from recruiting at slave wages, exploiting migrant labour to undercut pay and conditions."
Party leaders fired the starting gun on a long four month election campaign today, with Labour and the Conservatives trading blows on the state of the public finances.
The Labour leader said his party offered "hope not falsehoods" as he dismissed Tory claims the Opposition had made £20.7 billion in unfunded spending commitments.
In what was billed as the formal launch of a four-month battle to win back power at Westminster at the ballot box in May, he said that working people were on course to end up worse off at the end of a government than before for the first time since the 1920s.
Labour would make cuts to public spending, he said, but deal with the deficit "responsibly" - including through higher taxes on the wealthiest - but had made no promises funded by additional borrowing.
George Osborne lead senior Tories in an attack on Labour's general election promises, accusing the party of pledging £20.7 billion in unfunded spending commitments.
The Chancellor, flanked by four Cabinet colleagues, will use Treasury costings to claim Miliband's plans for his first year in government do not add up.
But the Labour leader dismissed the Tory analysis as "completely false" and accused David Cameron of "spraying around all kinds of unfunded commitments", including £7 billion of tax cuts.
Nick Clegg used his first press conference of the year to brand Tory plans to tackle the deficit "a con" as he continues to attempt to distance the Liberal Democrats from their coalition colleagues.
At the same time, he warned that Labour's policies represent a "clear and present danger" to the economic recovery as part of his party's strategy of positioning itself as a moderating force on either of Westminster's two main powers in a future coalition.