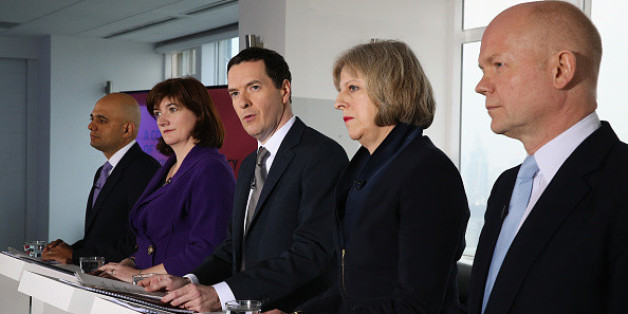 Getty Images
Conservative cabinet ministers dodged questions about their potential campaigns to succeed David Cameron today, after five senior Tories presenting journalists with an easy target.
Ed Miliband launched Labour's election campaign in traditional style, alone at a podium. However the Conservatives decided to present journalists with an unusual line up of five cabinet ministers, instead of David Cameron.
The staging was designed to show that the prime minister was backed up by a strong team. However the event looked to many like a Tory leadership hustings. Chancellor George Osborne, home secretary Theresa May, culture secretary Sajid Javid, education secretary Nicky Morgan and leader of the Commons William Hague all took turns to speak.
The Daily Telegaph's Chris Hope could not resist. "Today is an unusual day, seeing so many senior Tory cabinet minister together," he said. "Please could each one of you say individually why you might make a good leader of the Tory party one day?".
"We are not going to do that," Osborne quickly replied to laughter. "This is a team united behind David Cameron, a strong prime minister who will lead our country in the coming years to an even stronger economic recovery."
Hague is not a leadership candidate and intends to stand down from parliament at the election. However May and Osborne are widely seen as two of the front runners for the top job once Cameron calls it quits. Javid has been tipped as future leader and Morgan has also had a rapid rise through the Tory ranks.
One notable absence from the lineup, brought together to attack Labour's spending plans, was Boris Johnson. The London mayor hopes to return to parliament in 2015 and will likely challenge for the Tory crown once the prime minister steps down.
Osborne also dodged an earlier leadership question by insisting the cabinet was focused on winning the election in four months time. "In our party our leader is one of our strongest assets," he said. "In the Labour Party their leader is one of their weakest assets".
At his campaign launch earlier on Monday, Miliband said May's general election was a "once in a generation" chance to "rebuild" the country. The Labour leader said his party offered "hope not falsehoods" as he dismissed Tory claims the Opposition had made £20.7 billion in unfunded spending commitments.
Labour would make cuts to public spending, he said, but deal with the deficit "responsibly" - including through higher taxes on the wealthiest - but had made no promises funded by additional borrowing.
READ MORE

Miliband Attacks Businesses Over 'Slave Wages' As Marathon Campaign Begins