Buckingham Palace has angrily denied a claim that the woman accusing Prince Andrew of having underage sex with her also met the Queen on a trip to London.
The palace has said there is "no record" of a meeting between the Queen and Virginia Roberts, who is at the centre of sex allegations against her son, the Duke of York.
Her father, Sky Roberts, 58, told the Daily Mail: "Virginia told me a few years back that she met Prince Andrew when she went to London and she also said while they were there she met the Queen."
READ MORE:
Andrew, who is fifth in line to the throne, is understood to have returned home from a ski resort in Switzerland, after he was named in US court documents relating to convicted paedophile Jeffrey Epstein, a friend of the Duke's.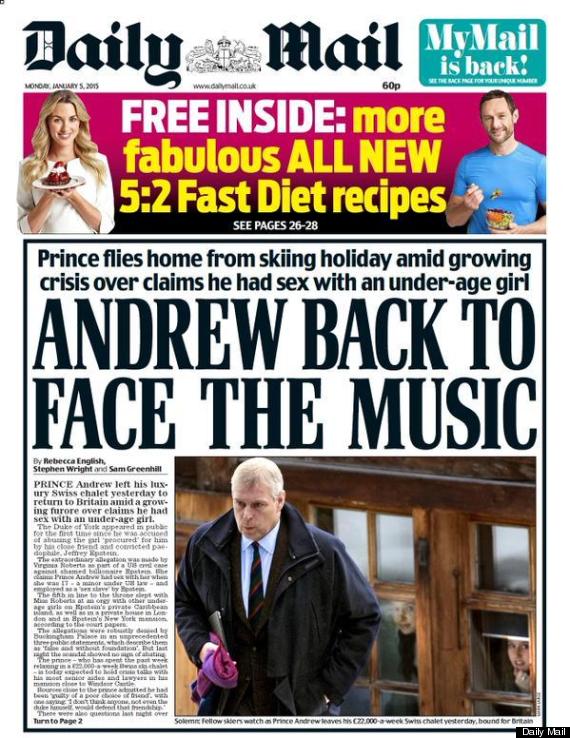 The Daily Mail today, with a picture of Andrew in Switzerland
But a palace spokesman replied: "There is nothing to suggest the claim is true. We have no record of such a meeting."
Earlier, officials said "any suggestion of impropriety with under-age minors" by Andrew was "categorically untrue''.
Scotland Yard has confirmed it had not received any complaint related to the case but would investigate if an allegation was made.
Ms Roberts, a US citizen, waived her anonymity in an interview with the Mail on Sunday in 2011, in which she claimed she had been sexually exploited by American billionaire and convicted sex offender Jeffrey Epstein.
Andrew was photographed with Epstein in New York two years after the American's release from prison in 2009 and their friendship was a source of controversy.
In papers filed as part of her lawsuit against prosecutors, the woman claims that between 1999 and 2002 she "was forced to have sexual relations with this prince when she was a minor" in London, New York and on a private Caribbean island owned by Epstein.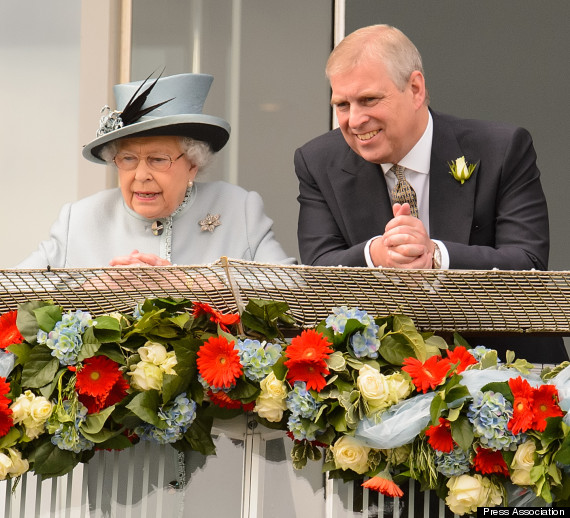 Prince Andrew pictured with his mother in 2013
The lawsuit is over how federal prosecutors handled the case of Epstein, who was jailed for 18 months in 2008 for soliciting a minor for prostitution.
Several newspapers have since published details of interviews given by Ms Roberts in recent years, in which she discusses three alleged encounters with the Duke.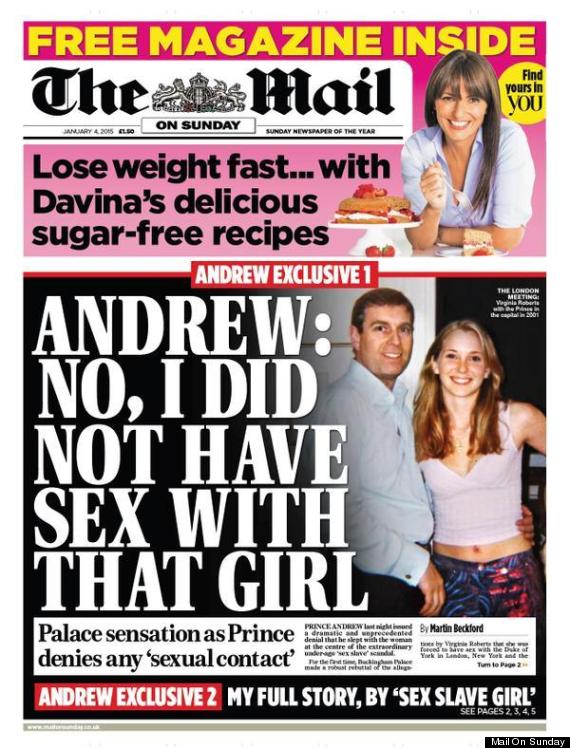 Yesterday's Mail on Sunday's headline carried a photo of Prince Andrew and Ms Roberts
A Buckingham Palace spokesman said: "It is emphatically denied that the Duke of York had any form of sexual contact or relationship with Virginia Roberts.
"The allegations made are false and without any foundation."
Harvard law professor Alan Dershowitz - who represented Epstein in the 2008 case and is also named in the court papers - has described the claims against him as being part of a pattern of "made-up stories" against prominent people.
But in a statement released through her lawyers to several newspapers, the woman hit back, saying: "These types of aggressive attacks on me are exactly the reason why sexual abuse victims typically remain silent and the reason why I did for a long time. That trend should change. I'm not going to be bullied back into silence."