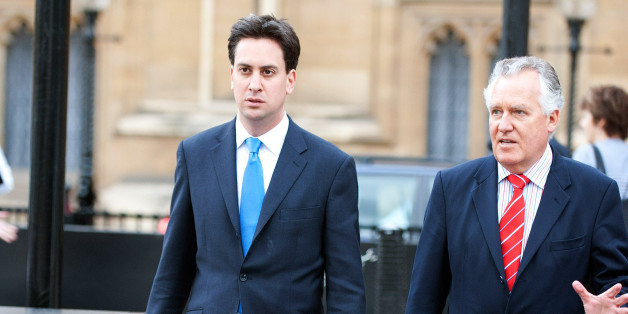 Barcroft Media via Getty Images
Ed Miliband should avoid backing the Tories' "lousy" cuts agenda and instead pldge £30 billion of extra public spending to boost Britain's economy, a former cabinet minister has said.
Peter Hain's message, in a column for the Guardian, is especially important as he is a close ally of Miliband, a former member of the latter's shadow cabinet and served as a cabinet minister in both Tony Blair and Gordon Brown's governments.
Hain suggested that the Labour leadership feels "obliged" to offer their own cuts programme "simply to get a hearing" from the "Tory-supporting newspapers" and "compliant media".
"We urgently need (as some economists argue) £30bn a year for two years of extra capital investment in infrastructure, housebuilding, education, skills and low-carbon industries," he wrote. "This would rapidly expand the economy and cut the budget deficit by boosting tax revenues as people earn and spend more, working hours rise, and fewer families need to look to the state for support.
"But with the Labour leadership trapped between a rock and hard place of political necessity and economic reality, that sum of £30bn is far more than the party is planning. Yet, frankly, it's the only way to begin creating a fairer, more sustainable economy – and thereby sensibly rebalancing the public finances.
"Tacking to the Tories and their media allies as Ed Miliband's Blairite and Tory critics demand is to sign up to their Alice in Wonderland economics."
See more on the 2015 General Election here

Treasury Costing Labour's Spending Plans 'Doesn't Make Sense', Ex-Official Warns

George Osborne Hates 'Dodgy Dossiers'... Except When He Used One To Attack On Labour
Meanwhile, Miliband has received competing advice from another former Labour cabinet minister Charles Clarke, who urged the Leader of the Opposition to be much more strict in his approach to the public finances.
Clarke, formerly home secretary and education secretary under Blair, wrote in an article for the Fabian Review: "Labour needs to acknowledge that public spending which might easily have gained public support decades ago now needs serious re-evaluation in modern conditions."