Joel Edgerton is chuckling, if somewhat ruefully, at the media storm he inadvertently kicked up with a few off-the-cuff words to a reporter last year on the red carpet in Melbourne.
READ ALSO:
Joel Edgerton On Experiencing Cumberbatch-Mania - 'It's Something To Behold'
Ridley Scott On The Exodus 'Casting Controversy'
Joel, who stars as Ramses in Ridley Scott's old-style epic 'Exodus: Gods and Kings' opposite Christian Bale as Moses, was promoting his own indie film 'Felony', when he was asked about the catalogue of white faces on display in a film telling the story of African characters in the Egypt of the Old Testament.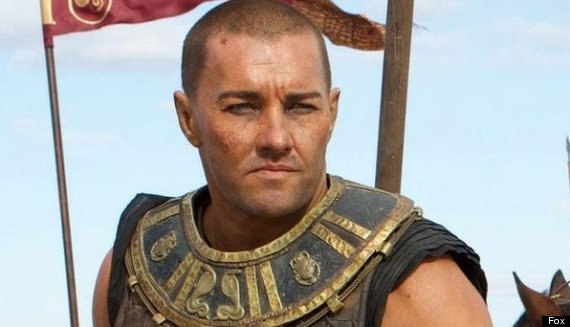 Joel Edgerton plays Ramses in the epic, whose release has been complicated by controversy
Back in August, Joel spontaneousy addressed critics' concern about the perceived "cinematic colonialism", saying he was "sensitive to it and I do, I do understand and empathise with that position" - words that followed him around the world as he set to promoting the film, alongside director co-star Christian Bale and director Ridley Scott, both of whom had their say.
Joel added back then, "It's not my job to make those decisions...I got asked to do a job, and it would have been very hard to say no to that job."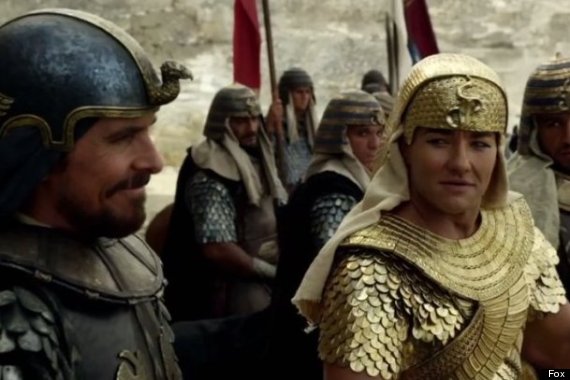 In 'Exodus', Joel goes forehead to forehead with Christian Bale as Moses
A few months later, Joel is far more circumspect. "Well, I stand by that…" he starts hesitantly, "but what I feel most about it now is my naivety in walking down the carpet in Melbourne, and not realising the power of my own mouth. Suddenly, those words were just everywhere. And, at the end of the day, it's a movie."
Joel is far more assured on the prospect of sharing the screen with acknowledged master Christian Bale.
"Sure, it's daunting," he admits, "but it's really like playing tennis. The only way you're going to improve your own game is by practising with players better than you."
Pressed on what he's picked up from the committed Bale, Joel offers this, "that he had the confidence to stop a massive scene, with hundreds of people working, and tell Ridley Scott if he felt something wasn't quite right."
Would Joel do that now, I wonder? He chuckles. "Well, I could try, but I have a feeling Ridley Scott would just go, 'Uh-huh, sure' and then carry on exactly as he was."
It's a big year for Joel, following recent successes with Kathryn Bigelow's 'Zero Dark Thirty' and Baz Luhrmann's 'The Great Gatsby'.
He appears in Anton Corbijn's much-anticipated 'Life', exploring the relationship between James Dean and photographer Dennis Stock, co-starring Dane DeHaan and Robert Pattinson. We chew together on the challenge of naming a modern equivalent to the mercurial, now mythical Dean, who died aged only 24 in 1955.
"Well, the internet has evened the playing field," says Joel, showing he does have some idea of the power of social media, despite his own hiccup detailed above.
"Warner Brothers used to decide who the stars were, now we choose our own. It's more democratic, but it's challenging."
"Here I am, trying to be a movie star," he says, self-deprecatingly, "and I'm lucky to get a few thousand in a movie house, while millions are tuning in to some guy on YouTube."
So where are the true stars to be found now?
"Well, Angelina Jolie is a movie star, so's Leo (Di Caprio)," says Joel. "But you'd have to travel to somewhere like India for real hero-worship.
"I walked past Amitabh Bachchan's house in Mumbai, and there were literally thousands of people, just standing outside, waiting for him to come out. And it was a Sunday afternoon. Now that's a star."
'Exodus: Gods and Kings' is in cinemas now. Watch the trailer below...
LIKE US ON FACEBOOK | FOLLOW US ON TWITTER